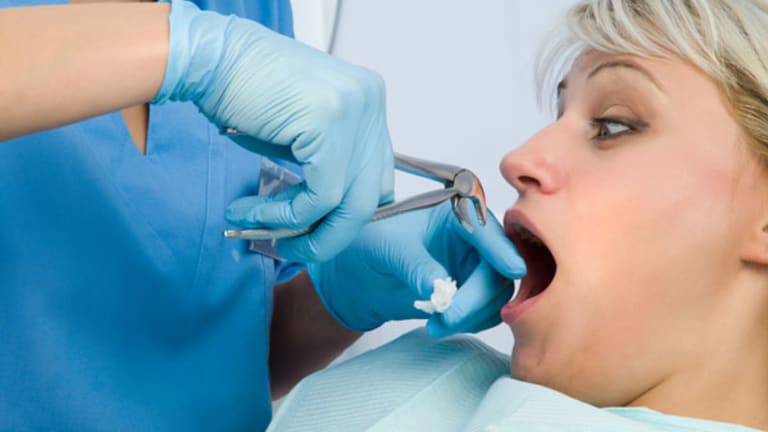 Why We're Not Going to the Dentist
In part, it's because we already aren't going, causing each rare visit's cost to escalate.
In part, it's because we already aren't going, causing each rare visit's cost to escalate.
NEW YORK (
) -- Americans want chipper choppers -- they just can't afford to go to
the dentist
to care for their teeth.
How bad is it? Worse than one might imagine.
According to
, more than 1 million residents of Los Angeles -- a city of some 3.9 million and county of 10 million that many say prides itself on the power of a great smile -- have visited a dentist once or less in 10 years.
Additionally, about 5 million residents don't have dental insurance, and 50% of that number doesn't even have the cash necessary for a decent
dental cleaning
.
Also see: Dirty Dentist Secrets Revealed>>
Part of the problem is that Angelenos visit the dentist so infrequently, they're just not sure how expensive it is to finally go get their teeth checked out -- and that uncertainty helps keep them further from good dental care.
"We find that patients with irregular upkeep frequently have more costly visits than those who are diligent about regular checkups," says Dr. Sandra Shakibkhoo, a Los Angeles dental practitioner. "There are many simple ways patients can make their visits more affordable, from good brushing and flossing at home to developing a treatment plan with their dentist."
The study shines a brighter light on exactly how severe the problem is for so-called "un-dentisters."
75% of all Los Angelenos have at least a single urgent dental care need (such as bleeding gums or an aching tooth).
50% of city residents say "high costs" are the biggest hurdle to visiting a dentist -- even if they're unclear how high those costs might be.
Of the nearly 50% of the U.S. population (approximately 148 million Americans) who don't have health insurance, 56% say they have no preventative dental care, nor are they seeking it.
Across the U.S., 54% of the nationally uninsured have not seen a dentist in the past year and 12% say they won't be going at all in the next five years.
Also see: Want to Save at the Dentist? Brush Up on These Tips>>
It's clear the Great Recession and the subsequent glacial recovery has taken a heavy toll on the emotional state of millions of Americans.
It's almost like Americans knew they didn't have much to smile about, and evidently, with good reason.