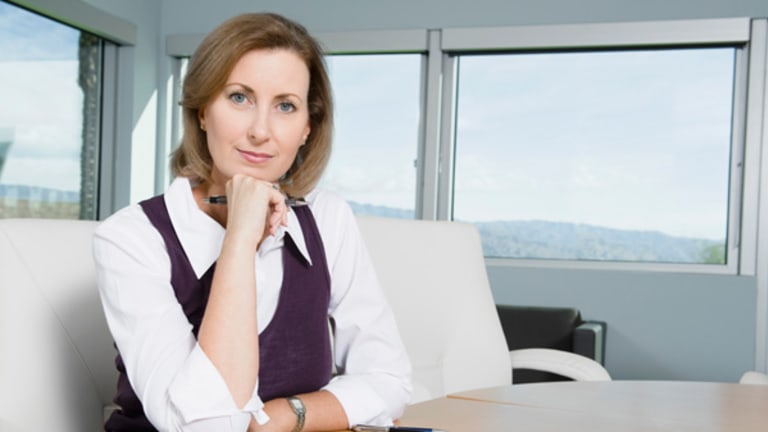 Why We Need More Women Sitting on Corporate Boards: The Economic X Factor
The Committee for Economic Development unveils a plan to have women represent 30% of board members in the U.S. by 2018
NEW YORK (MainStreet) — Despite increased progress in breaking through the glass ceiling, women still only comprise 16.9% of Fortune 500 corporate boards--a figure that has grown only 3.3% in the past decade. However, a new report from the Committee for Economic Development outlines a plan for drastically increasing female representation on corporate boards over the next several years.
In particular, the CED, a public policy think tank, intends to meet directly with the nominating committees of corporate boards to persuade them to make progress on this issue. Specifically, the CED is striving to help achieve a female representation ratio of 30 percent on corporate boards by 2018.
"We think that the qualifications [for electing women to corporate boards] are too ridged and that companies should rethink the criteria used for selecting board members," says Mike Petro, the executive director of CED. "We plan to build a task force of members who can reach out to companies in a way that others can't and urge them to increase gender diversity."
In its new report, "Every Other One: More Women on Corporate Boards," the CED elaborates that persuading boards to expand their criteria for qualified directors will be instrumental in shoring up the numbers of women who sit on boards. The release of the paper coincided with the launch of the CED companion initiative at it fall policy conference in Washington on November 14.
View Today's Highest Savings Account Rates
Save Cash on Payments! Compare Low-Interest Credit Cards Now

WATCH: More personal finance videos on MainStreet | More videos from Lauren Lyons Cole
Save on Auto Insurance! Compare Free Quotes
Find Low Auto Loan Rates in Your Area
To achieve its goal of reaching 30% female representation on corporate boards over the next four years, the CED is shooting to have every other board seat that becomes available between now and 2018 be filled by a woman.
One of the main obstacles in getting more women elected to corporate boards is that nominating committees tend to draw from a very narrow list of qualifications.
Additionally, former or current CEOs are usually primarily considered for board slots. And since only 5% of CEOs at Fortune 500 companies are women, this further restricts opportunities for more female representation on corporate boards. As an alternative, the CED hopes to convince more nominating committees to proactively recruit women to boards from less traditional areas.
"Qualifications such as being a sitting CEO or former CEO shuts many women out of the process because there are not enough women CEOs," says Petro. "So the CED recommends expanding the criteria to include C-suite executives, divisional presidents and entrepreneurs."
Petro also adds that the disproportionate number of men in nominating committees and in positions of power tends to skew the ratio because of selection bias -- that is, the tendency of individuals to associate with people like themselves (including being of the same gender) and with similar backgrounds.
Currently, many nations in the European Union such as Belgium, France and Norway have government-mandated quotas to foster more equal gender representation on business boards. Meanwhile, other nations--including Australia, Germany, Sweden and the United Kingdom (where the number women on boards has risen from 12% to 23% in the past four years)--have policy mechanisms known as comply or explain. These are less strict than mandates but require public disclosure by the companies as to why government recommendations were not not followed.
The CED does not support the use of either approach in the United States.
"As a business group we generally don't support quotas or government mandates," says Petro, who notes that Europe has a different corporate culture from the U.S. "That is why we challenge companies to commit themselves to nominating a woman on at least half of all open board seats or every other one."
Yet despite its opposition to mandated quotas, the CED believes that there is no self-correcting mechanism to achieve gender balance on corporate boards and that an open dialogue and strategy plan are needed to be developed to balance the scales.
"You get a lot further by talking with people rather than talking at them," Debra Perry, the co-chair of CED's women's economic contribution subcommittee, told Fortune last month. "There is a vast amount of research and public relations efforts that have been underway, but there still has been very little progress."
One way to convince selection committees to consider nominating more women to boards is to emphasize the successes of those boards with higher female representation.
"For U.S. corporations to stay competitive, it's essential that they utilize all available talent, but right now women hold under a fifth of Fortune 500 board seats," said Perry in a release. "Companies strongly benefit from the diversity of thought and leadership that result from female-inclusive boards."
Namely, one study released by the University of British Columbia's Sauder School of Business last year found that the more women there are on a corporate boards, the less that corporation pays; for each acquisition a corporation pays an average of 15.4% less with each female director added. Each additional female board member also reduces the number of that company's attempted takeover bids by 7.6%.
An earlier study released by Catalyst in 2007 found that Fortune 500 companies with the highest percentage of female board members significantly outperformed companies with low ratios of women, by at least 53% on equity, 42% on return of sales and 66% on return on invested capital. In 2011, Catalyst found a 26% difference in return on invested capital between companies that had 19% or more women on their boards compared with those that had none.
"We are very outspoken that more women on corporate boards make companies more competitive and is good for the economy," says Petro. "What used to be the right or moral thing to do -- increasing gender diversity in the board room -- is now an economic imperative."
Written by Laura Kiesel for MainStreet