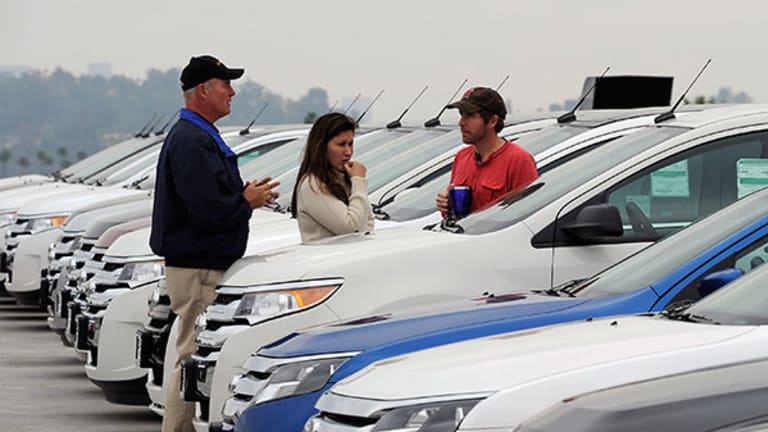 Why This Won't Be A December To Remember For Most Car Buyers
Despite what ads tell you, neither car buyers nor deals are all that plentiful this month. If you have the time to wait, save car shopping for summer.
A whole lot of you buy cars between Black Friday and the end of the year, but that doesn't mean you're getting a great deal.
The folks at Kelly Blue Book note that last year, new vehicle sales in December jumped 10% from 2013 to 1.49 million. While that's lovely for auto dealers looking to make their end-of-the-year quotas, that doesn't come close to their highest volume of the year. In March, dealers parted with 1.53 million vehicles after buyers weathered severe February snowstorms. When the sun comes out in June, dealers hit that 1.5 million mark again. However, the month to watch is August.
As auto pricing site TrueCar discovered, there are huge incentives to consumers offered in February or March. Dealers and automakers facing adverse weather will offer upwards of $2,700 to get cars off the lot before they have to shovel them out again. However, according to sales data dating back to 2009, the average transaction price on those same vehicles never gets lower than the $29,296 they sell for in August. Certainly not in December, when the average sale price of $31,146 is the highest of the year.
"Typically, because of seasonality and model-year changeovers, the end of summer is the best time to buy a new car, because dealers are trying to clear out their aging inventory to make room for the next model year," says Brandy Schaffels, TrueCar contributor and chief editor for auto site AskPatty.com. "With such a large volume of vehicles crossing showroom floors, dealers can offer a great deal of price flexibility, making August the best time to get a great deal."
But what about Black Friday, you ask? Well, TrueCar saw the average discount on that day drop from 9.5% in 2011 to roughly 7% just a year ago. Even with huge incentives and sales tactics, vehicle sales for November came in at 1.298 million in 2014 and are only expected to tick up to 1.3 million this year. That's largely because the industry doesn't labor under the belief that a Friday at the end of November deserves better treatment than perfectly sunny days toward the end of summer -- when showrooms and lots have a lot more old inventory to clear.
 "Black Friday deals on vehicles have grown in popularity in recent years," said Tim Fleming, analyst for Kelley Blue Book, in this November's sales statement. "However, industry incentive spending has been on the rise in recent months, topping $3,000 on average since July 2015, so we are carefully watching to see whether consumer demand can sustain such high sales levels without elevated manufacturer spending."

Meanwhile, average transaction prices that KBB says hit $33,543 in August were already up to $34,023 by October. This is only compounded by the fact that, if you do go shopping for a new vehicle in December, your old vehicle's trade-in value will never be lower. Why, you ask? Because nobody's going to be able to sell your well-worn clunker at this time of year.
"Auction activity is slower toward the end of year, which means dealers can't make as much of a profit on used vehicles," says Anil Goyal, vice president of automotive valuation and analytics for vehicle pricing site Black Book . "As such, your car will usually hold less value in November and December compared with spring time, when auction activity is higher."
As a result, new and used vehicles alike tend to spend a lot more time on lots in the last quarter of the year than they do during warmer months. The 66 days a car sold in December spends on the lot, according to Edmunds, is less than the 70 of cars sold in snowbound February and March, but much longer than the 61 days that same car will spend on the lot in July or the 62 days it takes to sell that car in August. However, this is more true for a Nissan or Volkswagen than it is for, say, an Audi, Mercedes-Benz or BMW.
In fact, those Lexus December To Remember commercials featuring gift-wrapped cars seem to do their job, as 40 days on the lot in December stretches to 57 by the following August. That approach has worked well for Mercedes-Benz and BMW in recent years, though automakers a little further down the scale don't reap similar benefits. For instance, a Ford that sells after 58 days in August needs 70 days on the lot before selling in December. A Chevy's time on the lot jumps from 78 days in August to 87 by December. Thinking of buying a Mazda? Probably not, as a 72-day delay in December winnows away to 52 by August.
While it doesn't mean that automakers like Chrysler, Hyundai and Toyota will cease their December sales, blaring ads and big deals, it does mean that waiting until this month to make a deal probably won't pay off as much as they'd led you to believe.
This article is commentary by an independent contributor. At the time of publication, the author held TK positions in the stocks mentioned.