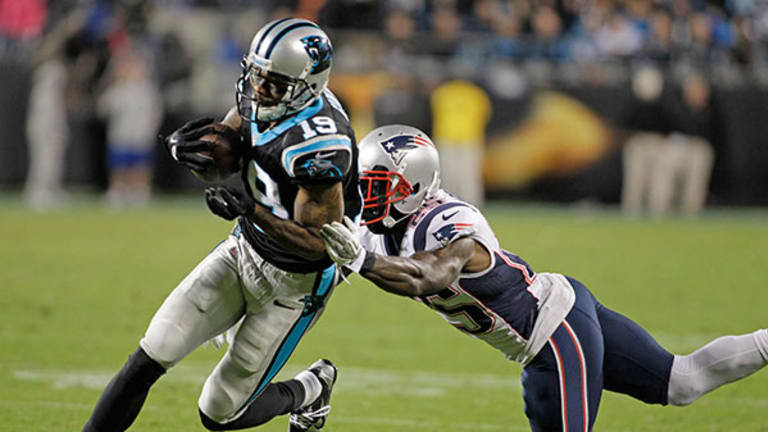 Why the NFL Deserves A Thanksgiving Scolding
We're getting 12 hours of football that should count as commercialism just as much as our post-dinner shopping.
PORTLAND, Ore. (TheStreet) -- It's a day that kicks off with a national retail chain leading a parade of brands and corporate interests through the center of Manhattan and continues with the richest sporting league in the country taking up nearly 12 consecutive hours of network air time.
Remind us again why we're supposed to be angry that
Wal-Mart
(WMT) - Get Walmart Inc. Report
,
Sears
(SHLD)
,
Target
(TGT) - Get Target Corporation Report
,
Old Navy
(GPS) - Get Gap, Inc. (GPS) Report
,
Best Buy
(BBY) - Get Best Buy Co., Inc. Report
, Toys R Us,
Kohl's
(KSS) - Get Kohl's Corporation (KSS) Report
and countless other shops will be open Thanksgiving Night?
We can't begrudge
Macy's
its Thanksgiving Day Parade, but we do find it a bit odd that the retailer that's been hosting this parade for 87 years; stocks it with balloons and floats that are giant ads for AFLAC, McDonald's, Pillsbury, Sony Pictures, Hess, Hilton, Delta, Domino Sugar and more; and sticks Santa Claus at the end of it just to drive home the point that it's time to start Christmas shopping catches flak only for having the gall to open its stores for business that evening. The parade's role in the Santa-centric film
Miracle on 34th Street
has been part of the U.S. holiday canon for 66 years, but gets a pass for lamenting "com-MOI-cialism" in the same breath that it gives Macy's publicity.
Maybe nearly 90 years of that Thanksgiving morning song-and-dance routine have just normalized the experience, but the consensus is that we can't do much about it now. Nor can we really bemoan the National Football League's Thanksgiving afternoon and evening match-ups. The league has been playing football on Thanksgiving since 1920, and the annual appearances by the Dallas Cowboys and Detroit Lions date back to 1966 and 1934 respectively. Lions ownership was initially nervous about playing on Thanksgiving, but it had just moved the team from Portsmouth, Ohio, and needed to make a name for itself in its new hometown. Getting a game against the rival Chicago Bears on that date and broadcasting it over the radio did just the trick.
Also see: 3 Steps to Mastering Holiday Gift Delivery>>
If you're looking for a scapegoat in the War On Thanksgiving, though, don't look at the stores that are taking your aunt and uncle away from the table before dessert, look at the NFL night game that's moved platefuls of that dinner to the living room since 2006. Seven years ago, the NFL had the grand idea of adding a third game to the Thanksgiving slate to go up against a weak ESPN college football offering and a faceless slate of college basketball match-ups.
Originally, the 8:30 p.m. EST game was confined to the league's own, modestly adopted cable channel -- the NFL Network. In 2011, a Thanksgiving night matchup between the San Francisco 49ers and Baltimore Ravens drew nearly 10.7 million viewers and nearly tripled ESPN's ratings for college football. The next year, the league shifted the game to 8 p.m. EST on NBC and watched the audience for a New England Patriots blowout of the New York Jets grow to nearly 16 million.
That's a pretty sure sign that people not only liked football on Thanksgiving night, but liked having it on a widely available network. So why did the NFL get a huge pat on the back while retailers who tried opening doors on Thanksgiving for the first time in 2012 got a loud scolding? Because we're a nation of hypocrites.
The National Retail Federation found that more than 35 million people started their holiday shopping on Thanksgiving last year, up 22% from 2011 and 58% from 2010. The market research firm
NPD Group
, meanwhile, notes that Black Friday weekend sales increase more than 20% for stores open on Thanksgiving and that the more than 30% of those who shop online on Thanksgiving Day trails only the 35% or so who shop on Cyber Monday.
"But those stores' employees are forced to work on Thanksgiving," you say? True, but do you realize that the millionaires on the field aren't the only ones working during an NFL game? Hundreds to thousands of concessions vendors, security personnel and other stadium staff are pressed into duty for Thanksgiving NFL games, as are the teams of folks who cover those games and the law enforcement and medical personnel assigned to them.
Also see: Here's Your Thanksgiving Playlist>>
"But they're huge, greedy companies exploiting their workers," you retort. Do you know the NFL? This is the same league that risked player injuries just to expand
Thursday Night Football
from eight games a year to a 13-game slate and helped the NFL Network pull in $1.34 per month in subscriptions this year -- up from less than $1 last year and second only to ESPN's $5.50 monthly charge. That alone should bring in more than $1.1 billion in revenue, or 56% more than the channel made last year.
It's a league that's just getting richer off of its most lucrative revenue stream. NFL games accounted for 31 out 32 of the most-watched TV broadcasts last fall and more than doubled the prime-time viewership of Fox, ABC, CBS and NBC. Through Oct. 23, the league had 10 games top 20 million viewers -- a 400% increase from last season. NFL games ranked as the Top 16 most-watched shows since Labor Day, up from the Top 11 at the same time last season.
Fox
(FOXA) - Get Fox Corporation Class A Report
,
CBS
>
(CBS) - Get CBS Corporation Class B Report
and
Comcast's
>
(CMCSA) - Get Comcast Corporation Class A Report
NBC agreed to pay the NFL $28 billion for broadcast rights through 2022.
Walt Disney's
(DIS) - Get Walt Disney Company Report
ESPN has a separate $1.9 billion annual deal for Monday night football, while
DirecTV
(DTV)
has a $1 billion per season agreement for the
NFL Sunday Ticket
package that is set to become even more lucrative once the current contract expires in 2015.
All told, $4.5 billion of the NFL's $9.5 billion in revenue last season came from television.
"But you don't have to leave the house to watch football," you add. But you do have to check out of dinner, conversation or whatever else you'd normally be doing on Thanksgiving night to take in that 12th hour of football. If you do so while checking your fantasy league stats and maybe taking advantage of some online Thanksgiving night deals, you may as well just cut out early.
The point is that retailers aren't "killing" Thanksgiving, they're giving consumers something they increasingly want despite the wishes of their employees. The NFL is doing the same, but gets nothing but cheers for it because it's supposedly giving folks something for "free." Americans seem to love it, but it's just as much of a distraction as the holiday creep they claim to hate.
-- Written by Jason Notte in Portland, Ore.
>To contact the writer of this article, click here:
Jason Notte
.
>To follow the writer on Twitter, go to
.
>To submit a news tip, send an email to:
.
RELATED STORIES:
>>Halloween Novelty Tunes Don't Wear Off
>>How America Killed The Live Event
>>Miley Cyrus: A Child Star's Rite Of Passage
Jason Notte is a reporter for TheStreet. His writing has appeared in The New York Times, The Huffington Post, Esquire.com, Time Out New York, the Boston Herald, the Boston Phoenix, the Metro newspaper and the Colorado Springs Independent. He previously served as the political and global affairs editor for Metro U.S., layout editor for Boston Now, assistant news editor for the Herald News of West Paterson, N.J., editor of Go Out! Magazine in Hoboken, N.J., and copy editor and lifestyle editor at the Jersey Journal in Jersey City, N.J.