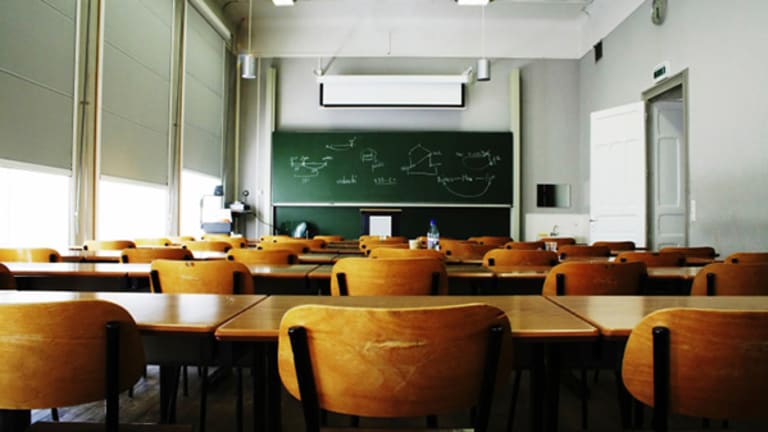 Why Teachers Can Have Their Pick of Summer Jobs
Teachers may want to enjoy a summer break, but a part-time job might make much more sense.
NEW YORK (TheStreet) -- With an unpredictable economy, more educators are looking at their summer break and saying, "Can I make a little money during this time?" says Joe Weinlick, vice president of marketing at career network Beyond.com.
"The question is: summer off or summer job? Teachers nationwide are asking whether they'll benefit most from the long break or the extra cash," he says. "They're seeing those months as an earning opportunity in what has been a very uncertain economic climate these last few years."
While many teachers are arguably still working during the summer -- attending seminars, workshops and planning for the semester ahead -- many others have begun using the summer as a chance to earn a little extra toward retirement or a vacation for next year, Weinlick says. Educators looking for work will be encouraged to find there are even more opportunities available this summer than in recent years.
According to the bureau of labor statistics, 288,000 jobs were added to the economy in April, with 60,000 of those in the retail and bar and restaurant industries -- industries that often hire summer staffers. Also, Weinlick says that because recent graduates are having more success finding jobs in their field of study, there won't be as much competition from grads looking for short-term gigs.
In addition, employers are growing increasingly appreciative of what educators bring to the table.
"Employers look at teachers and say, 'Where else can I find someone who has experience, organization and patience dealing with one of the most difficult audiences around?'" Weinlick says. "It's not a matter of whether or not teachers can find a summer job -- they can get one -- it's a matter of whether or not they have a financial need," he says.
Teachers considering a second position this summer should ask themselves two things: Do I need the money, and does my schedule allow it?
Because teaching is a demanding career, Weinlick cautions any teacher considering summer employment to look at their complete financial picture.
Also see: How to Know When It's More Than a Summer Job>>
"Mentally, teaching is a tough job for many months out of the year. Even if you need money, you're going to need a bit of a refresh," he says. "I would look to take at least a week off no matter what."
Teachers who want a summer job should start their search now, says Kim Costa, career coach at Snagajob, an hourly employment marketplace. According to Snagajob's 2014 Summer Hiring Survey, 74% of employers who plan to hire summer workers expect to have filled their positions by the end of May.
"Get started now. Many teachers think that it will be easier for them to find a job after school is out when they have more time to look, but now is the time to start looking," Costa says. "The sooner you get out there, the more likely you are to find a job that fits well into your schedule and lifestyle."
Even if you don't have time for a serious job hunt right now, Weinlick recommends putting the word out to friends and family that you're interested.
"You don't have to announce to everyone, 'I need a job,' but definitely mention to your network that you're thinking of picking something up and see what their thoughts are. The best way to find something is through word of mouth," he says.
Once you make it in for an interview, it's important to be upfront with your employer about your expectations for the job and exactly when you plan to leave to head back to the classroom. Most employers will be so happy to have an experienced teacher on their team, it won't matter that you're only shopping for a summer gig, Costa says.
"Let them know that your time with them ends in August. Tell them upfront what your intentions are. They'll understand your commitment to your career, and if things work out, this could become a recurring summer job," she says.
Teachers looking for summer jobs should consider the following:
Tutoring
If you work with students every day, chances are you'd be an excellent tutor, Costa says.
"There are tons of websites where you can find tutoring jobs, or the school where you teach may have a program already in place. You might even build up a client base and continue tutoring part-time in the fall."
Also see: 6 Ways to Guarantee Summer Travel Savings>>
Nannying
Once school is out, parents who work a normal 9-to-5 job will be looking for daytime care for their children, Costa says.
"Who wouldn't want a certified teacher for a nanny? Your resume is going to look fantastic," she says. "Also, if you've been dealing with a classroom full of kids for the last few months, it might be fun to tone it down and just focus on one or two kids."
Retail/hospitality
If you want to get away from the under-18 set altogether, it may be time to consider working at a hotel, a restaurant or a resort property during the summer, Costa says.
"Yes, these are your 'typical' summer jobs, but they can be a nice change of pace. They are so different from education; it's a good way to avoid burnout."
Outdoor positions
Anything from pool cleaning and painting to garden shops and lawn care can be make for an interesting change of pace and a decent paycheck, Costa suggests.
"Getting outdoors for your summer job can be great. It's physical and you're out getting some sun, so it feels refreshing. When you get back to the classroom, it won't feel like you've been indoors at a job all summer."
Summer camps and coaching
Many teachers got into teaching because they love children, but the day-to-day of lesson planning doesn't always allow for fun -- that's where coaching comes in, Weinlick says.
"There's a lot of pressure on teachers today. If you can help coach a softball team or teach a group of kids how to swim at a summer camp, it can feel like a break and remind you why you got into teaching in the first place," he says.