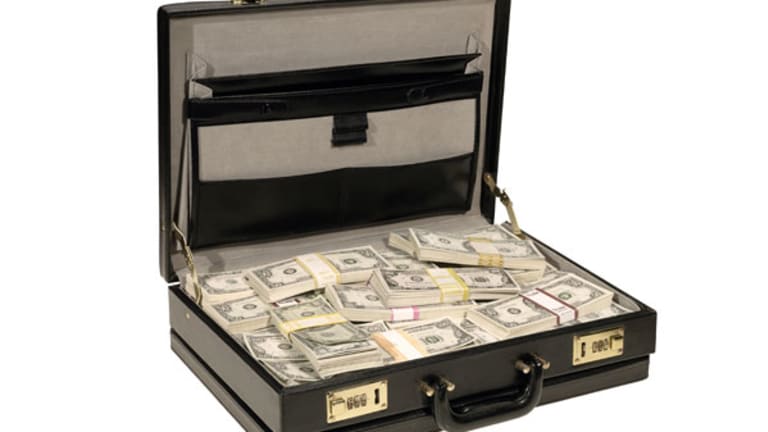 Why Success Is Killing the Craft Brew Industry
A fermenting fight over beer taxes is going to kill the term 'craft beer' forever. Good riddance.
PORTLAND, Ore. (TheStreet) -- What big brewers, wine and spirits couldn't do to craft beer, the movement's founding brewers and their would-be protectors will do themselves.
Craft beer as America knows it is about to die, and success is going to kill it.
Its beers and brewers should be fine, but a fermenting fight over beer taxes is going to kill the term "craft beer" forever. Good riddance.
On Tuesday, just as craft brewers and beer bloggers met in Washington, D.C., for the Craft Brewers' Conference, two of the beer industry's most influential interest groups came to an impasse over beer taxes, the definition of "small brewers" and the future of the industry in general. As reported by political news site
, Washington-based beer industry lobbying group The Beer Institute vowed to "actively oppose" the Small Brewer Reinvestment and Expanding Workforce Act, or Small BREW Act, put forth by Colorado-based craft beer industry group The Brewers Association.
That particular bit of legislation would cut the federal excise tax on beer from $7 a barrel to $3.50, affecting the first 60,000 barrels made per year by a small brewer. After that, small brewers must pay $18 per barrel, which would be lowered to $16 under the bill. More importantly, it would expand the tax code definition for a "small brewer" from one that produces 2 million barrels or less to one that produces 6 million or less.
The Beer Institute has two big problems with this. First off, it creates competition for the lobbying group's own Brewer's Employment and Excise Relief Act, also known as the BEER Act, which is expected to be introduced later this year. That legislation would reduce excise taxes on beer made by brewers large and small, with past versions of the bill recommended cutting the tax from $18 per barrel to $9 for large brewers while cutting the tax for small brewers from $7 per barrel to $3.50.
Secondly -- and this is where it gets awkward -- The Beer Institute says the Brewers Association's legislation is "a giveaway to a handful of brewers that each are worth more than a billion dollars." Based on the latest numbers from
Beer Marketer's Insights
, there were only three brewers who fell between the government's current 2 million barrel cutoff for craft brewers and the Brewers Association's 6 million mark:
Boston Beer
(SAM) - Get Boston Beer Company, Inc. Class A Report
(2.7 million last year),
North American Breweries
(2.725 million of Magic Hat, Pyramid, Portland Brewing and Genesee) and
D.G. Yuengling & Son
(2.79 million). All are members of both groups, but Boston Beer is the only one the Brewers' Association publicly acknowledges as "craft."
Did we say "acknowledges"? I think we meant "grandfathered in." You see, the Brewers Association is very particular about who's in the craft club and who isn't, going so far as to create
burn lists to separate the worthy from the wannabes. Does your legacy brewery that survived prohibition have an original recipe containing maize, which the Brewers Association considers an adjunct filler? Sorry, D.G. Yuengling & Son, but you're out. Does your brewery have a deal with
Anheuser-Busch InBev
(BUD) - Get Anheuser-Busch InBev SA/NV Report
that keeps your 30-year-old pioneering craft brewery independent while giving it access to a big brewer's distribution system? Sorry,
Craft Brew Alliance
(BREW) - Get Craft Brew Alliance Report
members Widmer Brothers and Redhook, but you're out, too.
Does your brewery make malt beverages such as Twisted Tea, have breweries in three states and make nearly $600 million in revenue? Then that means Boston Beer is not only in, but the Brewers Association will change its own
definition of a "craft brewer"
to accommodate you.
The Brewers Association "craft brewer" definition has always been more about who doesn't fit it than who does, but trying to apply that same definition to tax code is not only dodgy, but somewhat self-defeating. The Beer Institute and Brewers Association had a somewhat uneasy peace mostly because the former openly accepts Anheuser-Busch InBev,
MolsonCoors
(TAP) - Get Molson Coors Beverage Company Class B Report
and
SABMiller
as members and includes their executives on its board and the Brewers Association hides them way down its
membership rolls
.
While the Association's beloved "craft" brewers are still nowhere near the size of their multinational competitors, they're not exactly all tiny garage-and-barn operations, either. Chico, Calif.-based
Sierra Nevada
got its start in the late 1970s and has grown to produce roughly 900,000 barrels of beer. Its founder and chief executive, Ken Grossman, told us last year about the company's plan to expand to a facility in
supervised by his son. That would push Sierra over 1 million barrels of production and make Sierra a legacy brewer along the lines of Yuengling, Coors and even Anheuser-Busch.
New Belgium Brewing
co-founder and Chief Executive Kim Jordan told us just last month about her brewery's own
and what they'd mean to the company she helped start in 1991. Currently brewing about 750,000 barrels a year, New Belgium's production would also easily exceed 1 million barrels once the facility is completed in 2015.
The growth just continues, as Lyons, Colo.-based
Oskar Blues
is already brewing in Asheville and California-based breweries
Lagunitas
and
Green Flash
announced plans to open brewing facilities in Chicago and Virginia Beach, respectively. Does the Brewers Association exclude any of them from their ranks? On the contrary, it credits them with spurring craft beer's 15% growth by volume and 17% growth in dollars. According to the Brewers Association, craft beer now accounts for 6.5% of all U.S. beer by volume and 10.2% of U.S. beer sales.
That's wonderful, but it also doesn't tell a whole lot of the story. While the number of breweries in the U.S. has exploded from fewer than 100 in the 1980s to more than 2,400 today, the older, bigger craft breweries are still fueling a great deal of the "craft" segment's growth. They're also completely different animals, with Boston Beer and the Craft Brewers Association accounting to shareholders as publicly traded companies and New Belgium, Sierra, Oskar Blues and the other East Coast migrants now playing a hand in local and interstate politics, policy and economics.
Compared with the industrial park tasting rooms, bike-up garage stands or even small brewpub operations throughout the country, they're enormous. While the craft label is conferred as a show of respect and an indication of a brewer that's still experimenting and trying new products, it's also way too small for its outsized pioneer breweries.
Even Boston Beer founder Jim Koch has a saying that he's fond of using whenever the craft debate comes up: Beer is beer. He quotes his father and grandfather as saying "all beer is good -- some beer is better, but all beer is good." It's also the crux of the Beer Institute's arguments for cuts to beer excise taxes across the board, but has gone largely ignored by the folks at the Brewers Association.
Listen, we get it: Everybody wants to save some cash and small brewers who've been at this for a while might not be so keen on sharing the wealth with the big brewers who made it tough for them to carve out a place in the market. Understandable. But to take brewers whose reach spans a continent and whose output is measured in the millions and tag them with the same craft label you'd apply to a small-town barrelhouse is not only disingenuous, but sells those bigger brewers short.
Kids who were born when Boston Beer and New Belgium were founded are now drinking-age adults. They've never known a world without these brewers or one where there was no alternative to light lagers such as Bud, Miller and Coors. To them, beers such as Sierra Nevada,
Widmer
,
Saranac
,
Brooklyn
and some of the other full-grown small breweries aren't "craft," they're just beer.
Wasn't that the point, making good beer and interesting styles a default rather than the alternative? Isn't that a win? If not, then what exactly are craft brewers fighting for? With each scuffle like this, the answer seems less clear.
-- Written by Jason Notte in Portland, Ore.
>To contact the writer of this article, click here:
Jason Notte
.
>To follow the writer on Twitter, go to
.
>To submit a news tip, send an email to:
.
RELATED STORIES:
>>How Tapping The Jewish Beer Market Begat A Plan
>>Sierra Nevada CEO Makes East Coast Beer Run