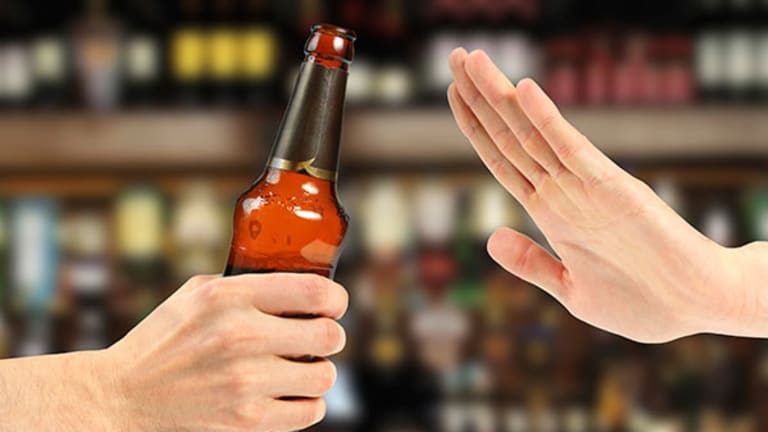 Why Millennials Aren't Drinking
Health issues, career ambitions, maybe a simple lack of cash are prompting many Millennials to embrace a sober lifestyle.
The research out of the U.K.'s Office of National Statistics suggests a surprise finding: just maybe Millennials are teetotaling, meaning they are turning their backs on booze.
Is this true in the U.S. as well?
The number that raises eyebrows is here: "Less than half (48%) of those aged 16 to 24 reported drinking alcohol in the previous week, compared with 66% of those aged 45 to 64," said the ONS press release.
Indications are that Millennials may be shifting away from alcohol for multiple reasons. There is no one reason that is motivating many Millennials to not drink - but, collectively, there are several factors that are contributing to the drying out of a generation.
"One popular strategy for those 22-year-olds who aren't being paid $150,000 per year to write code is 'drinking only when it's free,'" said Dr. Monya De, an internist in Los Angeles. "Millennials are saddled with debt and living in apartments that might cost 60% of their monthly salary, while 20 years ago, the apartment would have cost 30% of their salary."
That is fact. Many Millennials are on tight budgets. Go to a Manhattan or San Francisco cocktail lounge, have a couple drinks, and with tax and tip that may cost $50. Do that just once a week and it can wreck a budget, especially one stretched by student loan repayment and high rents. So many Millennials may be staying sober for the same reason they consume prodigious quantities of ramen - there are not many surer ways to balance a budget.
But still more may be prompting the shunning of spirits. Health is another Millennial generation theme and at least some see booze as the poster child for the unhealthy lifestyle.said Kayleigh Conway, a 29-year-old British blogger based in Bedfordshire, is largely teetol, drinking once a month, if that. She has a main reason: "The people in my parents' generation who have smoked, drank and eaten convenience food their entire lives all look like hell and it's quite obvious to see why."
She added: "I drank way too much as a young person, and I know how awful it feels to be hungover all the time and look like a red-faced idiot in photos on social media - who wants that?"
For others, the prompt to go dry are career ambitions. Candice Galek, the 28-year-old CEO of online swimwear company Bikini Luxe in Miami Beach, said that since she started her business a couple years ago she has had "a complete lack of interest in alcohol." She elaborated: "I don't have the time or energy to spend on drinking. I go to bed exhausted. If I were drinking I couldn't do my job."
Other, hard-charging Millennials said likewise. They see alcohol as an impediment to achieving their career goals.

Add up the reasons to quit and the numbers start to matter. In Toronto, Canada, enough people are forgoing booze that 35 year-old teetotaler Ted Fleming said he started PremiumNearBeer.com to cater to non drinkers by offering a higher quality product than generally is found in supermarkets. Many Millennials number among his customers, he said. He insisted that with his beers, you won't notice a taste difference - but he cautioned that liking them requires a paradigm shift where "you are drinking for the taste, not the effect of the alcohol.
Don't jump to the conclusion the Millennials are necessarily clear headed. That may be false. For one, De, the internist in Los Angeles, said there are still some Millennials who "are happy hour regulars, doing frequent binges." The same ONS research that spotted a rise in Millennial teetotalers also noted that "[w]hile overall being less likely to drink alcohol, young drinkers were more likely than any other age group to consume more than the weekly recommended limit in one day. Among 16 to 24 year old drinkers, 17% consumed more than 14 units compared with 2% of those aged 65 and over."
Other Millennials have found still other ways to numb out. A survey by HelloMD, a digital healthcare platform for medical marijuana patients, found that 18% of respondents reported using cannabis as an alternative to alcohol.
That survey was not limited to Millennials. But at least some think Millennials may be leading the parade to pot: Cooper Carrasco, a 23-year-old in Orange County, Calif., said alcohol consumption among Millennials has dropped because "we have readily available marijuana and the stigma is almost entirely gone."
Other experts said that many Millennials are also consuming prescription opioid painkillers instead of alcohol.
So which are they: stoned or sober? With Millennials there just is no straight answer. That's the plain conclusion of the data. And the same Millennial who is stone cold sober six days of the week may be blotto on Saturday. Take nothing for granted: that is about the only generalization that can be made here. Slainte!
This article is commentary by an independent contributor. At the time of publication, the author held TK positions in the stocks mentioned.