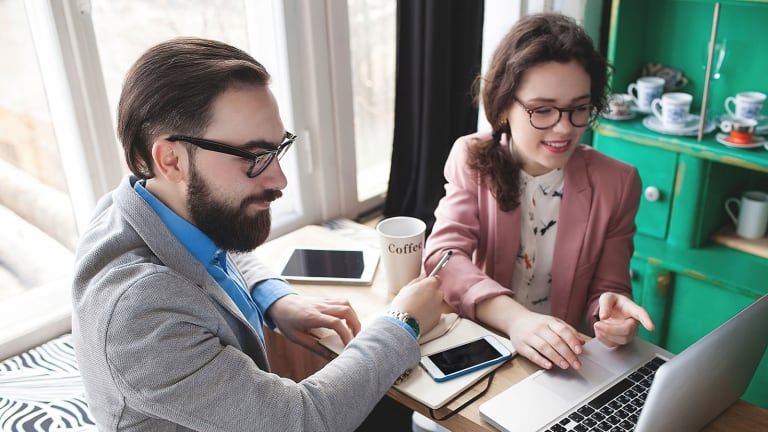 Why Millennials Want You to Know How Much They Make
Millennials are not shy about revealing their salary with their co-workers or friends and open to sharing what they earn unlike their counterparts, Gen X-ers.
Millennials are not shy about revealing their salary with their co-workers or friends and open to sharing what they earn unlike their counterparts, Gen X-ers.
A study from TheCashlorette.com, a New York-based personal finance website for young women, found that people who are 18 to 36 years old will talk about how much they make with their immediate family with 63% who agreed while 48% tell their friends and even 30% will share the information with coworkers.
While in the past discussing salaries and benefits have been verboten in the office, many Millennials, especially ones who are 27 to 36 years old said they have no problem and 33% do not have any issues in talking about it. Only 8% of Baby Boomers who are 53 to 71 years are willing to share the data with their colleagues, but 71% of them will tell their spouse or significant other.
The increase in transparency is a positive move because it empowers employees so that they are aware of what their counterparts receive and if they are receiving the right compensation, said Sarah Berger, founder of TheCashlorette.com.
Millennials need the information in order to determine whether they should ask for a raise or seek another position at another company, she said. They also do not consider the topic to be taboo.
"When it comes to money, Millennials differ from older generations in many different ways and generally, they're more transparent," Berger said.
The era of social media has also played a major factor in boosting transparency.
"There's also currently this push to close the gender wage gap in the workplace and I think being more transparent about money is a step toward closing that gap," she said.
Americans overall are comfortable with sharing and 64% of people will tell their spouse or significant other their salary while 51% share with their immediate family members, 36% let their friends know and 20% will share with their coworkers.
The amount of the salary also correlates with the likelihood of people who will tell others what they earn while people who make less than $30,000 are not likely to share the information.
Berger, who is a Millennial and has told her close family members and friends her salary, said the decision was made because she is willing to buck the trend.
"I feel comfortable talking about money and find it beneficial to be open and honest about it," she said.
When you tell your salary to your parents, it has other advantages such as getting advice on retirement savings, creating a budget and taxes from them, Berger said.
"Sharing with friends also has its benefits," she said. "You can get honest feedback, opinions or even vent about how pinched you feel between paychecks. Sharing with co-workers can also be beneficial if you suspect you're getting underpaid or if you think your workplace might be compensating their male employees in a different way than their females."
The decision should not be made lightly because it could affect your relationship with that co-worker or friend.
"When it comes to sharing your salary, my advice is to tread lightly-what would you do if that person shared your salary with others," Berger said. "It can create even more friction in the workplace since often your compensation is based on a slew of factors aside from job title like work performance or experience."
Even Baby Boomers shared their salary with their co-workers when they were in their 20s and 30s, said Roberta Matuson, president of Matuson Consulting, a human resources firm in Brookline, Mass.
"Sharing one's salary is natural for this generation - Millennials have grown up in an age of transparency," she said. "If the truth be known, my generation (the Baby Boomers) did this as well - we did this over drinks during happy hour. Nowadays, happy hour is going online 24/7 and sharing of this type of information appears to be more prevalent, although appearances can be deceptive."
Salary information is also more readily available online through websites such as Glassdoor and Indeed, so being transparent remains less of an issue, said Arlene Guzman Todd, associate vice president of Dick Jones Communications in Los Angeles and a lecturer at California State University in Los Angeles.
"There's a general benefit of being upfront - it allows you to compare how much you're making within your peer group, which can instill a sort of peer-competition while the same time being aspirational," she said. "There seems to be a general curiosity to learn about pay discrepancies in salary ranges. This is influenced by a collective consciousness to make sure that everyone is being paid fairly."
The current workforce has been more informed and often discusses national issues such as overtime pay, minimum wage increases and gender pay equity, said Michael Schmidt, vice chair of Cozen O'Connor's labor and employment department in New York.
Employers also must adhere to new rules regarding wage transparency and "prohibitions on asking about salary history and taking adverse action against employees discussing compensation," he said.
Salary transparency is becoming a priority with Millennials as many of them are opting for nontraditional careers such as gig workers and contractors, said Rachel Russell, executive director of corporate strategy for Allegis Group, a Hanover, Md.-based staffing firm. One 2015 study found that 72% of Millennials want decision-making authority over their career development.
"To advance in such a world of change, it is more important than ever to take control of one's career," she said. "The employer won't move you forward and you have to move yourself. That means the give and take of divulging one's pay and in turn, learning one's potential earnings, is much more important than maintaining an older standard of privacy. When it comes to pay, knowledge is power and sharing is a path to knowledge."
But sharing information about your salary can have its drawbacks as well since revealing your salary to your colleagues can "really breed resentment," said Rebecca Cenni, CEO of Atrium Staffing in New York.
Here's how you can become a millionaire even if you only make $35 thousand a year:
More of What's Trending on TheStreet: