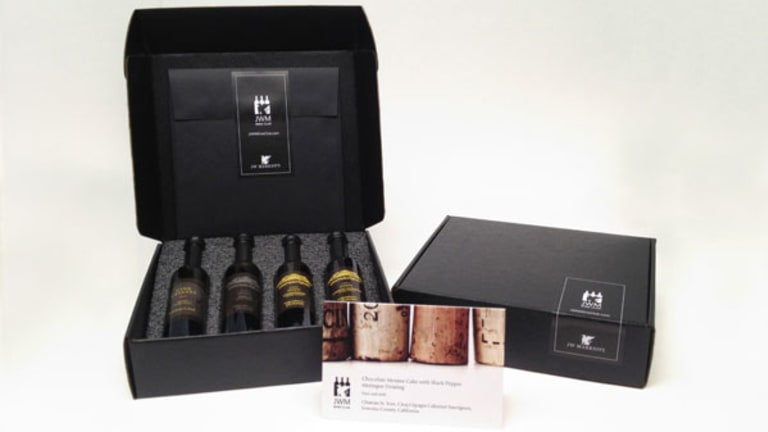 Why Luxury Hotels Are Uncorking Wine Clubs
Four Seasons and JW Marriott are extending their reach by pairing fine wine with branding and social media.
Four Seasons and JW Marriott are extending their reach by pairing fine wine with branding and social media.
SAN DIEGO (
) -- Gathered for the conversation were sommeliers from
Four Seasons
properties throughout Europe.
Wine experts from the retail industry, wine bloggers and journalists were also in attendance.
The topic: the attributes of four pre-selected wines.
And while many of the participants in this conversation were present at the Amaranto Bar at the Four Seasons Hotel London, many more were participating via
Twitter
as part of the Four Seasons' second virtual wine tasting event.
"This is a way of extending the reach of our experts to more people," says Sorya Gaulin, director of corporate PR and social media for Four Seasons. "We are one of the few hotel companies that has very awarded sommeliers, people who are certified wine experts."
The virtual wine tastings are also a way for the Four Seasons to demonstrate what can be done in the virtual world while maintaining very relevant links to the real world and the hotel business, Gaulin says.
Also see: Inaugural Luxury Hotel Index Shows U.S. Still Leads in Hospitality Brands>>
But more importantly, the Twitter tastings are just one way luxury hotels are using wine these days to reach out and engage guests.
The Four Seasons, something of a trailblazer in the virtual world, has also launched a "Sommelier on Demand" program on its
Facebook
(FB) - Get Report
page designed to shine light on Four Seasons' wine talent and give the audience a chance to engage with their experts directly. One week each month a different Four Seasons sommelier answers questions about wine pairing, with conversations going something like this:
"Lobster poached in butter. Would like to add wine to the butter -- what should I use? And what wine should I serve with the meal?"
The response from a renowned sommelier is posted within minutes: "Butter's the key factor here for both flavor and mouthfeel, and Chardonnay is the answer to both questions."
For the Four Seasons, programs such as these are part of a larger vision.
"The brand is very much a lifestyle brand. We see ourselves beyond just hospitality. This is just an extension of what we do. If you were to look at us in the digital world, we have
, where we talk about food, wine, fashion, art, watches, all the things that appeal to the segment," Gaulin says. "On
, the entire site is focused on what we do in the area of food and beverage. You go there if you love food, you don't go there if you are a Four Seasons guest. And that really speaks to the unique perspective we have as a global company."
Also see: Esta Romi Aims to Be the Whole Package in Luxury Giving>>
The Four Seasons is not alone in its attempt to reach out to customers in new ways -- and with wine -- to engage customers in conversations that go beyond a hotel sales pitch.
Just this month, JW Marriott, the luxury portfolio of
Marriott International
(MAR) - Get Report
, launched a wine club.
The offering includes a quarterly shipment of four single-serving wines along with tasting notes from a JW Marriott wine ambassador and suggested paired recipes from a hotel executive chef. Club members can choose two of the four wines they prefer and get a 750 ml bottle of each.
"We talked to our guests about what they are most passionate about, and they are very passionate about culinary, culture and well-being," says Mitzy Gaskins, vice president and global brand manager for JW Marriott Hotels & Resorts. "And when we talk about culinary, wine is the biggest passion for them -- they have a sophistication about wine, and want to learn more."
The wines for the program are supplied by
Treasury Wine Estates
( TWE), the world's largest publicly listed wine-only company.
But just as with Four Seasons, the JW Marriott wine club is part of a larger vision the hotel has for itself and its role in the lives of guests. In Marriott's case that role includes programs focused on well-being and culture as well as culinary offerings.
"We want to make sure that when they come to JW they have an experience, versus just a comfortable bed and nice stay," Gaskins says. "We want them to take something away with them."