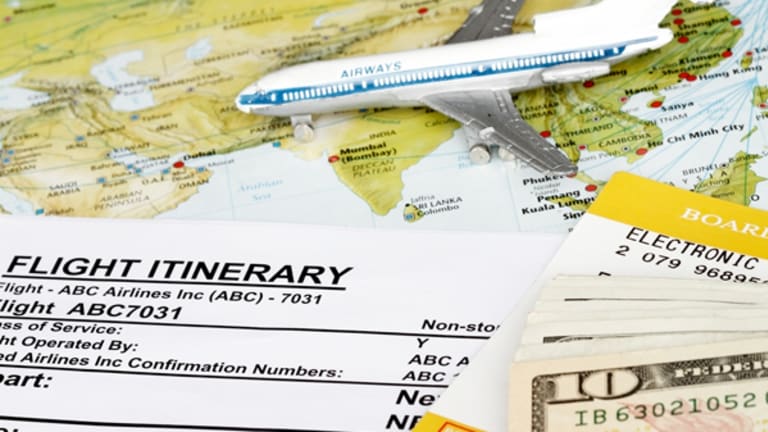 Why It's Time to Book Travel Directly Again With Hotels, Airlines
Big online travel agencies are losing customers to sweeter deals offered by hotels and airlines. Car rentals are a different story.
NEW YORK (MainStreet) — Almost 20 years into the revolution triggered by the launch of Expedia (1996), Priceline (1997), Hotwire (2000) and many other online travel agencies, a new question is being asked: Is now the time to go back to booking direct with airlines, hotels, even car rental companies? The reason: Just maybe one-stop convenience is getting trumped by sweeter deals found when shopping directly. 
That sounds so 1995, but savvy travelers are insisting the dominance of the OTAs is at an end. George Hobica, founder of Airfarewatchdog.com, remembers when he would walk into a Borders bookstore a decade ago and knew it was a dinosaur because people weren't buying books — they were flipping through pages, maybe taking notes on key passages. He says he sees the same at OTAs: "People are not buying from them, they are using them for informational purposes," Hobica says. (Borders, by the way, liquidated in 2011.) 
Hotels in particular are effectively bribing guests to book directly with them. Why? Bookings through an OTA involve a 15% fee for a national hotel chain and as much as 30% for a little independent. Book a $200 room at an independent and it in effect has $60 per day it can toss your way to win a direct booking. 
A wrinkle is that the OTAs insist on what they call "rate parity," and that means a hotel cannot offer a cheaper rate than it gives the OTA — except when it can. "Rate parity" nowadays applies only to publicly available rates you find on the Web. That means an email to loyalty club members can offer whatever rate; a clerk in a call center can too. There are lots of ways around rate parity, and nowadays travel providers are expert at this — which works to your benefit. 
Hotels also have gotten increasingly creative when it comes to bribing guests to book direct. At Hotel Amarano, for instance, in Burbank, Calif., it's your choice: a complimentary upgrade to the next available room type or a $25 food and beverage credit (or, word of advice, go for broke and demand both. You just may get them). 
Book direct with the Omni Hotel chain and you are promised free Wi-Fi as well as morning beverage delivery and a few more perks. 
Mark Spring, a general manager at a Montana Quality Inn, says bluntly: "Absolutely the best rates are available at my property by direct bookings. If as a hotelier I am paying 18% to 25% on Booking.com or Expedia, wouldn't it only be prudent to discount 10% directly to the guest?" 
Travel blogger Joe Brancatelli, who files at JoeSentMe, insisted that hotels are doing well in this fight for direct bookings, in part because savvy travelers increasingly know that the sweetest elite perks are doled out to direct bookers. 
As for airlines, they have intensified their war to win direct bookings and are doing it by making many important things easy to do on their websites. Want to select your seats now? Done. Want to buy upgraded seats? Done. Want to buy discounted entry to an airline club? Done. Want to buy Wi-Fi, often at a rate much lower than you will pay onboard? Done. And while you are at this, remember to pay with an airline-linked credit card that typically brings free baggage check, priority boarding, and — often - a sweetened frequent-flier reward. 
Numbers back up that airlines are winning this fight. According to researchers PhoCusWright, 37% of airline seats were bought at OTAs in in 2011. Two years later, that number was 32%. Experts say they expect further declines. 
What about car rentals? Call this the odd man out better booked via an OTA, says Mark Mannell, CEO of CarRentalSavers.com. "Numerous discounts and coupons are available that are not on the rental agency sites," he says. "Larger OTAs often negotiate special discounts or coupons." Mannell also recommended that members of large organizations with aggressive discount programs, such as AARP and AAA, look there for car rental deals. 
Bottom line: it's time to rethink old travel habits and, at least as far as airlines and hotels go, return to even older habits. Book directly online or, with hotels at least, pick up the phone and call. You probably will save money and you almost certainly will get some deal-sweetening goodies.
— Written by Robert McGarvey for MainStreet
This article is commentary by an independent contributor. At the time of publication, the author held TK positions in the stocks mentioned.