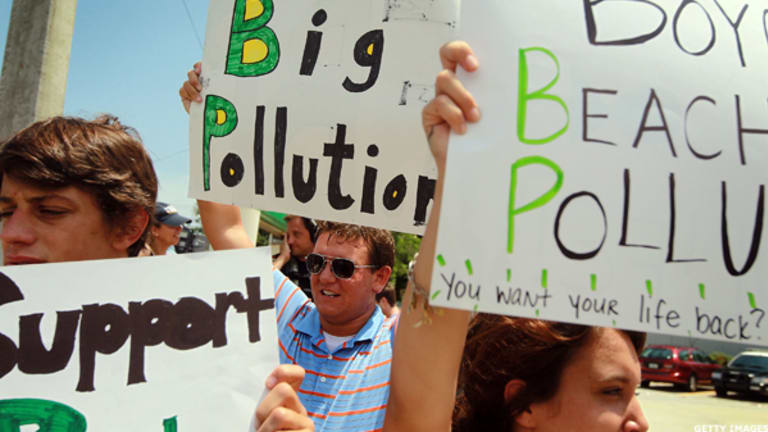 Why It Makes More Sense to Dump Your Fossil Fuel Stocks
It's been a smart investment for decades, even for green groups. Climate change is going to change that too.
NEW YORK (
) -- Sure, fossil fuel companies such as
ExxonMobil
(XOM) - Get Free Report
,
Chevron
(CVX) - Get Free Report
and
Royal Dutch Shell
(RDS.A)
have been smart investments for decades -- even for environmental groups who treat them like a secret addiction. But climate change is going to change that too.
In fact, it's divestment from fossil fuels that's the far smarter, safer move, according to a growing number of experts.
Late last month,
Forbes
featured an
that supported divestment in fossil fuel stocks not just as a viable financial strategy, but a necessary one. That's because though we have more than enough fossil fuel reserves worldwide to depend on for some time, it would come with a huge environmental cost.
Divestment hit the mainstream late last year when the environmental nonprofit 350.org, headed by writer and activist Bill McKibben, began advocating for it as a main angle of its climate campaign. In particular, 350.org touts divestment as a powerful tactic in urging fossil fuel companies to begin scaling back on extraction and replace their product with sustainable alternatives such as solar and wind power.
The scientific consensus is that we have to leave untouched 80% of our coal, oil and gas reserves to keep average global temperatures from rising more than 2 degrees Celsius (3.6 degrees Fahrenheit) -- the threshold for maintaining a stable climate. Yet according to the International Energy Agency, our emissions are already on a path that will increase average global temperatures between 3.6 and 5.3 Celsius (6.5 to 9.5 Fahrenheit) by the end of the century.
The threat of catastrophic climate change and its effects -- flooding, drought and sea level rises -- make continued investments in fossil fuel stocks risky at best. Current fossil fuel reserves may be estimated to be worth as much as $28 trillion dollars, but
Forbes
contributor Logan Yonavjak warns of a carbon bubble.
Also see: It's True: You're Paying Much More for Rent Next Year>>
"Although they have been lucrative, fossil fuels are becoming increasingly risky investments, and the stakes have become too high to maintain a stable climate," Yonavjak writes.
Specifically, Yonavjak explains that a possible carbon tax could raise the price of carbon to an average of more than a $100 per metric ton. This market expense, coupled with the increased costs associated with climate change, could make fossil fuels stocks toxic.
In light of the evidence of the crippling impacts and expense climate change is expected to cause if fossil fuels continue to be burned at current rates, divestment has become a key word for environmentalists and savvy economists alike.
There are active divestment campaigns in more than 300 campuses and 100 cities and states in the United States, with six universities and 17 cities and towns already committing to divestment, including San Francisco, Seattle and Cambridge, Mass. Additionally, about a dozen religious congregations across the country have committed to divest.
Conspicuously missing from the lineup of current and potential divestors are those large green groups that are sounding some of the loudest warning cries about climate change.
An
by Naomi Klein in
The Nation
last spring revealed that a majority of large environmental nonprofits are suspected or known to have large investments in the fossil fuel industry. The Nature Conservancy, for instance, has at least $22.8 million invested in the energy sector. Other groups with large endowments include Conservation International, the Wildlife Conservation Society and the Ocean Conservancy. None of these groups have been forthright about what percentage of their endowments are derived from or invested in fossil fuels.
On the other end of the spectrum, green groups such as Greenpeace, Friends of the Earth and the Rainforest Action Network do not have endowments and do not invest in the stock market. And other groups are taking steps to make sure their actions are more consistent with their mission. The Natural Resources Defense Council has stated that it specifically screens out the extractive and fossil fuel industry for direct investments, as does the Sierra Club.
Also see: Student Loan Debt Bad? It's Much Worse for Women>>
The executive director of the Responsible Endowments Coalition, David Apfel, told
The Nation
that unless an institution specifically screens out investments in fossil fuels, it is virtually certain to hold some stock in the industry.
"All investors are basically invested in fossil fuels," Apfel says. "You can't be an investor that is not invested in fossil fuels unless you've actually worked very hard to ensure that you're not."
The collective effort to divest has been aided by a flurry of reports outlining an appropriate and financially beneficial way to go about divestment. These include
The Aperio Group
's report,
Building A Carbon Free Portfolio
, Joshua Humphrey's article,
Institutional Pathways to Fossil-Free Investing: Endowment Management in a Warming World
and
Resilient Portfolios and Fossil-Free Pensions
, a joint effort of HIP Investor and 350.org.
All three not only outline methods for long-term divestment, but also offer suggestions for reinvestment in renewable energy and other solutions for coping with climate change, which they all conclude is a necessary component of any successful divestment strategy.
The Aperio Group reported in January that carbon divestment carries very little risk -- much less than 1% (from 0.01 to 0.0006). At the same time, the World Economic Forum found that about $700 billion would be needed annually to address and limit the global impacts of climate change.
Divestments in fossil fuel stocks owned by university, nonprofit and corporate endowments -- as well as those in pension funds -- would free up hundreds of billions to tens of trillions of dollars that could be redirected to sustainable development and climate adaptation projects. This could help prevent or alleviate many of the worst impacts of climate change while also benefitting the economy.
"A carbon-neutral, and eventually carbon-free, economy is not only possible," Yonavjak writes, "it has become imperative."