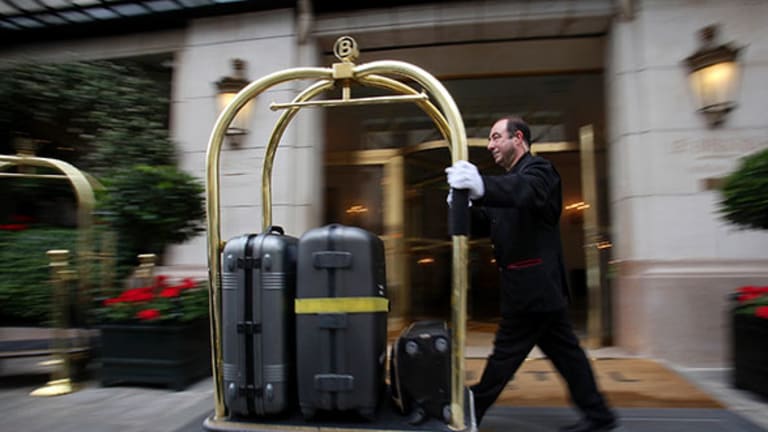 Why Hotels Are Eliminating Check-in and Check-out Times
In some cases, technology is the force behind guest-friendly policy changes. In other hotels, management has simply decided that guests deserve to be in control.
NEW YORK (MainStreet) — At The Peninsula Hotel in Beverly Hills, they call it "Peninsula Time," a term used to describe the hotel's laid-back approach to check-in and check-out.
Unlike the longtime industry standard, which involves a strictly enforced late afternoon check-in and vacating your room by mid-morning, Peninsula visitors are invited to arrive and access their room at whatever time is convenient, without any additional charge. The same goes for departure.
The policy, displayed proudly on the hotel's website, has long been part of what Managing Director Offer Nissenbaum says is the property's value proposition.
"I equate luxury with the ease of an experience at a hotel," Nissenbaum says. "And in so many hotels today, when one has to check out late because of business reasons or a flight schedule — when you call the front desk, it becomes negotiation time, and you're told that if you stay until 3 p.m. you will be charged a half-day rate and on and on. This creates stress, and to me luxury involves not having such stress."
The Peninsula may be among an elite group of hotels offering such a flexible policy, but it's a growing group. Many other hotel brands have begun offering some version of customized check-in and check-out, among them Westin Hotels, Palms Casino Resort in Las Vegas, Four Points LAX, Loews Hotels, HiltonWorldwide, ConradHotels & Resorts, PatinaHotels & Resorts and Capella Hotels and Resorts.
At Patina Hotels & Resorts, for example, guests who book a "Club" room or suite are given access to that room for a full 24 hours for each night they've reserved, meaning they can check in and check out at anytime they wish, rather then merely accessing the room from 4 p.m. the day of arrival until 11 a.m. the day of departure.
At Salt Hotels' boutique properties, there is a "no rules" approach, including having no formal check-in time. Instead guests are contacted in advance about their arrival and housekeeping is scheduled accordingly. The company operates one property in Provincetown, Mass., and is opening a second. The company plans a third hotel this year on Shelter Island in New York.
In many cases, technology is the force behind the guest-friendly policy changes, says Intelity CEO David Adelson, whose firm has designed apps for high-profile brands including Loews, Conrad, Hilton, Hyatt and Starwood Hotels & Resorts. The Intelity apps allow guests to communicate with a hotel on arrival time, among other things.
The company designed its first app aimed at facilitating check-in check-out discussions in 2012 for Conrad Hotels & Resorts, and the technology continues to evolve. Soon guests will be able to use their phones to open their hotel room door, eliminating the need to stop at a hotel's front desk altogether, Adelson says. It's the No. 1 request he gets from hotels.
"One of the trends we've seen specifically in the past couple of years is guests have been looking for conveniences as part of their stay. That began with wanting more personalized services, and now that has evolved into wanting to decide what time they arrive. And hoteliers have become bullish in offering consumers the choice," Adelson says. "It's becoming very widespread."
Describing the trend as a full elimination of check-in and check-out times may be a bit overboard, Adelson says. He predicts an industrywide shift to greater flexibility and customization.
"We're sitting in this paradigm right now where every type of guest wants to be serviced differently," he says. "And mobile technology is giving guests the tools to be more vocal."
There are many hotels unlikely to jump on the bandwagon, such as "limited-service hotels" including Hampton Inn, Fairfield Inn and Spring Hill Suites.
Beau Benton, president of LBA Hospitality, which manages a variety of limited-service properties, says making the change would involve too many challenges.
"You just don't have the staffing level to accommodate that," he says. "In large, full-service hotels you have room attendants throughout the night who can clean rooms. But at a limited-service hotel, the attendant comes in at 8 a.m. and is out by 3 p.m., and then the guest checks in."
Large beachfront resorts are also likely to find such changes challenging, Nissenbaum says. It works for The Peninsula because nearly 50% of the hotel's guests are business travelers, who typically check out early, allowing for early check-in. At vacation resorts there isn't typically such a large mass of early departures.
While admitting flexible arrival and departure comes with logistical challenges, Nissenbaum says it's nothing the hotel can't manage — and The Peninsula implemented the change without use of any new app or advanced technology. Instead, the property has made various operational changes, including having housekeepers scheduled on a 24-hour basis.
"The key in preparing properly is having the ability to obtain the arrival and departure time of each guest," he says. "We have a team in our guest services department that takes care of this. They obtain from guests or travel agencies all arrival times. And then it's like a big puzzle to match up late and early departures. It works very, very well."
Capella Hotels and Resorts is another longtime industry leader when it comes to such flexible arrivals and departures. Created by Horst Schulze, who was also co-founder of The Ritz-Carlton Hotel Co., Capella attracts the ultra-luxury traveler who has very definite demands.
"We did a lot of studies before we built the first hotel. We studied the customer, and one of the things that's very important to them is they like to be in control. They are used to controlling things in their environment, and hotels take that control away," COO Kit Pappas says. "It's important to our guests for them to be able to dictate the terms of their stay."
With that in mind, Capella Hotels and Resorts introduced a flexible check-in and check-out policy when launching its first hotel in 2006. Like The Peninsula, the company does not rely on technology to manage the logistics.
"The high-tech gadget we use is a phone and our brain," Pappas says. "We contact every guest before they arrive, we give them a call, and one of things we ask them is when they are arriving and departing. And then what we do is schedule our staff accordingly."
— Written by Mia Taylor for MainStreet