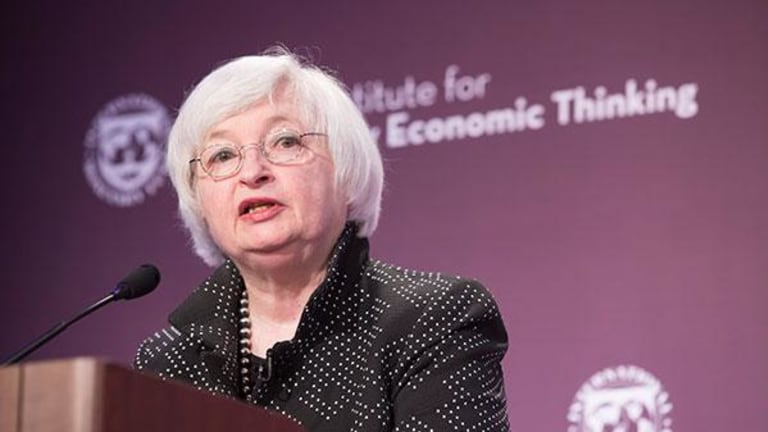 Why Half of You Worry About the Fed's Interest Rate Hikes
When the Federal Reserve raises interest rates, credit card interest rises, but checking and savings account yields don't necessarily follow.
You don't like it when the Fed raises interest rates, and there's good reason for it.
Back when the Federal Reserve's interest rate hike on December 14, a survey by Bankrate.com found that 49% of Americans are concerned about rising interest rates this year. That's up from 41% last year as many worry about the effect of rising interest rates on the stock market (21%, up from 16% in 2016).
"As the stock market has moved higher, more Americans are concerned that rising interest rates could be the market's undoing," said Bankrate.com chief financial analyst Greg McBride.
Only 18% were worried about the effect of higher interest rates on their overall personal finances, but maybe they should think about that more thoroughly. Finance site WalletHub recently discovered that the average annual percentage rate for credit cards rose by 31 basis points during the second half of 2016, which eclipsed the Fed's 25-basis-point hike on Dec. 14. However, the annual percentage yield on checking and savings accounts rose just one basis point, on average.
Yep, they're quick to elevate those rates when it benefits them, but not so much when it benefits you. As we saw another rate hike on March 15 and expect some two more this year, consumers are concerned.
This is how cunning credit card companies were when approaching the Fed's rate hike: they jacked up credit card APR by 18 basis points before the Fed even raised its interest rate. They then elevated APRs another 13 basis points after the fact. By WalletHub's estimates, the Fed's interest rate increase will cost consumers roughly $1.4 billion in additional credit card finance charges.
At the end of the third quarter of 2016, U.S. credit card debt stood at $747 billion, according to the Federal Reserve Bank of New York. That's roughly $16,061 in credit card debt, $6,885 of which is revolving dept. That revolving debt costs U.S. households $1,292 in interest, assuming an annual percentage rate of 18.76%, but increases to $1,309 thanks to the fed's 0.25% rate hike.
Debt is as American as apple pie, with overall U.S. household debt growing 11% in the past decade. Today, the average household with credit card debt has balances totaling $16,061, and the average household with any kind of debt owes $132,529, including mortgages. While finance site NerdWallet notes that households that make $157,479 per year pay almost four times more in credit card interest than households that make less than $21,432, the latter are disproportionately encumbered by their debt. If a person who makes $20,000 a year has $3,611 in credit card debt, that's 18% of their income. However, if a person who makes $150,000 a year floats $10,036 in credit card debt, that's less than 7% of total income.
It doesn't help that the rise in the cost of living has outpaced income growth over the past 13 years. Median household income has grown 28% since 2003, but expenses have outpaced it significantly. Medical costs increased by 57% and food and beverage prices by 36% in that same span. Including mortgages, the average household with any kind of debt owes $132,529. Credit-card debt, auto-loan debt ($28,535 per household, $1.14 trillion total) and student-loan debt ($49,042, $1.28 trillion) all becomes harder to take on when interest rates rise.
Nigel Green, founder and chief executive of U.K.-based deVere Group, considers interest rates in the U.S. to be a huge threat to investors worldwide. While initial market reaction to Donald Trump's presidency has been positive, Green sees rate hikes on the horizon.
Considering the likelihood of a stimulus package when he takes office, and given the already near full employment rate, inflation could go higher than the Fed's goal of 2%," he says. "Should this happen, the Fed could perceive the inflationary pressures as leading to an overheating of the economy and raise interest rates quicker than markets anticipate to cool it down."
While the last rate hike was just the second since June 2006 Green notes that it may signal the end of an era of very low inflation and interest rates both in the U.S. and around the globe. However, he doesn't necessarily see this as a reason for investors to accept smaller returns.
"There will be winners and losers, and those investors who have a good fund manager, who selects the right investments at the right time, will surely profit," Green says. "Ensuring proper portfolio diversification will also be essential to taking advantage of the rewarding opportunities and sidestepping the potential risks."
Some of those shifting strategies involve favoring the dollar over other currencies and favoring sectors that the Trump administration plans to both boost and deregulated. U.S. financials, energy, pharmaceutical stocks and exporters who'll benefit from a strong dollar will all provide safe havens. Meanwhile, emerging markets with tremendous foreign debt will suffer 
"No matter what the Fed does with interest rates moving forward," Green says, "investors who are well prepared and properly advised can look to build wealth as we move beyond the era of very low rates and inflation."
This article is commentary by an independent contributor. At the time of publication, the author held no positions in the stocks mentioned.