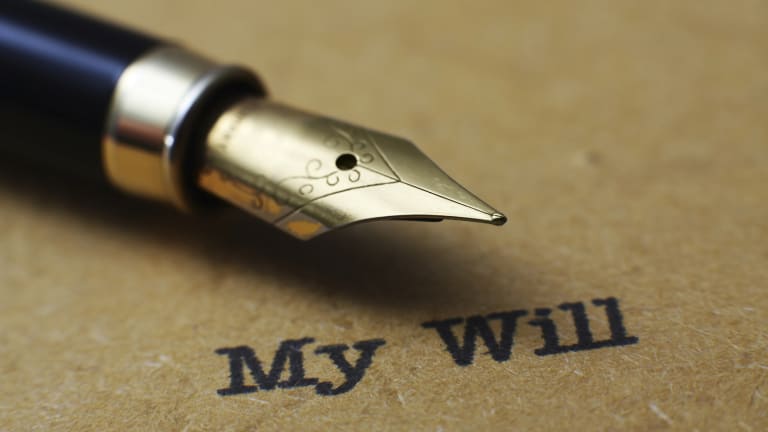 Why Half of You Don't Have a Will
Procrastination is one reason your estate planning hasn't started yet, but poor planning and complete lack of foresight aren't helping.
Most of you have not written out a will or trust, and it's for the laziest reason possible.
A report from Caring.com found that only 42% of U.S. adults currently have estate planning documents such as a will or living trust. That percentage is even lower for those with children under age 18 (36%). Apparently, small matters like who gets custody of those kids when you die or how they'll be taken care of in your absence just don't matter all that much.
No, we aren't kidding about that last bit. Among the more brilliant excuses you give for not drawing up estate documents incude "I just haven't gotten around to it" (47%) and "I don't have enough assets to leave anyone" (29%). Considering that 64% of parents of young children haven't done their estate planning, maybe it's about time you reconsider what your assets are.
You somehow manage to get your estate planning sorted out if it involves your own health and well-being. Roughly 53% of U.S. adults have granted someone legal authorization to make decisions on their medical care if they are unable to do so. You tend to get really selfish as death starts encroaching, with the 41% of Millennials (ages 18-36) who have a health care power of attorney rising to 83% of the Silent Generation (72+).
"It's not just a concern for older people - everyone who is 18 or older should have a health care power of attorney," says Caring.com vice president Katie Roper. "If your college-age son or daughter, God forbid, were seriously injured in a car accident, you as the parent could not even find out they were in the hospital, let alone discuss their condition with physicians, without this document in place."
It practically requires death knocking on your door for you to even consider estate planning. Just one in five Millennials has a will or living trust. Generation X (37- to 52-year-olds) fare only slightly better at 36%, while Baby Boomers (ages 53 to 71) stand at just 58% despite clearly entering their declining years. The only folks who are every remotely on top of this are the Silent Generation, 81% of whom have a will or living trust. Sadly, it's the younger people along that spectrum who have far more to lose without a will or a trust in place.
"While everyone needs a will to settle money matters, there's a far more compelling reason to have one if you have kids," says Melinda Kibler, Certified Financial Planner and portfolio manager with Palisades Hudson Financial Group's Fort Lauderdale office. "Naming a trustworthy, caring guardian for your children is one of the most important things you can do."
As Kibler notes, the lack of a will can create problems if both you and your spouse or partner die, or if you're a single parent. If your child or children have a living biological parent who does not have custody, she also notes that courts will almost always give custody to that individual if he or she comes forward. If you've remarried and started a family with someone else, however, that can result in siblings being separated.
Meanwhile, if you have remarried and your current partner hasn't formally adopted your children, there is no guarantee that your partner will get custody. Instead, children may go to grandparents, aunts, uncles, or even into foster care, depending on the court and on the state's laws.
"In the absence of a will, the court may create messy custody battles or award custody to a family member who may not have volunteered to raise your children," she says.
The lack of a will might also mean that you're leaving your children not only with no idea of how they'll be looked after financially, but with someone who isn't fiscally responsible if you do leave assets for them. Kim Dula, a partner at Marlton, N.J.-based Friedman LLP notes that a will clarifies your intentions and protects your family from both creditors and their own spending habits -- but only if it's in place.
"The biggest thing that I see repeatedly, though, beyond people who don't have a will, is people who don't revisit them," Dula says. "Maybe they have that will created when they're very young, but that will has to be revisited as your family grows, as your career grows as your assets grow and as tax laws change. It's an investment in their family's financial future and well-being."
However, even older adults have quite a bit to lose by not having estate documents in place. As people get older, the overwhelming majority of people are going to require help with their finances, medical care and other needs after retirement and beyond. Studies have discovered that financial decision making peaks around age 53 and gradually declines, even among healthy individuals. It's part of the aging process, but Fidelity Investments discovered that 60% of older adults worry about burdening their families with the task of managing the finances.
"The inevitability of losing financial independence is something for which we all need to plan," says Suzanne Schmitt, vice president of family engagement for Fidelity Investments. "That's why it's important for families to be in sync about what needs to happen in the event it's necessary to take the financial keys away from a loved one. By engaging in conversations now and having a strong support system in place, families can help loved ones gracefully transition into that next phase of their lives."
While only 9% of older adults (aged 50 to 80) surveyed by Fidelity felt they'd never lose the ability to manage their day-to-day finances, 60% admit to having witnessed it happen to a friend or family member and 40% actually helped manage their own parents' finances. Financial firm Edward Jones found that 43% someone close to them who had or is currently dealing with Alzheimer's disease. That includes 51% of Baby Boomers who've known someone who's struggled with Alzheimer's.
"Health care expenses can be difficult to project, especially when you are decades away from retirement," said Scott Thoma, principal and investment strategist for Edward Jones. "Unexpected conditions and medical expenses that manifest later in life pose a great threat not only to physical and mental health, but also to the financial well-being of both the care receiver and the caregiver. That's why it is critical to start preparing early -- proactive planning can ultimately help individuals protect their assets over the long term, even if health complications emerge during retirement."
That's a discussion you want to have while you still can. While Fidelity found that nearly 75% of older Americans surveyed say it's very important to maintain the ability to manage day-to-day finances, there are a number of instances where adult children often need to step in and get more involved whether the parent wants them to or not. When a parent or loved one makes a direct request for financial assistance, when age starts to become a significant factor (like when a parent turns 75 or older) and when there is awareness of a change in circumstances, Fidelity notes that it's best for adult children to step in if there's no plan in place. That puts the burden on parents to formulate a clear strategy for their later years.
"When you get right down to it, we're independent right up to the point we're not," says Suzanne Schmitt, vice president of family engagement at Fidelity Investments. . "Well before a tipping point has been reached, families need to be prepared and make sure they have a strong transition plan in place — and the good news is, there are several benefits to building a strong family financial safety net. Doing so allows parents the ability to maintain their current lifestyle for as long as possible, helps them preserve their assets and may increase the likelihood they won't fall victim to fraud."
Recent Census Bureau indicates that the population of Americans aged 65 and older will grow to greater than 80 million by 2050, and that the number of people likely to require long-term care is expected to more than double from 12 million today to 27 million over that time span. That's leaving a lot of adult children with lot of questions unanswered.
Last year, Caring.com found that 16% of adult children are unsure whether their parents have made preparations or not. Only 25% of adult children have asked if their parents have left a will, while just 40% of parents say they've updated that will within the last five years.
It isn't just 18- to 49-year-olds left in the dark, either. Roughly 29% of 50- to 64-year-olds don't know where their parents' documents are stored and 38% don't know the contents. For those 65 and older, 23% don't know where the documents are stored and a startling 44% don't know the contents.
If 52% of adult children don't know where their parents store their estate documents and 58% percent don't know the contents of the documents, exactly how do you think actual children are going to fare if there isn't a will in place?
"It's time-consuming, it can be costly and it creates an incredible amount of stress for the family you've left behind," Dula says. "The surviving family is already going through such a trying time with the death of a loved one and now dealing with all of this creates a lot of confusion and can be very painful. To prevent that and put this all in place when somebody is healthy and competent, it's a nice thing to do and it's an investment that everyone should be considering."
Granted, not every asset requires a will. Non-probate assets such as a 401(k) plan or life insurance plan only require a designated beneficiary to make sure those assets go to the right places and stay away from creditors. Jointly owned property typically just goes directly to the next person on the title, but a will or trust document can still help if any of those assets have a minor as their designated beneficiary.
Palmer Williams, national sales director with Saybrus Partners, partners with financial advisors to provide life insurance options for clients. He notes that you'll always want to make sure the right people receive the right assets in the right manner with the least amount of cost. That said, if a child is named on a life insurance policy, Williams says estate documents like a trust are absolutely necessary.
"We try to encourage financial advisors to simplify the discussion," Williams says. "With a life insurance policy, if your beneficiary is a minor child and there's not a trust set up, your'e often left with the conservatorship process through the state that can be burdensome and inflexible."
Yet families aren't even having the conversations that lead to estate planning. According to a recent study from the Center on Wealth and Philanthropy at Boston College, an estimated $59 trillion will be transferred from 93.6 million American estates between 2007 and 2061. This, alone, wouldn't be so bad if people kept track of their estate planning documents or informed potential beneficiaries about their plans.
While just about everyone with children or loved onces should have estate documents in place, there's clearly more urgency if you're older If you've reached 50 or have 75 or older, Fidelity's Schmitt suggests taking stock of the people you consider family (by birth or by choice) and drafting a family financial roadmap. Think about how old each of you are today, and look ahead in five-year increments to consider how your finances, housing, health, caregiving and end-of-life care will need to be addressed. Next, make sure you have friends, family, attorneys, accountants and other advisors in place who know your balance sheet, can step in if you need help and have direct orders if you do.
Just realize that this is one scenario in which most financial advisors aren't going to be asking you for your business. While Fidelity found that more than half of advisors (53%) believe they can identify a client with diminished capacity, only 21% feel well-prepared to work with them. The majority of advisors agree that while policies and procedures — such as having an emergency contact or person of authority (POA) on file — can help, they cannot handle things on their own.
Nearly 80% of advisors ask clients they suspect of having diminished capacity to get their family involved their family in financial planning. That said, privacy issues as well and potential financial fall-out make more than half of advisors (59%) hesitant to engage directly family members. This is why most financial advisors want you to have your paperwork in order by the time you hit 50. You should designate beneficiaries on bank accounts, investments and insurance policies. You should also draft a current and complete will, a health care proxy and a living will. Beyond that, you should scan and store your legal documents someplace safe and share this information with your loved ones. Finally, you and your family should develop a "just in case of emergency" plan just in case your situation declines rapidly.
"Talking about money is difficult, and talking about money with family can be especially so," says Anthony D. Criscuolo, Certified Financial Planner with Palisades Hudson Financial Group. "But the consequences of avoiding it are serious and the benefits of doing so are clear."