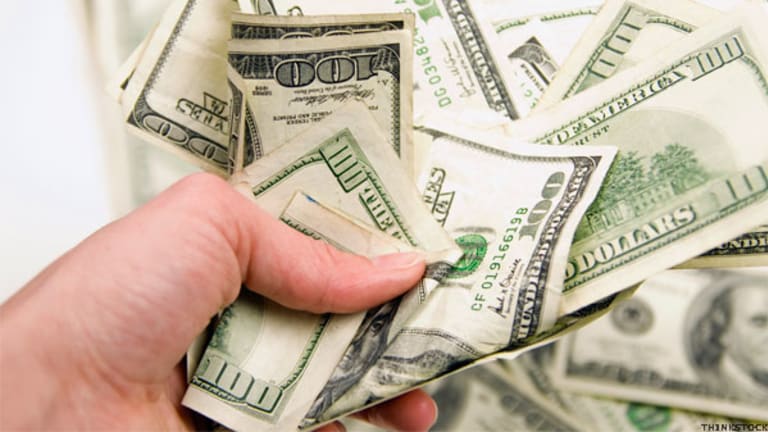 Publish date:
Why Guinness Is Flat as St. Patrick's Day Beer
Guinness sales are still strong on St. Patrick's Day, but tastes are turning toward pint-sized competitors.
Guinness sales are still strong on St. Patrick's Day, but tastes are turning toward pint-sized competitors.
DUBLIN (TheStreet) -- Slapping a brand logo on bar-window paper shamrocks doesn't make a brew "the official beer of St. Patrick's Day," but there's no easy answer for what does.
If St. Patrick's Day was like any other day on the calendar, some of America's biggest brewers would be able to make a pretty strong argument for wearing the green.
Anheuser-Busch Inbev
(BUD) - Get Report
holds 49% of U.S. beer market share, according to Beer Marketer's Insights, followed by
MolsonCoors
(TAP) - Get Report
at 29.6%, Corona importer Crown at 5.1% and Heineken at 4.1%. Guinness' 1.2% share is more akin to
Boston Beer's
(SAM) - Get Report
Samuel Adams or Yuengling at 1% each.
The theory on St. Patrick's Day in the U.S. is that Guinness is the most "authentically Irish" beer to have in your pint, but that's not how they feel in Ireland.
But this is St. Patrick's Day, when the yellow beer turns green, the taps flow freely and the crowds clamor for pints of something more Irish than Coors' Killian's Irish Red. The theory on St. Patrick's Day in the U.S. is that Guinness has more than 250 years of history in Ireland and it's in all those movies such as
Waking Ned Devine
and
The Matchmaker
so it must be the most "authentically Irish" beer to have in your pint on St. Patrick's Day, right? That's making a lot of assumptions before the pint's even poured.
"Guinness isn't even Irish anymore," says Joseph Tucker, executive editor of
, who notes that Guinness' corporate masters have a London address. "It's owned by
Diageo
(DEO) - Get Report
."
While Guinness was unquestionably Ireland's beer of choice in the early 1970s, when stouts made up 70% of the beers consumed by Irish drinkers, a 2006 report from Ireland's Competition Authority noted that European and American lagers had become "more fashionable" and taken 63% of Ireland's beer market compared with just 32% for stout.
Today, Guinness leads all beers in Ireland with a 26.6% share of the pub take, according to Euromonitor International. Yet its two closest competitors -- Heineken and Budweiser -- already eclipse the dark stout with 30% of all sales. Some of that's come directly out of Guinness' till, as Guinness' share of Irish pints is down from 31.1% five years ago, while Heineken sales are up 0.6 percentage points, Bud's risen 0.3 and brands including Miller, Carlsberg's Tuborg and Corona have all bubbled up more than a percentage point since 2005, with Corona having a bit of a laugh about it a few years back:
Guinness isn't the only stout stumbling on hard times in Ireland; Heineken's Murphy's Irish Stout has lost more than half its market share within the past decade amid that country's economic downturn. It's much tougher, however, when critics such as those on Tucker's site don't even think Guinness is the best stout
in Ireland
. RateBeer judges instead gave the nod to
Carlow O'Hara's Celebration Stout
-- one of the "private label" craft beers whose share of the Irish market has grown from 1.1% in 2005 to 1.7% today -- on its
list.
Guinness is increasingly competing with craft brewers in the U.S. as well, as its 10.3% decline in shipments in 2009 coincided with a 7.2% increase in craft beer shipments and 10.3% increase in sales in the same period, according to the Brewers Association. Guinness still managed to serve 3.5 million pints last St. Patrick's Day, but it was far from the only brewer losing pints to its pint-sized competitors as craft brew sales increased 9% in the first half last year compared with a 2.7% decrease for U.S. beer sales on the whole.
They don't have 250 years of Irish history or a supersized brewing facility in Dublin, but some of America's craft brewers have just as much claim to an Irish heritage as a London-based brewer. Tucker notes that Sean O'Sullivan of San Francisco's 21st Amendement Brewery, Ron Gansberg of Portland, Ore.'s Cascade Brewing, Tony McGee of Petaluma, Calif.-based Lagunitas Brewery and Brendan Moylan of Larkspur, Calif.'s Marin Brewing are all of Irish descent and have the brews to back it up. Even President Barack Obama, who's one-eighth Irish, had the White House kitchen staff home-brew a batch of
-- though apparently not for St. Patrick's Day. Even if drinkers are looking for something slightly more stoutlike than what the president's sipping, there's a cadre of choices among the craft brewers.
"Although distinctly non-Guinnesslike, our top
has a bunch of American regional beers that are much easier to find, like Rogue Chocolate Stout, Bell's Special Double Cream Stout, Lost Coast 8 Ball Stout and New Glarus Road Slush Stout," Tucker says. "Among
, Sam Smith's Oatmeal Stout, Bell's Kalamazoo Stout, Young's Double Chocolate Stout, Rogue Shakespeare Oatmeal Stout and Mikkeller Beer Geek Breakfast are accessible and delicious accompaniments to corned beef and cabbage, as well as stand-alone beverages appropriate to the holiday."
The problem is that the overwhelming majority of craft brewers don't have the marketing money or motivation to make a St. Patrick's Day push. There are many beers that can be summoned for that celebration, but for every Boston Beer that pushes its Samuel Adams Irish Red, there's a brewer such as Lakewood, N.Y.'s Southern Tier Brewing that makes a large selection of chocolate mocha, java and creme brulee imperial stouts and can recommend their own hoppy, high-alcohol content, 22-ounce 2X and Unearthly IPAs because -- as spokesman Nathan Arnone points out -- their labels are green and super-strong beers "are all we make." Matt Simpson, better known as
The Beer Sommelier
, says St. Patrick's Day is "simply not a huge blip on the craft beer radar" and that brewers are usually more than happy to cede the "official" title to Guinness and other big brewers and their distributors who care a little more about their holiday pour.
"In my experience, the reality seems to be that brewers don't really put a ton of credence or resources into creating beers for St. Patrick's Day," he says. "They're really in the game to just make good beer -- it seems to be the retailers that push the products to meet their event/party ends."
-- Written by Jason Notte in Boston.
>To contact the writer of this article, click here:
Jason Notte
.
>To follow the writer on Twitter, go to
.
>To submit a news tip, send an email to:
.
RELATED STORIES:
>>Brewers Invest In Perfect St. Patrick's Day Pints
>>Guinness' St. Pats Performance Requires Perfect Pints
>>Consumers Get A Break From Retail Holidays
Jason Notte is a reporter for TheStreet.com. His writing has appeared in The New York Times, The Huffington Post, Esquire.com, Time Out New York, the Boston Herald, The Boston Phoenix, Metro newspaper and the Colorado Springs Independent.