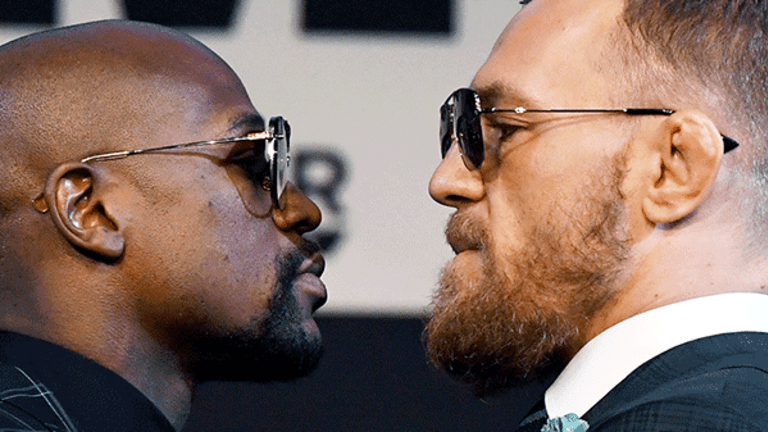 Why Fans Must Spend $100 to Watch Mayweather-McGregor Fight of the Century
Get ready to pay.
The fight of the century between Floyd Mayweather Jr. and Conor McGregor on Saturday is a financial windfall for the athletes, promoters and Nevada as well as pay-per-view companies as they anticipate a record number of fans shelling out $100 to watch the bout.
The projected pay-per-view numbers have been estimated to reach as high as 5 million subscribers, outpacing the record 4.6 million from the Mayweather fight against Manny Pacquiao.
The showdown between Mayweather Jr., who has a record of 49-0, and mixed martial arts fighter McGregor, who produced a 21-3 record, is expected to generate revenue of $500 million or more for cable companies offering the pay-per-view option from the $99.95 rental fee.
Whether Mayweather, who has been deemed the best boxer of his generation, should be fighting against McGregor in his first professional boxing match, is up for debate among fans and experts. Still millions of viewers are expected to watch the boxing bout either through pay-per-view or illegal streams. Fans can likely watch it online by searching social media such as Twitter. Other viewers are likely to post a livestream from Facebook or Instagram from a European stream and reroute it to a third-party viewing platform.
Fans of both boxing and mixed martial arts have expressed mixed reactions about shelling out money for what many have said is not a fair fight.
A diehard fan of mixed martial arts, Thomas Nguyen said it is "absolutely worth it to pay $100 to watch the fight of the century." While he agrees with the sentiment from boxing purists and even MMA experts that the odds of McGregor defeating Mayweather are slim to none, witnessing another fight like this may never occur again.
"Never have we had arguably the best pound-for-pound MMA fighter like McGregor fight in a boxing ring against arguably the greatest pound-for-pound boxer like Mayweather," said Nguyen, who has been watching the Ultimate Fighting Championship since its inception along with other leagues such as Strikeforce and Bellator, and is a partner and co-founder of Peli Peli, a Houston-based South African restaurant group. "Mayweather retired while on top, not like most who are forced into retirement. He retired only two years ago undefeated and from the looks of things is still in phenomenal shape."
Watching how the fight unfolds is worth spending the money, because if McGregor is able to hang in there for six to seven rounds, some people will view it as a moral victory, Nguyen said.
"If he is able to do the unthinkable and knock Mayweather out, it will dramatically alter the boxing and MMA landscape opening the doors to more fights between boxers and MMA fighters, possibly contributing to the demise of boxing as we know it," said Nguyen, who plans to contribute a portion of the fee to watch at a friend's house. "While it is all possible that Mayweather knocks out McGregor inside of one to two rounds, it will not do much to affect how the general public views McGregor. He is not supposed to win, and everyone knows Mayweather would have no chance inside of an octagon."
Other ardent MMA fans such as Melissa Hensley, a Houston-based corporate communications professional, believe the fight is not fairly matched and are adamantly opposed to watching it.
"I love the sport and have all respect for boxing, but this farce is respecting neither," she said. "It's a stunt, and I won't support it."
Travis Gleason, a New Orleans technician for an oil company, also believes the fight is merely a publicity stunt and does not recommend that people watch it.
"Do not spend a dime on this garbage," he said. "You have arguably the best boxer there has ever been fighting someone who just started learning how to box. This a boxing match, not a fight. There is a big difference."
Gleason said he plans to watch the infamous fight when HBO replays it or when someone posts it on the Internet.
"I'll catch it when it's free, if it's even worth it then," he said.
Sharing the costs with your friends can be a cheaper alternative, since Verizon's Internet bandwidth can support up to 100 connected devices, said Ray McConville, a spokesman for Verizon.
"Throw a viewing party at your home and have your friends chip in," he said. "Save a few dollars and avoid hanging around your crowded neighborhood sports bar with the less-than-ideal screen views."
For those trying to cut costs, paying the cover fee at a restaurant may well be worthwhile to enjoy a lively ambience that can beat a quiet and costlier night on your couch.
While the cost of watching the fight is too expensive, Adam Leverone, recommends watching it at a bar or restaurant and doling out money for the cover fee.
Movie theaters often offer options for screening the fight that make the fight feel more like a live event with a raucous crowd.
Watching the fight at home, though expensive, may be guarantee the best view, but consumers should be aware that the choice can turn out to be frustrating if they pay $100 for an entire card of fights and the main event goes only to three or four rounds or less.
"Buying it at home and being in your own space is quite a luxury," he said. "So you are paying for the convenience of being able to watch the entire card in the background with your own bathroom and your own food."
Mayweather vs. McGregor: The Fight of the Century
Sizing Up MMA Fighter Conor McGregor Ahead of the UFC Fight Against Floyd Mayweather