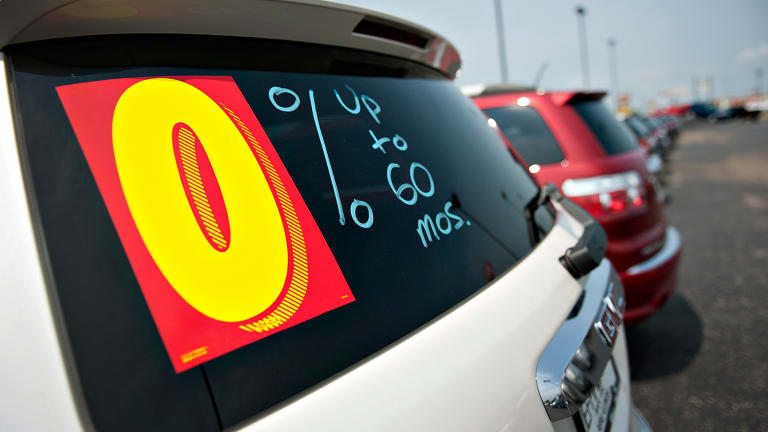 Why Everyone Thinks It's Time for Subprime Auto Leasing
With used-car inventory still recovering from the recession and new-car leases out of reach, subprime leasing options could kickstart auto sales.
NEW YORK (TheStreet) – Auto leasing is a more popular option for car buyers than ever, but post-recession credit restrictions have locked out lots of potential drivers.
According to auto pricing and analysis site Edmunds.com, 28% of all new-car transactions in April were leases. That's up from a low of 12% during the recession in August 2009 and well above the pre-recession high of 19.5% in 2007. But as lease transfer site Swapalease.com notes, credit approvals for leases in the secondary market sat at 69.6% in May. Approvals sit at 65.9% for all of 2015, which isn't great when Swapalease considers three-quarters of approvals "healthy" and notes that April's 78.6% rate came only with the help of lease approvals for luxury brands including BMW, Mercedes-Benz and Lexus.
According to Scot Hall, executive vice president of Swapalease, many of those being denied for leases are subprime customers. Hall says Swapalease is seeing more customers with credit scores in the 600s going through the lease application process. Experian Automotive says leasing credit has loosened, with the average new-vehicle lessee's credit score of 718 in early 2015, down from 721 the same time last year. In Hall's view, that isn't good enough.
"We're hopeful that the industry will consider new ways to extend lease options to customers even with less-than-stellar credit," Hall says. "The industry has expanded risk environments to very long-term loans, and we feel the environment for risk would be muted in an environment of less than 24 months even for a subprime credit profile.
Typically, dealers would accommodate subprime buyers by steering them toward used vehicles. But new-car sales that plummeted to roughly 10 million in 2009 (compared with almost 16.5 million last year) dried up used vehicle inventory and sent prices soaring. Manheim Consulting's Used Vehicle Index says used car prices are up 1.8% from a year earlier. In January, that index finished the year at its highest rate since 2012, when a combination of recession-driven cuts in rental fleet purchases and post-bankruptcy lease abandonment by General Motors and Chrysler also put the squeeze on used-vehicle supplies.
As Edmunds notes, between 2008 and 2013, leases for compact cars jumped 131%, while leases for subcompacts nearly tripled. Small SUVs (31%) and compact trucks (45%) also saw increases, which allowed customers to lease vehicles at a far lower price than the luxury market offered, but also, according to Hall, directed "subprime shoppers turned away at the dealership" to the lease transfer market with the false hope of more lenient application criteria.
"Leasing continues to rise, and our expectation is that used-car volumes will also continue to increase over the coming years," says Eric Ibara, director of residual values for Kelley Blue Book. "This will inevitably lead to a softening of used-car prices, although the anticipated drops so far have been milder than expected. While the average late-model used-car value had been tracking in May and June at about the same level as last year, in the last week or two we started to see them dip below the levels attained a year ago."
That's sent more subprime car buyers scrambling for leases. The National Automobile Dealers Association Used Car Guide says leasing represented about a quarter of all new-car sales last year, versus 23.6% in 2013. The record high, NADA says, happened in 1997, when leasing made up 27.6% of all new-car sales. That's 3.14 million vehicles overall, just shy of the record 3.3 million leased vehicles in 1999.
While leasing was once reserved primarily for luxury car buyers, that subprime buyer base is tilting vehicle leases toward less expensive options. Lease rates for subcompacts, typically the least costly option available, jumped from 5% of all leases before the recession to roughly 17% today. From 2008 through 2013, leases of subcompact vehicles increased 187%, while compact cars saw a 131% spike.
But with even compact prices proving prohibitive for some and used-car inventories still miles away from a full recovery, Hall says it may be time for banks and loan providers to consider subprime auto leasing as an option. Hall argues that the strength of the certified pre-owned vehicle market of used vehicles fresh off a lease can absorb more lease activity. He also notes that subprime leasing might goose the sales of compact and subcompact vehicles, which are up a relatively flat 1.6% so far this year.
Ideally, subprime leasing would foster brand loyalty among customers, as many standard leases do. More importantly, Hall notes that short-term leases of 36 months or less would expose banks and automakers to less risk while allowing subprime applicants to rebuild credit without refinancing a payment plan. The downward trajectory of average lessee credit scores indicates there's some flexibility, but Hall says banks and leasing companies can afford to be more creative.
"I've had a lot of exposure and done a lot of subprime finance to help people get back on track and restore their credit, but it can be a long and expensive process," Hall says. "As a result of that, higher interest rates are going to be a part of the equation, more money out of pocket will be part of the equation and longer terms will be part of that equation. It can be a four- to five-year process, but a lease is short to begin with and can mitigate that credit with a security deposit setup."
— Written by Jason Notte in Portland, Ore.
To follow the writer on Twitter, go to http://twitter.com/notteham.
This article is commentary by an independent contributor. At the time of publication, the author held TK positions in the stocks mentioned.