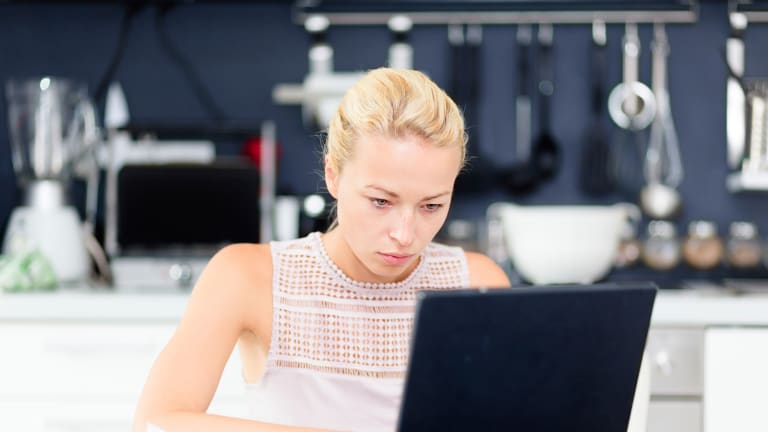 NEW YORK (MainStreet) — After Lindsay Wilcox gave birth to twins, she returned to her role as a public relations specialist full-time, but her manager allowed her to split her time by working in the office three days a week and the other two from home.
This flexibility meant Wilcox could save money on daycare costs and continue her position at CHG Healthcare Services, a Salt Lake City healthcare staffing firm.
"Having the flexibility to work in the office just three days a week gives me better work and life balance and helps me focus on key tasks," she said. "I get the best of both worlds: the camaraderie of my coworkers in the office and the relative quiet of my home while I spend more time with my children."
Many companies have embraced more flexible strategies such as allowing employees to work from home or create their own work schedule, and the end result is that many employees are productive, feel greater job satisfaction and decrease the number of times they switch positions. They are spending less time on the road during rush hour and can go to doctor's appointments in the middle of the day or leave early to attend parent and teacher conferences.
"It's a common problem within many workplaces," said Deb LaMere, vice president of employee engagement at Ceridian, a Minneapolis-based human resources technology company. "Employees are simply not showing up to work, whether its mentally or physically."
Telecommuting Can Be A Bonus for Both Employees and Bosses
Some employers have implemented less stringent work days and have found it to be beneficial both to their bottom line and for employees to be more engaged. A 2009 study conducted by Cisco reported that the San Jose-based technology company saves $277 million per year just from allowing its employees to work from home remotely. The survey found that 60% of the time saved from telecommuting is used working and 40% is allocated for personal time.
Allowing CHG's employees to structure their own work schedules means they are not only more engaged in their work, but their productivity has also increased, said Kevin Ricklefs, senior vice president of talent management. This strategy has resulted in decreasing the company's decreasing turnover by 9% since 2007. The company found that in 2007, 79% of the employees reported they were satisfied with their jobs, but CHG had a high turnover rate of 29%.
"Employee engagement is more than just making sure that people have fun at work," Ricklefs said. "It's about giving employees the chance to give feedback, implementing their ideas and being transparent about company decisions."
Employees Create Their Work Schedule
During the past year, managers at MIT Sloan Executive Education started a pilot project allowing a flexible work program in which employees are given the opportunity to determine their own office hours. This program is testing a theory that being physically present in the office "does not play a vital role in productivity" for employees, said Peter Hirst, executive director of MIT Sloan Executive Education, which offers a non-degree executive program in Cambridge, Mass.
"As our lives have become more connected, MIT Sloan has identified an opportunity to enhance productivity and support a healthy work and life balance by allowing employees to work from home at their discretion and when appropriate, given established workplace responsibilities," he said.
The focus switched to keeping all the employees connected and communicating while everyone worked from a home office. Now employees at MIT Sloan can "feel as though they are in the office without physically being there," he said.
"We're currently experimenting with iPads attached to motorized machinery which allow employees to log in and navigate the office, popping in for a brief meeting or just to touch base with employees on-site," Hirst said. "We also created an avatar-based platform that gives employees the ability to interact with each other virtually."
You Can Never Really Avoid Those Office Meetings
Recognizing that interpersonal communication still plays a large role, the company instituted a policy where all employees work in the office once a week on Wednesdays.
"Many of our employees value time in the office and the face-to-face contact that comes with it," he said. "This allowed for the in-person time that is often necessary during the work week."
Even in its infancy, the program has already produced some good results with 90% of employees who feel that support for their family and personal lives had improved as a result of the flexible work option, 86% who found that their stress levels had decreased, 75% who said their morale improved and 62% who felt more trusted, according to a recent survey. What is even more crucial is that 62% of employees found that their workload management had improved.
Companies which are successful tend to have employees who are committed and produce a high quality of work consistently.
"We put very little focus and emphasis on the reason why an employee comes in an hour later or calls in sick," Hirst said. "Of course, we are concerned with the personal well-being of our staff, but productivity and results speak for themselves. If an employee is maintaining a productive workflow and meeting or exceeding expectations, the reason why they need time off should not matter."
Working From Home Once a Week is Helpful
Creating both a flexible maternity and paternity leave and work schedule has helped BuildFax, an Asheville, N.C. company that has a national database of historic construction permit records for properties, from losing 15% of its current work force over the past two years.
While some employees choose to opt to work from home twice a week or taking Fridays off for the first six months of your child's life, others take the traditional eight weeks off, said CEO Holly Tachovsky.
"We have many employees in the early years of creating a family," she said. "As part of that, I find that many parents are splitting maternity/paternity time after the birth, creating a patchwork of time with each parent and then phasing in non-parent childcare over time, rather than the more traditional eight weeks off model."
Figuring out which schedule worked best for his work demands was a plus for Brian Stanley, director of development.
"Taking every Friday off for six months was a way for me to spread out my time with my family while also preserving a work-life balance, both of which were important to me," he said. "I appreciated that BuildFax worked with me to create a customized leave package rather than applying a rigid one-size-fits-all policy."
--Written by Ellen Chang for MainStreet