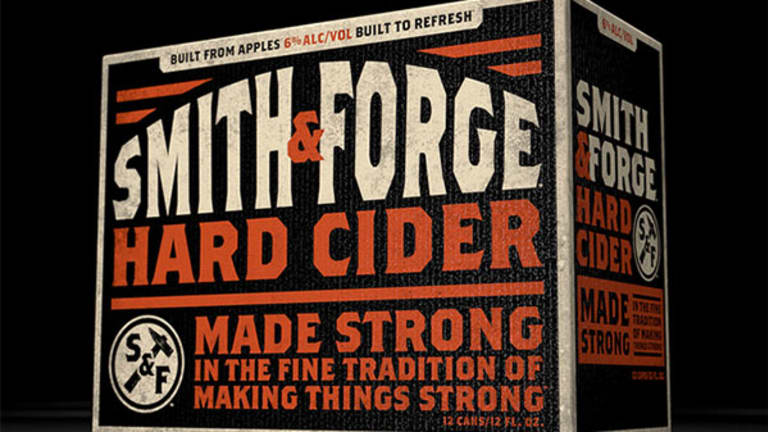 Why Do We Need Hard Cider For Men?
MillerCoors just rolled out its Smith & Forge hard cider targeted at guys despite the fact men and women drink cider in equal numbers. The problem isn't getting guys to drink cider, but getting cash from dudes who won't drink Coors.
PORTLAND, Ore. (TheStreet) -- Hard cider is a golden, sweet spot in a gloomy beer industry.
According to market research firm Symphony IRI, cider sales in the U.S. increased 81% by volume and 84% by revenue in 2012. Before that, it made up just 1% of the overall beer market. Last year, it was up 103% through November. That's better than the low double-digit percentage growth of craft beer during the same span and far better than the overall beer market, which has declined in four of the past five years.
As Nomura Research has pointed out, cider also sells for an average $35 a case compared with $20 for light lager such as Bud and Coors Light, $29 per case paid for imported beers and $33 for craft beer. At a time when Nielsen notes that men make up 72% of the beer market while women make up just 28% of beer consumers, the fact that cider is consumed in equal proportions by both genders should be a great thing, right?
Nope. With big brewers Anheuser-Busch InBev and SAB Miller/MolsonCoors joint venture MillerCoorspushing their way into the cider market, there's one big item missing from the nation's cider cellar:
Dude cider.
Yes, even with cider sales producing gender parity that has long escaped the beer market, the big brewers are wondering how to tilt the scales again and bring in the bros. This month, MillerCoors is introducing its Smith & Forge line of ciders that's packaged in 16-ounce cans, includes ever-so-subtle hammer icons in its labeling and makes the argument that a cider isn't "manly" unless its apples have been melted in a blast furnace.
"Now hard cider is exploding again, but the sweetness of many current ciders can be a turn off to beer drinkers, and some of them are looking instead to spirits and crafts for variety," said David Kroll, MillerCoors vice president of insights and innovation, in the cider's introductory press release. "Smith & Forge is a strong, just-sweet-enough hard cider that encourages guys to discover -- or rediscover -- the world of hard cider."
There are a few things wrong here, and not by a small margin. First off, we already told you that Nielsen has recorded a roughly 50-50 split between male and female cider drinkers. The guys don't need to "discover -- or rediscover" anything. Secondly, MillerCoors already has a cider in its stable that should be bringing in the guys without going into the Maxim/SpikeTV treatment of a decade ago. Back in 2012, MillerCoors bought Minneapolis-based Crispin Hard Cider for a reported $40 million and shoved it into its Tenth & Blake craft division that includes Blue Moon and Leinenkugel's.

After that sale, Crispin sales spiked 287% for the rest of 2012 and another 125% through last November. Its flagship original cider is fairly dry and isn't prone to the sugary sweetness of hard ciders past, so it shouldn't be scaring the boys away. Meanwhile, the Crispin portfolio includes super-dry Brut cider, imported English dry cider and a whole lot of wine-, whiskey- and bourbon-barrel-aged limited edition ciders that should appeal to the "spirits and crafts" crowd MillerCoors thinks is running for the hills.
So what's with the Smith & Forge testosterone cider? Well, there are a few complications here. The first is that MillerCoors and A-B are driven by demographics and demographic-based marketing. When Nielsen says that African-American beer drinkers are 75% less likely to reach for a craft beer than the average drinker, but more than twice as likely to seek out a flavored malt beverage, they'll target MillerCoors' Redd's Apple Ale and A-B's Bud Light Lime-A-Rita in their direction. When Nielsen says Hispanic beer drinkers, who make up 14% of the overall population but 16.2% of all beer drinkers, are 17% more likely to go for a flavored malt beverage but 62% more inclined to go with an import, A-B goes out and buys Grupo Modelo while MillerCoors pushes Cusquena, Aguila and Cristal.
The demographic games are played far less generally as well -- down to age, race, ethnicity and gender -- but they're fairly useless when it comes to cider. In 2012, the top cider producer in the U.S. was Ireland's C&C, which took 53% of the market thanks to its $305 million purchase of Woodchuck Cider creator Vermont Cider  that year and its $25 million purchase of West Coast cider Hornsby's in 2011. It already produced Ireland's Bulmers, which is known here as the Magners brand that is drunk regularly by male Irish expats on the East Coast. C&C doesn't usually play gender games with its ciders: It just makes cider.
The same can be said of Heineken USA, which took distribution rights for English cider Strongbow from Vermont Cider as part of the C&C buyout. That particular cider is not only widely enjoyed by guys in the UK, but also sponsors English Premier League teams and has aired lad-centric, Star Wars-themed commercials there.
Perhaps some of the cider confusion for the big U.S. brewers is a result of the brand that took C&C's cider crown in 2013. Boston Beer launched its Angry Orchard cider brand in 2012 and immediately took a 23% stake in the U.S. cider market. Its initial marketing leaned heavily on its scary-looking tree logo, a spicy ginger version and even a commercial featuring old dudes and young bros drinking cider in bars and on trucks. It was gunning for the guys and had no qualms about it.

But something funny happened along the way to the 47% share of the cider market that Angry Orchard had by the end of last year: Women flocked to it in huge numbers. It turned out they were just as big fans of the "manly" flavors as the guys were and helped push the company to produce elderflower and cinnamon versions. Angry Orchard has since stopped fighting the battle of the sexes and began focusing on sourcing its apples in the U.S. instead of Europe and doing away with twist-off caps in favor of tighter-sealing -- and less patronizing -- standard caps.
But neither MillerCoors nor A-B seem content to just let the cider speak for itself. A-B has decided to attack the cider market from all sides by launching a Michelob Ultra cider for its weight-conscious drinkers, Stella Artois Cidre for its high-end import followers and, later this year, Johnny Appleseed ... for the fellas.
These two brewers aren't banging their heads against the cider tree without reason. They've seen their flagship Budweiser, Bud Light, Miller Lite and Miller High Life brands lose sales and market share with each passing year as beer drinkers turn away from nearly every light lager not named Coors Light or Pabst Blue Ribbon. As Nielsen notes, men are 41% more likely to drink those core brands than women, but are decreasingly likely to pick a light lager overall with each passing generation. Baby boomer and Generation X men represent the last bastions of the great domestic light lager, though even Gen X is more 7% prone to reach for a craft beer than one of the fizzier mainstays.
If the light lagers are losing the guys, it's duly important that the big breweries get male millennials on board any way they can. Those millennials are twice to seven times as likely to drink a cider than any other generation, which makes marketing toward the males of that group seem like a logical step.
Only that it isn't. Cider's rise has been strictly gender-neutral to this point. It's been an inclusive experience that doesn't separate folks at the bar by the drink in their hand. It's ordered without judgment because, in a pint glass, it looks just about the same as a beer. It is to the beer world what the iPod and iPhone were to music: a means of buying and enjoying what you like without being held to ridicule for it.
This is what A-B and MillerCoors aren't getting about the U.S. cider market that their competitors large and small have already figured out. If you focus more on the cider in the bottles and cans and less on its labeling and marketing, cider drinkers will love you for it.
-- Written by Jason Notte in Portland, Ore.
>To contact the writer of this article, click here: Jason Notte.
>To follow the writer on Twitter, go to http://twitter.com/notteham.
>To submit a news tip, send an email to: tips@thestreet.com.
RELATED STORIES:
>>5 Craft Brewers Who Need A Super Bowl Ad
>>Wait, We Weren't Finished With Dark Holiday Beers Yet!
>>Some Craft Beer Resolutions for 2014
Jason Notte is a reporter for TheStreet. His writing has appeared in The New York Times, The Huffington Post, Esquire.com, Time Out New York, the Boston Herald, the Boston Phoenix, the Metro newspaper and the Colorado Springs Independent. He previously served as the political and global affairs editor for Metro U.S., layout editor for Boston Now, assistant news editor for the Herald News of West Paterson, N.J., editor of Go Out! Magazine in Hoboken, N.J., and copy editor and lifestyle editor at the Jersey Journal in Jersey City, N.J.