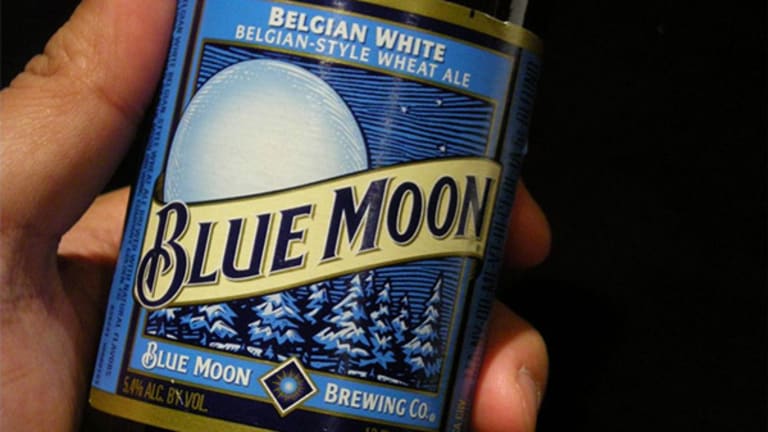 Why Craft Beer Needs Its Own Blue Moon
Blue Moon, Shock Top and other wheat beers used to be gateways to broader craft choices. Now that they lead right back to big breweries, small brewers need to step up.
Blue Moon, Shock Top and other wheat beers used to be gateways to broader craft choices. Now that they lead right back to big breweries, small brewers need to step up.
PORTLAND, Ore. (TheStreet) -- There's one highly effective way for small brewers to fend off big brewers' encroachment on their turf: Make and promote better beer.
By Moody's measure, multinational brewers including Anheuser-Busch InBev and SAB Miller/MolsonCoors joint venture MillerCoors have swallowed up 18% of the U.S. craft beer market. A-B's acquisition of Chicago's Goose Island and Long Island, N.Y.'s Blue Point have helped, but it's Belgian-style witbiers including MillerCoors Blue Moon and A-B's Shock Top that have made the biggest impression. Other wheat beers including Leinenkugel's Sunset Wheat and Honey Weiss have elbowed in as well.
Those beers once served as gateways away from large brewer offerings and into craft brands. But as Goose Island, Leinenkugel's and Blue Moon expand into IPAs, imperial stouts and seasonal offerings, that gateway increasingly funnels drinkers toward a growing portfolio of other beer styles. Those wheat beers won't do craft beer's work for it anymore -- small brewers are going to have to do it themselves.
And they'd better get on it. Blue Moon has grown by double-digit percentage points each year since the recession. Blue Moon production alone jumped from 1.45 million barrels in 2010 to 1.9 million in 2012, according to Beer Marketer's Insights. That 450,000 barrels of growth was roughly the output of Bend, Ore.-based Deschutes Brewing (253,000) and Petaluma, Calif.-based Lagunitas (235,000) combined in 2012. Altogether, MillerCoors craft-style beer sales grew 20% through November -- compared with 7% growth a year earlier. How can we be sure the gateway strategy is working? Roughly 30% of that MillerCoors craft growth went directly into Leinenkugel's broader portfolio.
Meanwhile, A-B's Shock Top grew 64% by volume in 2012 and another 15% through October. But what A-B beers benefited the most from that growth? Goose Island, which saw distribution spike 70% last year. The frightening part for small brewers is that craft-style beers are only about 1% of all A-B's output, but Shock Top alone accounts for nearly 475,000 barrels. That's bigger than the Craft Brew Alliance's entire Widmer Brothers brewery and bigger than Redhook and Bell's combined.
Also see: Craft Beer Learns Big Brewers' Summer Games>>
But why wheat beers? Because wheat beer is essentially a summer beer, and summer is when beer business booms. Production increases by 1.5 million to 4 million barrels per month from spring to summer as demand for lighter, more refreshing beers increases. While the folks at Symphony IRI have made it clear that India Pale Ale is the best-selling craft beer style with 18% of the market, wheat beers (5%) and seasonal beers (which often includes summer wheats, 17%) account for more than one out of every five craft beers bought.

Widmer Brothers founders Kurt and Rob Widmer knew how important a wheat beer could be to a growing lineup and introduced their Hefe as the first American unfiltered wheat beer in the mid-1980s. As the brewery focused on other beers and the market shifted, though, the brothers noted that Hefe had become an unexpected drag on the entire brand when it wasn't positioned in the same fashion as Blue Moon or Shock Top
"We were so strongly, for so long, identified with one beer, that when the big guys came out with their wheat beers, the Widmer brand took quite a whack," Kurt Widmer says. "The Hefeweizen was about 80% of the Widmer portfolio and now it's like 30%."
For their 30th anniversary, the Widmers have not only re-released the original Hefe recipe, but enlisted the help of beer-based social media app Untappd to revive interest in it through special summer Hefe badges users can unlock when they drink one and check it in.
Meanwhile, New Belgium Brewing of Fort Collins, Colo., has shifted its wheat beer strategy a bit and began offering a year-round wheat beer -- the Berliner Weisse-inspired Snapshot Wheat -- for the first time this year. Boston Brewing, maker of Samuel Adams and second only to D.G. Yuengling among the nation's small brewers, includes its White Lantern Belgian-style wheat beer as a seasonal offering in its summer variety pack and has included White Christmas and Cold Snap wheat beers in its winter and spring seasonal packs.
It's not that craft beer doesn't excel at making wheat beers: It's just that great wheat beers made by small brewers tend to be a regional occurrence. Nineteen years ago, Rob Tod was traveling to any place with a tap handle to convince bartenders and managers that the cloudy, yellow concoction he was pouring for them was a drinkable beer -- with most places thinking he was nuts. Today, that cloudy, clover-and-citrus-flavored brew makes up 70% of annual production at Portland, Maine-based Allagash Brewery and his Allagash White flagship beer is one of the most successful Belgian-style witbiers on the U.S. market. In New England, it's a barroom staple.
Also see: 5 Best Beer Vacations of 2014>>
"We could not even give that beer away when we first started making it," Tod told us a few years back. "Very few people were drinking Belgian-style ales, very few people were drinking Belgian-style witbiers and I used to walk into bars all the time 14 or 15 years ago with a sample and the first thing bartenders would say was 'What's wrong with it?'"

Americans have since gotten used to that unfiltered favorite, but not without the help of a Belgian brewer who brought his wheat beer to Texas. Pierre Celis singlehandedly revived the witbier after centuries of dormancy in 1965, when he began brewing it in his barn in the Belgian town of Hoegaarden. His recipe became the recipe for Hoegaarden White Ale and sold more than 300,000 barrels at its peak in 1985, when a fire engulfed its brewery and forced a cash-strapped Celis to sell to giant Belgian company Interbrew. That company is now known as Anheuser-Busch InBev and is the reason jelly-glass tumblers of Hoegaarden can be found in outdoor restaurant spaces and beer gardens across America.
Even Hoegaarden wouldn't be the success it is today if Celis hadn't dusted himself off, moved to Texas and opened his own craft brewery just outside Austin in 1992. His Celis White was good enough to get Celis a buyout from Miller and introduce witbier to a generation of craft brewers. Celis died in 2011, but his legacy is in every hazy, spicy sip a beer lover takes of a white beer this summer.
Two years after Celis debuted his white, Tod was selling his first batches of Allagash. A year later, Coors brewer Keith Villa formulated Blue Moon while working at the company's on-site brewery at the Denver home of Major League Baseball's Colorado Rockies in Coors Field. By 2003, the U.S. would have its first Belgian-owned beer maker when Duvel Moortgat bought Cooperstown, N.Y.-based Brewery Ommegang and its Witte witbier less than a decade after its 1997 opening. Duvel-owned Boulevard Brewing in Kansas City, Mo. has also poured its Unfiltered Wheat Beer for many years, but now does so in the aisles of Kaufmann Stadium during Royals games.
Craft beer may have gotten to wheat beer first, but if it's going to lure the drinkers once swayed by Blue Moon, it's going to have to keep brewing better versions of it -- and making a bigger deal about it.
-- Written by Jason Notte in Portland, Ore.
>To contact the writer of this article, click here: Jason Notte.
>To follow the writer on Twitter, go to http://twitter.com/notteham.
>To submit a news tip, send an email to: tips@thestreet.com.
RELATED STORIES:
>>Beer Mailbag: Kona Goes IPA, Woodchuck Cans Cider
>>Widmer Brothers Mark 30 Years Of Craft Beer -- Yes, Craft Beer
>>How Yuengling and Schell's Became Craft Beer
Jason Notte is a reporter for TheStreet. His writing has appeared in The New York Times, The Huffington Post, Esquire.com, Time Out New York, the Boston Herald, the Boston Phoenix, the Metro newspaper and the Colorado Springs Independent. He previously served as the political and global affairs editor for Metro U.S., layout editor for Boston Now, assistant news editor for the Herald News of West Paterson, N.J., editor of Go Out! Magazine in Hoboken, N.J., and copy editor and lifestyle editor at the Jersey Journal in Jersey City, N.J.