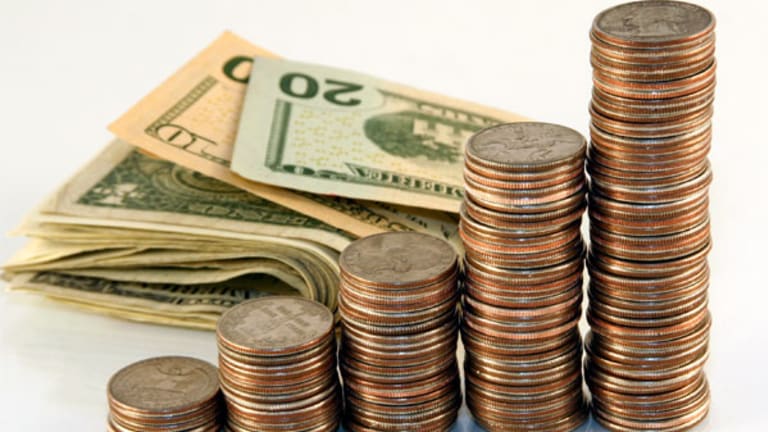 Publish date:
Why Craft Beer at the Ballgame Is a Big Deal
As big a presence as beer has now, its ties to the game used to be much tighter. Next up: Small brewers join in.
As big a presence as beer has now, its ties to the game used to be much tighter. Next up: Small brewers join in.
PORTLAND, Ore. (TheStreet) -- The Kansas City Royals are not a great team, and for that their beer-loving fans should be grateful.
The team has had three winning seasons in the past 20 years and hasn't made the playoffs since 1985. It's produced great talents such as Johnny Damon, Carlos Beltran and Zack Greinke, who all left town when it was time to seek a bigger payday. Thus, when 2012 came around and the franchise hosted the All-Star Game despite not putting up playoff bunting since the Reagan administration, baseball fans who hadn't peered into
Kaufmann Stadium
in a while got a bit of a surprise when they saw the billboards surrounding the midsummer classic.
Multinational brewers
SABMiller
(SAB) - Get Report
and
MolsonCoors
(TAP) - Get Report
decided to merge their U.S. operations into MillerCoors in 2008 and reduce the number of big breweries competing for Major League Baseball sponsorship space. After Missouri's
Anheuser-Busch
(BUD) - Get Report
was bought by Belgian beer giant InBev in 2009, the new company started cutting back the amount it was willing to pay teams for sponsorship rights. Sensing it had to do something to stave off a loss in revenue, the Royals offered a little more leeway to their beer sponsors and were able to land Kansas City's own
Boulevard Brewing
.
This season, Boulevard's beer is all over the stadium. The brewer has a huge Budweiser- or Coors-sized sign in left field, two Boulevard Grill locations in the stadium and beer vendors with backpack-mounted kegs of Unfiltered Wheat Beer that they pour when they reach a customer's row. While it's nice that more Major League Baseball stadiums are carrying beers made by small, local brewers, a deal such as the one that exists between Boulevard and the Royals is a step toward restoring the natural order of beer-and-baseball partnerships that was broken decades ago.
Also see: 5 Great Stadiums Making Up for Bad Baseball Teams>>
For those unaware of the longstanding ties between baseball and beer, consider that brewers' names grace the facades of three Major League Baseball stadiums: The Cardinals' Busch Stadium in St. Louis, the Colorado Rockies' Coors Field in Denver and the Brewers' Miller Park in Milwaukee. The number of facilities named after brewing companies among other major league sports: Zero.
As big a presence as beer has in baseball now, its ties to the game used to be much tighter. Across the country, teams were inextricably tied to local breweries through stadium signs, sponsorships and early baseball broadcasts. In Boston,
Narragansett Beer
sponsored Braves and Red Sox broadcasts, put Red Sox legend Ted Williams in its ads and featured game announcers Jim Britt and Curt Gowdy espousing the merits of 'the "straight from the barrel taste" of 'Gansett. Newark, N.J.-based
Ballantine Brewery
sponsored longtime Yankees announcer Mel Allen, who labeled each Yankees home run a "Ballantine Blast."
Brooklyn's own
Rheingold Beer
was inextricably tied to the New York Mets and sponsored Hall of Famer Jackie Robinson's broadcasts. In Detroit, when local brewer
Stroh's
replaced its cross-town rival Goebel's as the Tigers' beer sponsor in 1959, it not only plastered its name all over Tiger Stadium, but canned the Tigers' old announcer in favor of the now-legendary Ernie Harwell.
At the height of these sponsorships in the 1950s and '60s, they just made sense. The brewers were local names that fans would already know and have access to and they were tied to teams that had the same sort of regional appeal. That all went away, however, as consolidation and buyouts reduced the number of breweries in the U.S. from 703 in the mid-1930s to just 80 by the late 1970s, with just a handful of the largest breweries accounting for the overwhelming majority of beer produced.
Also see: 5 Hidden Craft Beer Vacation Destinations>>
Since small brewers caught on and the microbrew/craft beer movement gained momentum over the last two decades, the number of breweries in the U.S. is now above 2,500. While there aren't many of them who can shell out for a baseball sponsorship deal such as Boulevard has with the Royals, a handful including Pennsylvania-based regional brewer
Yuengling
, Chico, Calif.-based
Sierra Nevada
, Fort Collins, Colo.'s
New Belgium
, Bend, Ore.'s
Deschutes
, Samuel Adams brewer
Boston Brewing
(SAM) - Get Report
and Petaluma, Calif.-based
Lagunitas
are in the same economic ballpark.
Lyons, Colo.-based
Oskar Blues
, which was founded little more than a decade ago and recently expanded to an East Coast brewery in Brevard, N.C., isn't quite as big as any of the above, but had no issue buying itself an
at Charlotte Motor Speedway for NASCAR races and other events. The
Craft Brew Alliance
(BREW) - Get Report
, meanwhile, has been making its presence known in Major League Soccer by signing up its Widmer Brothers beers as a Portland Timbers sponsor and producing a beer for the Seattle Sounders' Empire Supporters' Club through its
Redhook
brewery.
As older small brewers such as Boulevard, which started brewing in Kansas City in 1989, and more intrepid upstarts start making the connection between their small regional brewery and local sports franchises, there may find a surprising amount of room for their brands and beers at stadiums and ballparks. As mentioned earlier, the big brewers have reduced themselves to a two-party system in the U.S. While they've shown little evidence that they'll part with their big, league-wide beer sponsorships or exclusivity deals for events such as
, the Royals example shows their vulnerability in smaller markets and among lower-profile teams.
Does that mean craft beer purist Greg Koch could be swayed to put his
Stone Brewing
brand on billboards in Petco Park during Padres games? Maybe not, but with San Francisco's
Anchor Brewing
already taking up
at the Giants'
AT&T
(T) - Get Report
park and building another brewery
, small brewers' leap to the big leagues isn't as long as it appears.
-- Written by Jason Notte in Portland, Ore.
>To contact the writer of this article, click here:
Jason Notte
.
>To follow the writer on Twitter, go to
.
>To submit a news tip, send an email to:
.
RELATED STORIES:
>>How Tapping The Jewish Beer Market Begat A Plan
>>Sierra Nevada CEO Makes East Coast Beer Run
>>Craft Brew Founder Widmer Savors Results
Jason Notte is a reporter for TheStreet. His writing has appeared in The New York Times, The Huffington Post, Esquire.com, Time Out New York, the Boston Herald, the Boston Phoenix, the Metro newspaper and the Colorado Springs Independent. He previously served as the political and global affairs editor for Metro U.S., layout editor for Boston Now, assistant news editor for the Herald News of West Paterson, N.J., editor of Go Out! Magazine in Hoboken, N.J., and copy editor and lifestyle editor at the Jersey Journal in Jersey City, N.J.