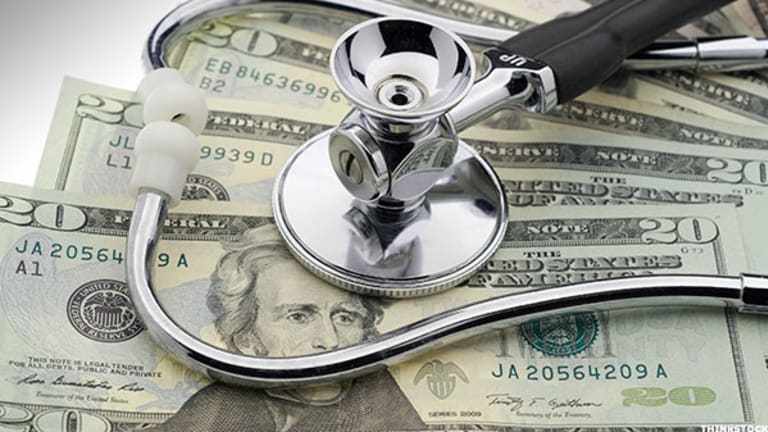 Why Coupons and Rebates Might Help Get U.S. Health Care Costs Under Control
In a world where patients have no clue how much a given procedure or medication actually costs, new initiatives offer consumers incentives to take health costs into their own hands.
NEW YORK (MainStreet) -- Do coupons hold the key to curing runaway costs in the healthcare industry?
In a world where patients usually have no clue how much a given procedure or medication actually costs, new initiatives are popping up to offer consumers incentives to take health care costs into their own hands. And since most consumers don't actually pay the real cost of care for themselves--as it's generally covered by insurance--the idea is to stop insulating them from the real cost of things and to incentivize them to choose cheaper options, thereby saving money for insurers and employers alike.
One initiative working to make patients smarter consumers is Vitals SmartShopper, which describes itself as "a proven, incentives and analytics-based health care shopping tool." Basically, it's a marketplace where consumers can go online to compare the prices of various doctors and other vendors. The program aims to save money for employers by reducing costs on the insurance side, and pass on those incentives to the consumers by providing coupons and discounts when they choose cheaper care options for themselves. The company processed more than $1 million in incentive rebates to consumers last year, said Smartshopper Vice President Rob Graybill at the recent Internet Week Conference in New York. 
Another area that's growing quickly to save money for the health ecosystem is telemedicine, said Steve Halper, senior vice president of equity research at FBR Capital Markets, a banking, advisory and research firm focusing on industries including healthcare. More brands are "embedding this [telemedicine] function in their benefit designs so employees can, for a very nominal amount of money, do a video consult with a network of physicians," he said. "That's very interesting and a great way to reduce costs." In general, consumers are craving more convenience and reduced costs -- freedom from a stuffy doctor's office that schedules appointments a month out and leaves patients with a hefty tab. As an example, he cites the emerging growth of the CVS mini clinics; they take insurance, but people are attracted to the offering, because they're both cheap and convenient. By the same token, Halper says, urgent care is evolving in ways that empower customers to manage their own healthcare costs, even when they're not the ones picking up the bill at the end of the day.
Beyond rebates and coupons, employees have an inherent incentive to reduce their own health care costs, because new styles of plans make them more responsible, argued Halper.

"Employer-based insurance is really prevalent out there in the marketplace, and many consumers get insurance as an employee benefit," he said. "To that degree, employees generally fund anywhere from 20 to 100% of those costs, so the employee himself is taking on the higher price of insurance as well as the actual healthcare delivery." As a result, it's logical, he argues, that consumers would want to have a stronger hand in the regulation of their own health care costs.
"As long as incentives are high enough, that drives behavior," said Melissa Obara, director of product management of Fallon Health, which rolled out the SmartShopper program last year for its users. "Even about $100 can change people's behavior depending on the procedure. I would not drive an extra 20 miles to [have a different provider do my] blood work. But I will drive for a knee replacement [if properly incentivized]." With the SmartShopper program, she said, "You set incentive levels to determine who's a low-cost and a high-cost provider."
Rachel Winokur, head of business development at Aetna's Healthagen, an initiative that seeks to use technology to help the health insurer stay ahead of market trends, is trying to control provider prices in a different way. "If I need a knee replacement, I can let everyone bid to tell me the best price they can offer," Winokur said. "What we found when trying to do this is that we didn't know what a knee replacement cost in the first place."
That allows for a more accurate market pricing of a particular procedure. 
"Now we can understand what it'll cost you to the penny, based on who you are," she said, with considerations made for such factors as whether you've met your deductible.
According to Vitals, cost variations for "same- quality health care procedures ... can differ by 300-500%." So, empowering consumers to earn kickbacks while saving cash for insurance companies and employers makes this a win-win, right?
Maybe.

It's not clear that consumers particularly care to learn about the full cost of their healthcare, according to Graybill: "98% of health plans have a transparency tool for members, but only 2% of members use it."
"There's something wrong with that dynamic," he added. Consumers need reasons to care about their aggregate health costs when they're not the ones fronting the money, and he believes that rewards and rebates are the answer. "On average across the country in 2014, we saved $600 per member -- counting savings being passed down to the member, employer, or another stakeholder," Graybill said. "The key is how to get them to become members in the first place, and that's where incentives come in."
Then there's the question of how the focus on cost-effectiveness will impact doctors. They may not like it, Halper said, "but they don't have a choice." Incentivizing cheap doctors and procedures above all else would place an undue emphasis on money over value, particularly when it comes to stellar doctors who charge high rates simply because they're the best at what they do.
"No one wants just the cheapest colonoscopy," said Jeanne Pinder, founder and CEO of ClearHealthCosts, a journalism startup that aims to tell people about the costs of their care by crowd sourcing information and creating its own transparency tool. "These cost metrics are not transparent, and the quality metrics are also not transparent."
If you can bring the price "out of the shadows," Pinder said, it will help consumers make informed decisions on the relationship between price and quality. "Say there's one $300 MRI and one $6,000 MRI--someone needs to explain why one is twenty times better than the other," she said.
Cost isn't everything, of course, Winokur said: it's not prudent to send someone to the lowest-cost provider if the practice is not a high-quality one.
But quality is increasingly being tied to doctor and hospital compensation. "Doctors and hospitals are ultimately paid more based on the quality of their outcomes," Halper said. Both Winokur and Halper feel that tying physician compensation to quality metrics will provide better quality of care to patients in the long run, because it provides an incentive to doctors to perform as well as possible and to price their services according. "We're pushing to have 50% of all our providers on value-based plans by next year, and 70% the next year," Winokur said.
But basing provider pay strictly on outcomes comes with difficulties of its own. In the words of an article in Minnesota Medicine, a regional medical journal, many current pay-for-performance models "do not reflect the complexity of caring for patients with multiple conditions." The article states, "Although pay-for-performance programs may drive improvements in care that can be measured, such care may be inconsistent with patient preferences. Programs with rigid measures and standards could create incentives for physicians to avoid high-risk patients and fire noncompliant ones."
Of course, in considering the cost, it's also important to consider administrative work associated with data collection and reporting -- resources that instead could be geared to patient care.
Despite the difficulties in transitioning to a new world order of cost-consciousness in health care--lackluster enthusiasm among patients, potentially misplaced motivations in the tug between cost and quality, administrative hurdles as the current institution shifts gears--there's something to be said for including patients as active agents with the ability to control of their own healthcare spending. And of course, a few rebates don't hurt to sweeten the deal.
More than anything, transparency is what's lacking most. "A lot of physicians don't even know what they get paid," Winokur said.
"I don't understand how we made a marketplace where everything defaults to secrecy," said Pinder. "It's a strange thing because we are a society that believes in democracy."