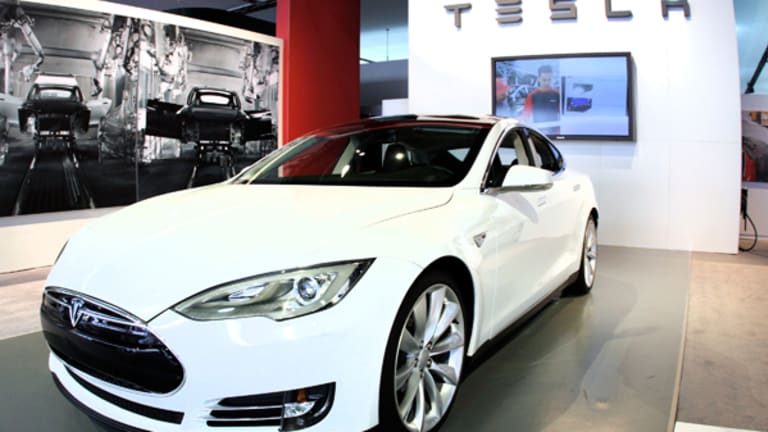 Why Can't You Lease a Tesla?
Tesla's direct-sale model makes a conventional lease for its Model S impossible, but neither the automaker nor its buyers see it as a disadvantage against Mercedes-Benz or BMW.
Tesla's direct-sale model makes a conventional lease for its Model S impossible, but neither the automaker nor its buyers see it as a disadvantage against Mercedes-Benz or BMW.
PORTLAND, Ore. (TheStreet) -- Those looking to lease a Tesla anywhere are in the same frustrating fix as those trying to buy one in New Jersey or Missouri: They just can't.
Last year, Tesla introduced its Resale Value Guarantee, which allows owners of its Model S to sell their financed vehicle back to Tesla between the end of months 36 and 39, regardless of the loan's term. That buyback price is 50% of the original base purchase price of the 60 kWh Model S plus 43% of the original purchase price for all of the options, including the upgrade to the 85 kWh battery pack -- not including taxes, fees and accessories. What it isn't, however, is an auto lease.
Not only do you have to finance the vehicle as you would if you were buying it, but you're paying taxes on the full price of the vehicle rather than on the amount the car will depreciate over the lease term -- the portion of the vehicle's value that you'll use during the lease. Meanwhile, you're still limited to 15,000 miles a year while you're financing between 60% and 90% of your vehicle?
Why does Tesla prefer this method? Because, as you may have gleaned during the past few months after watching Tesla deal with the states, it does not like third-party involvement. It doesn't want a dealer in the mix, it doesn't want a bank backing its deals -- it wants a direct sale. While announcing a small-business version of the Resale Value Guarantee this year, Tesla left the distinct impression it doesn't think much of standard lease agreements:
While customers have become accustomed to lease agreements that run as long as 10 pages, we found that we could say all that needed to be said in less than three pages -- and it's written in plain language. In keeping with the Tesla way of doing things, our customers can handle and sign their lease agreements completely electronically. Customers are able to view an electronic version of the lease agreement upfront before delivery. Even the signature process at delivery is simple: a one-button tap on the 17-inch touchscreen in their new Model S is all it takes.
Tesla sees its financing options as an extension of its innovation, asserting that "when combined with the fuel savings of Model S, [they] provide an attractive value proposition compared to what's available for a gasoline-powered car." What the company isn't saying is that there's no way it can offer a traditional lease and still provide its customers the U.S. government's $7,500 Plug-In Electric Drive Vehicle Credit.


That perk is available only when you lease an electric vehicle through a local dealership. Tesla's direct sales model limits that credit to purchased vehicles, which requires Tesla to actually sell its "leased" vehicles and buy them back.
This isn't much of a problem for Tesla as it competes against gas-guzzling luxury vehicles, but it becomes a little more problematic when BMW and Mercedes-Benz begin introducing their in-house electric models. BMW's i3 just entered its first month of sales, while its i6 supercar aims for the top of the luxury market. Mercedes, meanwhile, just announced the pricing of its B-class vehicle that's slated to hit U.S. showrooms in California, Connecticut, Maine, Maryland, Massachusetts, New Jersey, New York, Oregon, Rhode Island and Vermont in July.
Both have built-in brand recognition and prestige, both have loyal U.S. customer bases and both have traditional leasing options that will allow current customers to transition with ease and collect their $7,500 credit. Naturally, the auto leasing establishment sees an advantage for BMW and Mercedes over Tesla.
"A standard lease program would benefit customers and help Tesla grow its brand further and compete against other luxury makers that are now focusing on EV technology," said Scot Hall, executive vice president of Swapalease.com. "Look at the success luxury brands such as BMW and Mercedes-Benz have had as a result of their lease programs, which see between 50% to 70% lease rates for higher-end models. These lease programs have played a large part in the growth these brands have enjoyed over the years, particularly as they introduce EV models to compete against Tesla."
Tesla came this far without following convention, though. There were no Christmas commercials with a bow on its car (or commercials in general), no ads on the back of hockey programs, no James Bond product placement and no outpost in the nearest automall wondering how you can help it help you into a car today.
Unless you are a business, you can't "lease" a Tesla as you'll be able to do with a BMW or Mercedes, but you can lease a Toyota Prius and that's not stopping the company from poaching Prius buyers left and right. Yes, the Prius sold 234,000 cars last year -- three times as many as Tesla has sold in its lifetime -- but it's also about three times less expensive and is still watching its former customers make up about 15% of Tesla's conquest sales. Prius leases do not qualify for the tax credit. Only purchases of the plug-in Prius can qualify.
Tesla has cachet of its own, and isn't concerned about what a lack of conventional options will do for its business. Just as Apple didn't seem all that concerned about record store buying habits when launching the iPod in 2001 and Netflix wasn't worried about Blockbuster's tactics when its DVD-by-mail service begat streaming, Tesla doesn't concern itself with how established automakers are going to defeat it with their old tools. BMW, Mercedes and Toyota have scarcely reached the electric vehicle stage, never mind the lease portion of it.
Like Tesla's Model S before it, the Resale Value Guarantee is a bit different. For those who don't fear change, however, it's a means to an end.
-- Written by Jason Notte in Portland, Ore.
>To contact the writer of this article, click here: Jason Notte.
>To follow the writer on Twitter, go to http://twitter.com/notteham.
>To submit a news tip, send an email to: tips@thestreet.com.
RELATED STORIES:
>>NFL Draft Can't Fix A Broken League
>>NFL Sponsorship Is A Thankless Trap
>>What The NFL Owes Taxpaying Fans
Jason Notte is a reporter for TheStreet. His writing has appeared in The New York Times, The Huffington Post, Esquire.com, Time Out New York, the Boston Herald, the Boston Phoenix, the Metro newspaper and the Colorado Springs Independent. He previously served as the political and global affairs editor for Metro U.S., layout editor for Boston Now, assistant news editor for the Herald News of West Paterson, N.J., editor of Go Out! Magazine in Hoboken, N.J., and copy editor and lifestyle editor at the Jersey Journal in Jersey City, N.J.