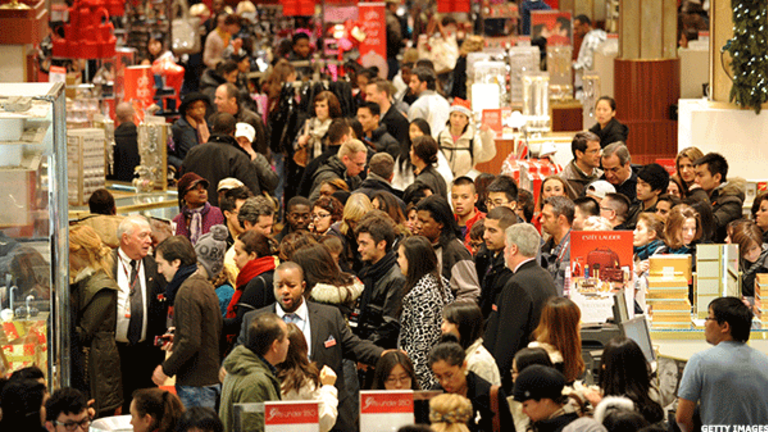 Publish date:
Why Black Friday Will Be Different This Year
As Thanksgiving sales wane and in-store sales slow, Black Friday shifts from doorbusters to yet another day of online shopping.
As Thanksgiving sales wane and in-store sales slow, Black Friday shifts from doorbusters to yet another day of online shopping.
Editors' pick: Originally published Oct. 26.
Black Friday took a hit once Thanksgiving Day cut in on its holiday shopping territory, but it's only getting worse for the doorbusters from here.
While the National Retail Federation found that 151 million people went shopping during Thanksgiving weekend last year, more people said they did that weekend's shopping online (103 million) instead of in stores (102 million). While 72.8% of that weekend's store shoppers went out on Black Friday itself and 34% went out on Thanksgiving day, larger percentages of online shoppers just stayed home and did likewise on Thanksgiving (39.8%) and Black Friday (73.1%). As a result, according to market research firm ShopperTrak, Black Friday sales at brick-and-mortar stores dropped 12% last year from 2014.
Even as shoppers realize they don't have to miss dinner or stand out in the cold for deals, they're also starting to figure out that they can just skip the Thanksgiving holiday scrum altogether. While ComScore notes that the $1.1 billion spent online on Thanksgiving and the $1.6 billion spent on Black Friday in 2015 were impressive, neither day came close to the $2.3 billion that consumers spent on Cyber Monday right after Thanksgiving weekend -- which was up 12% from Cyber Monday 2014.
"We recognize the Thanksgiving weekend shopping experience is much different than it used to be as just as many people want that unique, exclusive online deal as they do that in-store promotion," said NRF president and chief executive Matthew Shay. "It is clear that the age-old holiday tradition of heading out to stores with family and friends is now equally matched in the new tradition of looking online for holiday savings opportunities."
The folks at online shopping and price comparison site DealNews don't think that's much of a coincidence. Last year, DealNews found that retailers including Walmart and Target had fewer deals Black Friday than they did either the day before (Thanksgiving) or the following Monday (Cyber Monday).
"Not only did stores attract negative publicity for keeping employees from their families, but reports suggest that in-store sales just weren't worth it," says DealNews's Julie Ramhold. "Shoppers will definitely shop on Thanksgiving, but probably not until dinner is over; and then, the convenience of online shopping could win out."
Meanwhile, retailers heard customers' complaints and responded quickly. Last year, Nordstrom, Home Depot, Lowe's, Costco, Barnes & Noble, BJ's Wholesale Club, GameStop, H&M, the TJX stores (Marshall's, Home Goods, T.J. Maxx), REI and DSW were among the retailers that made a point of shuttering on Thanksgiving Day (though their websites were still taking orders and pushing deals). This year, The Mall of America and mall operator CBL & Associates (which runs 89 malls around the country) have taken that decision out of retailers' hands by closing for Thanksgiving.
Though retailers including Target, Walmart and Best Buy still plan to be open for Black Friday and hold doorbuster events, their ranks may be shrinking. Consider that 55% of the Black Friday deals at Sears and 68% of those at Kmart in 2015 involved in-store pickup. Their Sears Holdings parent company just closed 89 stores, had to deny that it was shutting down the Kmart chain entirely and spent the last few years spinning off its Land's End and Sears Hometown & Outlet Stores.
"With so many locations closed now, in-store pickup could be more difficult for many shoppers," DealNews's Ramhold says. "All of these changes, plus the fact that Sears is rumored to be looking for buyers for its Craftsman and Kenmore brands, could mean that it's less likely to have incredible deals for Black Friday."
Even when stores have deals, however, the antiquated circulars they use to advertise them have a tough time keeping up with the latest technology. This year, for example, there are five new Roku models, and three Apple Watch models — the new Series 2, the revamped Series 1, and another one referred to as Apple Watch Edition. However, the biggest issue may come with the recently upgraded PlayStation 4. While the new, 4K-compatible PlayStation Pro is easy to distinguish (it's the expensive one), there's another version of the PS4 out that retailers are referring to as the PS4 Slim. That isn't what Sony calls it, and there's a strong chance that won't be what you're getting if you see a PS4 listed for a rock-bottom price.
"Generally, if a new model has been released recently, and an ad is showing prices that seem too good to be true," Ramhold says, "you can assume it's an older model you're seeing."
What's perhaps most jarring about this year's Black Friday marketplace -- and what's most likely to keep folks at home -- is what hasn't changed this year. Despite last year's deadline to do so and numerous security breaches that incentivized it for retailers, there are still a whole lot of stores out there that either haven't activated their chip readers for debit and credit cards or patently refuse to do so. As a Home Depot lawsuit against Visa and MasterCard makes clear, however, even retailers who are using chip readers aren't all that happy with the chip-and-signature cards that banks and issuers have been providing consumers. The retailers' assertion is that the chip-and-PIN cards used in much of the rest of the world are more secure, which would give even smaller retailers more incentive to adopt chip readers and uploade new software to activate them.
However, until retailers and issuers sort that out, Randy Vanderhoof, director of the EMV Migration Forum, told Credit.com says 50% of all card readers should be chip-enabled by the end of this year, with 90% should be good to go by the end of 2017. Meanwhile, if there is any fraudulent activity on your card as a result of a retailer's failure to activate a chip reader instead of swiping your card, they're liable for the damages. Have your lawyer's number handy this holiday season.
"There are various reasons behind it, but you should know before you hit the stores on Black Friday that the tech might not be in place, or it could even be turned off," Ramhold says. "Therefore, you shouldn't count on it to keep your purchases secure."