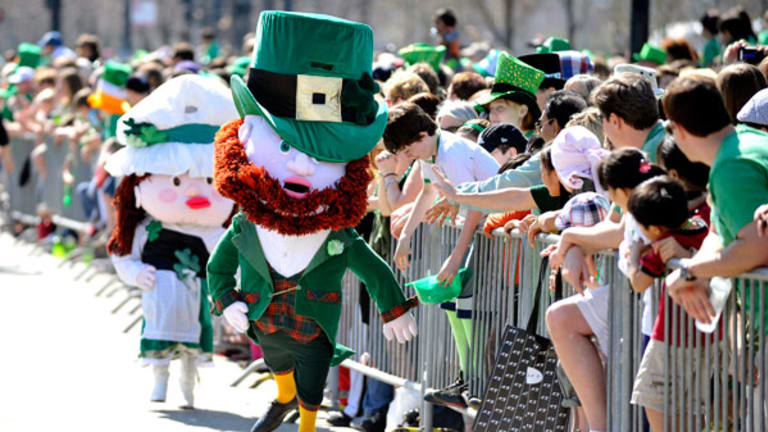 Why Beer Lovers Should Hate U.S. Drinking Holidays
Holidays such as St. Patrick's Day and Cinco de Mayo are really no way to enjoy a beer -- or mark these days.
Holidays such as St. Patrick's Day and Cinco de Mayo are really no way to enjoy a beer -- or mark these days.
PORTLAND, Ore. (TheStreet) -- Become a fan of beer, wine, cocktails or any other form of moderated social drinking and you won't even need an appropriated holiday as an excuse to do so. Try to sell beer, however, and you'll suddenly want to put your label on every holiday the calendar offers.
As we head into yet another St. Patrick's Day and bars and liquor stores that were once culturally ambivalent start placing shamrocks in every available window, figuring out how to install a
for Guinness and dyeing their light lagers green, it may be time to take a second look at the U.S. drinking holiday. We're not implying that everyone who's ever worn green on St. Patrick's Day or quaffed a tequila shot on Cinco De Mayo should engage in some self-flagellating exercise that leads them to a greater understanding of why co-opting another culture's days of remembrance or your own country's historic milestones as an excuse to get wasted is disrespectful at best.
We're just saying that unless there's an emerging global market for bad ideas, maybe the U.S. and its beer industry shouldn't be manufacturing them.
Holidays such as St. Patrick's Day and Cinco de Mayo are no more about beer than Presidents Day is about selling cars. Each has become increasingly important to their respective industries, though, as belts tighten and soft spots on the calendar need toughening up. President's Day sales helped fuel a 1.1% uptick in car sales from January during a time buyers in key markets hunker down for the winter and dealers have few of the previous year's models to offer at cut-rate prices.
In the beer world, St. Patrick's Day comes at the end of what is typically a long, dry winter. Take a look at the
Brewers Almanac
put together by Washington-based lobbying group The Beer Institute and you'll see a U.S. beer consumption pattern that shallows out around labor day and doesn't really pick up again until folks start buying their Memorial Day 30-packs in May.
That's where St. Patrick's Day comes in. In 2010, for example, Americans hit their peak beer consumption in June, when they took down more than 20.1 million barrels of beer. Their thirst for beer kept them buying roughly 19.5 million barrels a month until the end of summer, but trickled off every month thereafter until they were down to 15 million barrels each month in January and February 2011. By March and St. Patrick's Day, however, that amount shot up to 19.1 million again before settling back to 17 million in April just before the summer resurgence.
The last decade is marked with similar March upticks, with the greatest prompting hibernating revelers in 2006 to up their beer intake from 15.4 million barrels that February to 19.2 million the next month. So that's something, right? That means the plan is working, yes?
Kind of. Despite that big St. Patrick's Day bump in 2011,
Beer Marketers Insights
found that beer shipments actually fell 1.4% that year.
Diageo
(DEO) - Get Report
, which makes Guinness and should have received the brunt of those St. Patrick's Day benefits, saw its U.S. beer shipments plummet 2.3% that year. Last March, its beer production was off 5% from 2012. Despite a surge in consumption, Diageo-Guinness sales in the U.S. still fell and estimated 0.8%. Granted, Guinness isn't the only beer Diageo's selling, but it's front-and-center on St. Patrick's Day and a big enough portion of its portfolio to warrant the hyphenate name for its beer segment.
Though it's tough to fault brewers and bar owners for trying, especially when Guinness sells more than
in the U.S. on St. Patrick's Day after a spate of slow months, that quick St. Patrick's Day surge is giving potential customers one of the worst beer experiences of their lives. The crowds are elbow to elbow, the cups are often plastic, the beer is a foamy one-shot poor and the poor bartenders assigned to work that shift are living their worst nightmare. Bartenders often recall their St. Patrick's Days on the job as an Occupy Wall Street member might describe an encounter with police.
The same misery awaits on Cinco de Mayo, which
Anheuser-Busch InBev
(BUD) - Get Report
takeover target and Corona producer Grupo Modelo has basically declared its own
. Much as bars serving green beer and playing
The Wild Rover
every 15 minute have little to do with Ireland's patron saint bringing Christianity to that nation and teaching about the Holy Trinity with the help of three-leaf shamrocks, Mexican chain restaurants that turn their parking lots into fenced, guarded camps of suburbanites downing Dos Equis and munching on tacos have little to do with the Mexican army scoring an upset against French forces in the Battle of Puebla.
It's once again about the beer, and Grupo Modelo has been playing this game and cashing in on this usurped holiday better than anyone. In the past three years,
Crown Importers
-- Modelo's U.S. distribution joint venture with
Constellation Brands
(STZ) - Get Report
-- has watched its U.S. sales increase 13% as the U.S. beer market overall reported loss after loss. That said, it's tallied those gains with just about as little dignity as possible.
A jingle in holiday radio ads for Corona used to refer to it as "The Drinko for Cinco
de Mayo." Corona is still regularly attached to holiday events dubbed "Cinco de Drinko" or "Drinko de Mayo." And for what? Back in May 2002, when Cinco de Mayo parties in the U.S. had just swept their way East after years of celebrations by Mexican communities in Western states, Americans drank 19.25 million barrels of beer. During the same month in 2011, they drank 19 million barrels. While there still aren't consumption numbers for last year, when Cinco de Mayo fell on a Saturday, that's not exactly a staggering, game-changing shift.
It's just enough to give Modelo a 5.6% share of the U.S. beer market by letting Americans take awkward, embarrassing and potentially offensive pictures of each other in sombreros, giving them another reason to hate on the French and funneling skids full of its product down their gullets. Now with Anheuser-Busch InBev about to take a controlling stake in Modelo, Cinco de Mayo isn't just a big Corona ad anymore, but a Budweiser ad as well.
At least
Jeffrey Morgenthaler's
heart was in the right place when the Portland, Ore., bar manager and cocktail writer proposed Repeal Day back in 2006. Positing that drinking holidays such as St. Patrick's Day and Cinco de Mayo were exclusionary and somewhat awkward uses of other countries' and cultures' celebrations, Morgenthaler instead suggested marking Dec. 5 -- the day in 1933 when the 18th Amendment prohibiting the sale of alcohol in the U.S. was repealed by the 21st Amendment. It's a date related directly to alcohol and the nation's policies governing it, it's right there in the Constitution for all to see and it has only two caveats to celebrating it: 1. Be 21 or older and 2. Be an American or someone standing in America at the time.
It doesn't even limit the party to beer. Mix up an Old Fashioned, uncork a bottle of syrah or crack open a bottle of hard cider. You're celebrating your legal right to enjoy any of them and aren't favoring any specific company or industry by doing so.
Then again, there's another perfect day for you to do that: any day of the year. Stop waiting for excuses, stop looking for someone to guide your drink choices and just get some people together for a drink already. Nobody will dye a river green or hold a parade for you, but chances are nobody will spill a drink on you, ignore your drink order or try to foist a drink you don't want on you, either.
-- Written by Jason Notte in Portland, Ore.
>To contact the writer of this article, click here:
Jason Notte
.
>To follow the writer on Twitter, go to
.
>To submit a news tip, send an email to:
.
RELATED STORIES:
>>How Tapping The Jewish Beer Market Begat A Plan
>>Sierra Nevada CEO Makes East Coast Beer Run
>>Craft Brew Founder Widmer Savors Results
Jason Notte is a reporter for TheStreet. His writing has appeared in The New York Times, The Huffington Post, Esquire.com, Time Out New York, the Boston Herald, the Boston Phoenix, the Metro newspaper and the Colorado Springs Independent. He previously served as the political and global affairs editor for Metro U.S., layout editor for Boston Now, assistant news editor for the Herald News of West Paterson, N.J., editor of Go Out! Magazine in Hoboken, N.J., and copy editor and lifestyle editor at the Jersey Journal in Jersey City, N.J.