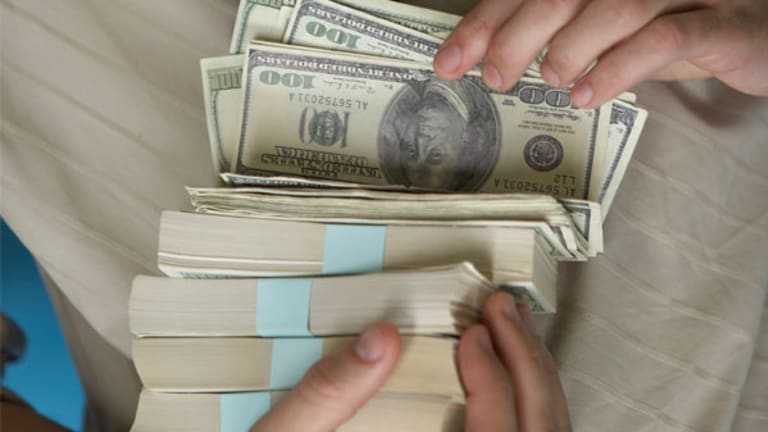 Why Balance Transfer Checks Should Go Straight to Your Shredder
Those annoying balance transfer checks that credit card companies keep sending should go straight to your shredder.
NEW YORK (
) -- If you use credit cards, you should be accustomed to receiving balance transfer checks in the mail all the time. It's no secret that credit issuers love tempting their customers with quick money!
I get these types of checks from my credit card companies on a weekly basis, but they promptly end up in a shredder along with the rest of the junk mail that overflows from my tiny mailbox. In fact, I rarely even take the time to look at them anymore.
If you ever find yourself tempted to use a balance transfer check because an attractive 0% intro APR or some other feature sparks your interest, here are two major reasons why that check should quickly find its way to being fed into your shredder.
1. You can score a better 0% interest promotion elsewhere
Credit card issuers typically treat new customers much better than existing customers. This means that you should be able to find numerous credit card offers on the market with longer 0% interest promotions than what your credit issuer is willing to offer you in the form of a balance transfer check. If you're going to take advantage of a no interest promotion, you might as well take advantage of the longest one possible.
The
Simplicity Card from
Citigroup
(C) - Get Citigroup Inc. Report
, for example, currently offers new cardholders 0% interest on purchases and balance transfers for 18 months, which is the longest offer on the market and should be much longer than any balance transfer check you'll ever receive. While there's no annual fee for the Simplicity Card, there is a balance transfer fee of 3% to consider before applying.
2. You can avoid paying a nasty balance transfer fee
Balance transfer fees generally run from 3% to 5% when you use a balance transfer check, and that can certainly add up fast if you're writing a check for a large sum. However, if you have a decent credit score and are willing to add a new credit card to your wallet, you can actually avoid balance transfer fees altogether.
For example,
Slate from
JPMorgan Chase
(JPM) - Get JPMorgan Chase & Co. Report
currently waives the balance transfer fee when new cardholders transfer balances within 60 days of receiving the card. Furthermore, the Slate from Chase is a no annual fee card that offers 0% interest on purchases and balance transfers for 15 months, which really makes this the ideal credit card for anyone with great credit who is interested in initiating a balance transfer.
The bottom line is that the balance transfer check you receive in the mail probably isn't the best balance transfer option available to you. Consider applying for a new credit card instead, and you could enjoy decreased transaction fees and longer 0% interest promotional periods.
To illustrate how this works, let's take a close look at three scenarios to see just how much more you could save by transferring a $10,000 balance from a high-interest credit card to the Slate from Chase card with no balance transfer fee.
Scenario A: Balance is left on current card at 15% interest
If you made $500 payments per month at an interest rate of 15%, it would still take you two years to pay off the entire balance. During that time, you would pay $1,579 in interest.
Scenario B: Balance is transferred using a typical balance transfer check
Let's say the balance transfer check offers 0% interest for 8 months, a 3% balance transfer fee with no cap, and an ongoing APR of 15%. The balance transfer fee alone would cost you $300, but you could now pay off the debt in 22 months if you continued to make $500 monthly payments. When compared to scenario A, you would also save a total of $1,037 in interest, which means your total savings would be $737 including the balance transfer fee.
Scenario C: Balance is transferred to new Slate from Chase card within 60 days
If your ongoing APR were 16.99% (could be as low as 11.99%), $500 monthly payments would allow you to pay off the $10,000 balance in 21 months. In addition, you would only incur $112 in interest charges during that time, which means you would save $625 more than in scenario B. When compared to scenario A, your grand total in savings would be $1,467.
While it may take a few extra minutes of your time to get approved for a new credit card, the additional effort will obviously be well worth it. As illustrated above, avoiding balance transfer fees and paying off high-interest debt over an extended 0% interest period could save hundreds, if not thousands of dollars.
--By Joshua Heckathorn
Heckathorn runs Creditnet.com, a free resource to help consumers learn more about credit and compare hundreds of the best credit cards online. He resides in Seattle and holds an MBA and B.S. in finance.