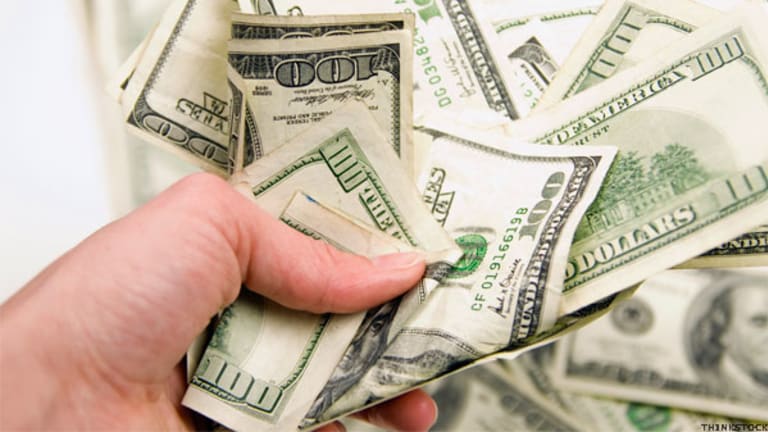 NEW YORK (
) -- In the weeks and months leading up to
Apple's
(AAPL) - Get Apple Inc. (AAPL) Report
Wednesday announcement of a third-generation iPad, there were rumors the company might introduce a $299 version to be more competitive against low-cost tablets such as the Kindle Fire and Nook Tablet. One version of this rumor claimed that Apple would debut a
in the $249 to $299 price range; another claimed the company would introduce a cheaper
; and some just speculated that the company could choose to
of the baseline 16 GB iPad 2 to $299.
Needless to say, anyone holding out for that $299 iPad was probably sorely disappointed. Apple did
cut the price of the iPad 2
from $499 to $399 and has even gone so far as to offer a refurbished version for $349, but that's as low as it's willing to go, at least for now.
"Some thought Apple would try to conquer the market by dropping the price of one of its iPad models to $299, but a price drop wasn't part of the company's Wednesday announcements."
"The pricing strategy they're implementing is not a market-share growth strategy -- they pretty much own their segment of the market -- it's a margin protection strategy," says Rob Enderle, principal analyst at
The Enderle Group
.
In other words, the company thinks being too aggressive in pricing the iPad 2 might actually do more harm than good. It would cut into profit margins and there is not enough competition to justify that loss. Instead, Enderle says the company dropped the price just enough "so if someone wants something cheaper,
the iPad is within shooting distance."
All of that could change in the coming months if another 10-inch tablet such as
Amazon's
(AMZN) - Get Amazon.com, Inc. Report
rumored follow-up to the Kindle Fire were to come out and start taking market share away from the iPad. If that happened, Enderle says Apple might be more willing to cut the price to stay competitive.
Some might wonder why Apple hasn't simply offered the first-generation iPad for $299 -- similar to the pricing structure it uses with iPhones -- but according to the analysts we spoke with, the cost of producing the original model may not be that much less, meaning the profit margin may not be much different. Yet there's an even more fundamental issue.
"There's a certain amount of capability that they want current devices to have," says Michael Gartenberg, an analyst at the
Gartner
research firm, who notes that the first-generation iPad may already be a little too outdated to be marketed as part of Apple's current product line, no matter how much it costs. "We are already seeing applications that are sophisticated and complex that don't work on the original iPad. That's something that will only get worse over time."
As for the rumors about introducing an 8-inch version of the iPad that could potentially sell for less than $299, Enderle says it's unlikely, but not as unlikely as when Steve Jobs was in charge, given that he was adamantly against the idea of a smaller tablet.
"If Steve Jobs were running the company, I'd say absolutely not, but with Tim Cook running it, there is that possibility," Enderle says. "If the news coverage of Apple continues down the path of Amazon taking Apple's share, then they may be forced to go the 7-inch route."
>To submit a news tip, email:
.
Follow
TheStreet
on
and become a fan on