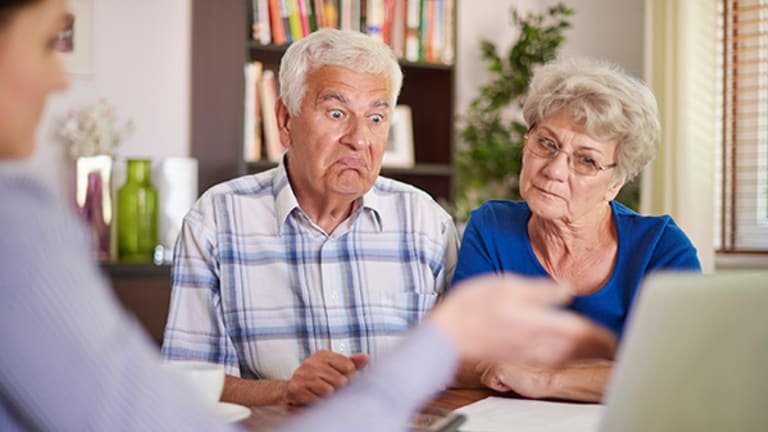 Why Americans' Trust in Financial Institutions Is in Sharp Decline
It's not a shocker to say Americans mistrust Wall Street - but it is peculiar when consumers blame themselves.
Single digits.
That's how low the percentage of consumers who trust U.S. financial institutions has declined, according to a new study from The National Association of Retirement Plan Participants.
Specifically, consumer trust in banks, brokerage, insurance and other financial companies has fallen from 13% in 2015 to just 8% today.
But you might be surprised where Americans place blame.
This from the study: "The sharp decline in generalized trust in financial services companies, including banks, mutual fund companies and retirement plan providers, has been linked to peoples' lack of confidence in their own ability to make financial decisions (especially on retirement issues)." 
Of course, there is plenty of blame to be placed at the feet of Wall Street and the financial industry, too.
"Saving for retirement is a deeply personal activity," says Laurie Rowley, NARPP's co-founder and president. "Saving impacts our wellbeing today and in the future, it impacts our family safety, and our legacies, and the decision to save requires courage and trust -- courage in oneself and trust that financial institutions have our best interests at heart."
According to the study, Americans saving for the long term believe they are "paralyzed and incapable of making financial decisions."
"Yet we are at a point in time when working Americans are required to make critically important, complicated financial decisions that will determine their financial outcomes," Rowley says. "There has never been a more important time to be financially capable and engaged."
"We should all be taking more action and saving more, but we are actually losing ground here," Rowley adds.
Other industry insiders say the fallout from the 2007-2008 Great Recession, which led to the "too big to fail" bank bailouts, is still very much in play. "We've seen a decline in trust that our clients have also noticed since the market issues of 2007 and 2008," says Kevin Smith, chief operating officer at IQ, an Atlanta-based advertising agency that works with many financial service clients. "This is especially true with younger audiences who have watched their friends and family go through hard times, lose jobs, lose homes, and lose retirement savings due to the activity of banks and large financial institutions."
Others agree.
"As both a long term consumer, student, critic and representative of the brokerage community, I think the lion's share of the blame rests squarely on the shoulders of the industry," notes Gary Duell, founder of Duell Wealth Preservation, in Happy Valley, Ore. "When an individual's or firm's primary objective is to make as much money as possible by any means -- and they manage to get legislation passed to allow that -- what are we to expect?"

The latest $5 billion Goldman Sachs settlement is a case in point, Duell says. "Not a single, individual human at Goldman suffered any consequences," he says. "So the $5.06 billion fine they're paying will simply come out of the pockets of their investors and taxpayers, and half the fine will be tax deductible. No wonder there is so much distrust." 
Some financial industry observers say trust and confidence in the financial industry has never been all that high in the first place.
"Why is trust low? It would be a mistake to say it was ever high," offers Alexandra Damsker, a Philadelphia-based entrepreneurial advisor and a former U.S. Securities and Exchange Commission securities attorney. "There is no personal connection anymore and consumers don't trust financial institutions. The feeling is completely mutual."
As banks grew bigger, customers realized they no longer matter to financial companies. "There's no focus on retail anymore," Damsker says. "When is the last time you saw anything like a toaster or cash for opening an account anywhere? But there are still plenty of goodies for businesses opening accounts. The game has changed, and it only cares about the big commission players."
How to fix it? Damsker wants banks to put more money back into the hands of the people, in the form of small business loans and personal lending. "You want the country to really grow? Get money back into the hands of the people who make it grow," she says. "The largest growing consumer class in the country is the working poor. Put more money in their hands. Small business employs over 70% of the people in the country. Put more money in their hands. And stop rewarding the banks for taking risks with money that isn't, and shouldn't be, theirs."