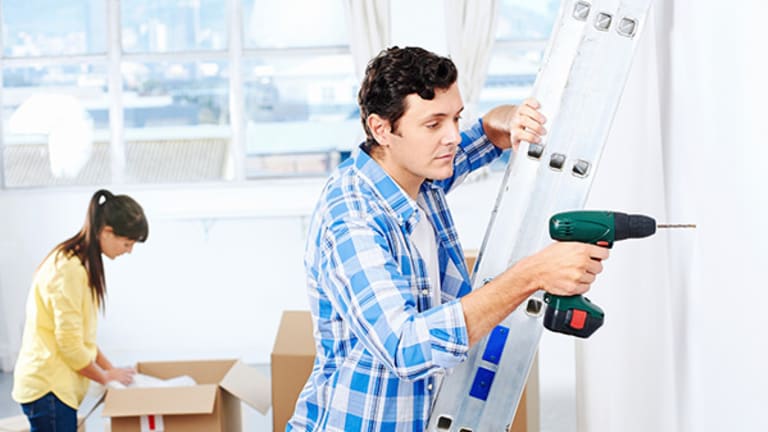 Publish date:
Which Home Renovation Projects Pay Off with a Higher Home Value?
Not all home renovations have big ROI, but which ones make the 'profit' list?
Not all home renovations have big ROI, but which ones make the 'profit' list?
It's no secret to U.S. homeowners that home renovation projects can not only spruce up a home for inhabitants, but also make their abode more appealing to potential buyers when the house goes on the market.
But not all home renovations are the same, in construction and style, and especially not so on what home experts call "return on investment."
Here's what we mean.
Northshore Fireplace, a fireplace essentials company located in Evanston, Ill., recently compiled a list of which home projects pay off financially. For example, turning an unused attic into a usable, home bedroom, offers a whopping 83% return on investment by adding to the retail value of the home. Other home project winners include new siding on the home (80% ROI), new window replacement (77%) and a new fireplace (91% - a high number, and yes, we're aware that Northshore is in the business of selling fireplaces, so take it with a grain of salt.)
One additional home improvement item that that really pays dividends whether you sell or not is making your abode energy efficient. Rakesh Gupta, credit advisor and director at ARG Finance, a home loan and mortgage brokerage firm, says that's one of the "best ways" to add value to a home these days, but under certain conditions.
"This means installing energy efficient appliances with an energy- star ratings," he advises. "These appliances are good for the environment, save energy and money as well."
Furthermore, you can also modify your home by installing energy efficient windows and insulation systems to control the heating and cooling of the house due to air leaks, Gupta says. "Replace your old hot water heater with a high-efficiency one," he says. "Go green and if possible, you can also install solar panels. A home that saves energy is always desirable to a home- buyer and more preferable than others."
Before you start reaching out in Angie's List or Home Advisor for potential contractors, or hit Home Depot, take a step back first and envision what you really want to accomplish on a home renovation project.
First, you must define your home's "value," notes Pablo Solomon, an internationally recognized housing designer who grew up remodeling homes with his father. "Do you plan on selling your home soon and want to up the selling value or do you want the home to be more comfortable and functional for you and your family?" he asks. "This really is important to clarify as your project may or may not pay off when you sell, but makes the house so much more your home."

Solomon says the next issue to decide is how long you'll stay in your present home. "If that's for a long time, it pays to do make overs that might even require structural changes," he adds. "However, if you will probably be transferred in a year or so, stick to décor that you can take with you -- area rugs, floor lamps, furniture -- things like that."
But if you're looking to increase the value of your home for future sale, understand two important points -- that somewhat hard to define "curb appeal" and the realism of what value a loan company will put on various improvements. "While a simple coat of paint on the exterior will get the buyers interested, the loan company will still value the house basically on square footage, location and over all functionality," advises Solomon. "So find that balance between looks and function. Of course the balance of form and function is the core all good design."
When you do roll up your sleeves and go to work on a home project, keep your expectations realistic. "One of the things we like to tell homeowners is that you want to keep up with the Joneses, don't lap them," notes Cheryl Reed, communications director at Angie's List. "In other words, don't get too far ahead of the neighbors or you'll have a difficult time selling your home if others in your area are also for sale. For example, if all the homes in your area have a one-car garage and you have good space for a two-car garage that might be O.K.. But don't try to squeeze in a three-car garage."
On the other side of the equation, at least keeping pace with the neighborhood is advisable.

"Does it seem like everyone in your neighborhood has a pool?" asks Reed. "Then it's a good investment for you. But unless you don't care about recouping that cost, you might not want to be the first on the block to dig. A lot of buyers look at pools as a dangerous element, or one that will require a lot of work and expense, rather than an attractive element."
Adding value to your home with a large-scale project, like a new driveway or a home office, can add value to your home. Just don't go overboard -- or you may well be cutting into that home ROI that housing experts are talking about these days.