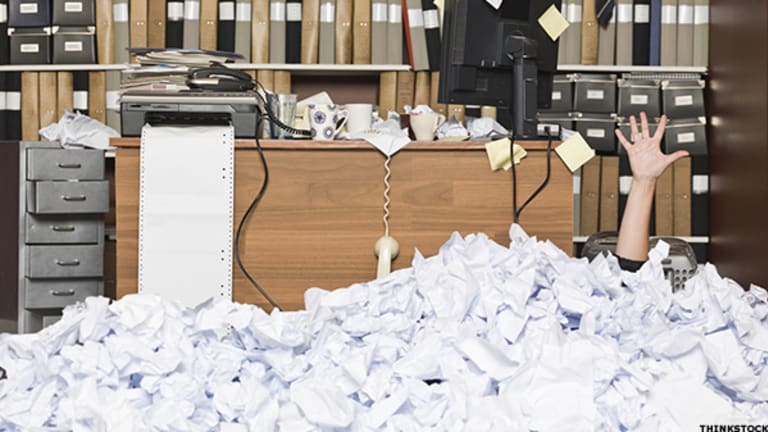 Which Documents You Can Ignore When Buying a Home
Buying a home takes a blizzard of paper, but some are less important than others (even if they can't be ignored completely).
Buying a home takes a blizzard of paper, but some are less important than others (even if they can't be ignored completely).
NEW YORK (TheStreet) -- Buying a home takes a blizzard of paper, much of it coming in a rush just before the property changes hands at the closing. How do you make sense of it all?
It can be hard. Lots of documents are in legalese and many are very long. Typically, a big package of papers lands in the buyer's mailbox just a day before the closing. It's a safe bet most buyers don't read everything, or don't understand big chunks if they do. That's why buyers unfamiliar with the process are often advised to hire a real estate lawyer.
In fact, a lot of the papers are filled with boilerplate verbiage that really doesn't matter very much because it's the same for everyone. To separate the wheat from this chaff, Jack M. Guttentag, emeritus professor of finance at The Wharton School, offers a breakdown on his website, The Mortgage Professor.
"About half of the documents borrowers receive can be signed quickly and pushed aside because they do not require the borrower's attention," Guttentag says. "Most are merely acknowledgements that a disclosure that the law requires lenders to provide has in fact been provided."
So which documents really demand close study?
Also see: Homeownership Not Always the Path to Prosperity It's Said to Be>>
"The challenging part of the closing process is perusing the transactional documents that indicate whether or not you are getting the deal you believe you negotiated or were promised," he says. "This is the most challenging part of the process because the stakes are high, and the time pressures severe."
Three documents are especially important, starting with the Settlement Statement. It details such things as the total fees you will pay the lender.
The Truth in Lending Statement describes things such as the interest rate on your loan, penalties for late payments and the accounting process for any extra principal payments you might make.
The Fixed/Adjustable Rate Note is another document that describes your loan terms, including interest rate and payments, or when an adjustable-rate loan will begin rate adjustments.
Also see: Homeowner Break-Even Period Shrinks, but That Doesn't Change the Rules>>
These three documents are critical because once the closing is complete you will be legally obligated to live by the terms they contain.
The remaining categories of documents aren't as critical. The first is "junk" documents, as Guttentag calls them: Affidavit Regarding Good Faith Estimate, Fair Credit Reporting Act Notice, Equal Credit Opportunity Act Notice, Tangible Net Benefit Worksheet, IRS Forms W-9 and 4506-T, Escrow Account Waiver. The junk documents are the same for everyone.
The next category is "educational" documents. These vary from borrower to borrower but merely repeat information the borrower has provided or got earlier. They should be read ahead of the closing to double check for accuracy. Educational documents include: Borrower's Closing Affidavit, Notice of No Oral Agreements, Notice of Right to Cancel, ARM Program Disclosure, Amortization Schedule.
Then come the "future use" documents that describe the borrower's obligations after the closing. These can be scanned and set aside. The First Payment Letter, for instance, says when the first payment is due, how much it is and how the payment breaks down between principal, interest and escrow for tax and insurance. Others in this category: Escrow Account Statement, Initial Escrow Account Disclosure Statement, Tax and Hazard Insurance Record, Correction Agreement, Binding Arbitration Agreement, Future Flood Insurance Authorization, Private Mortgage Insurance Disclosure.
No document should be ignored completely, as even the junk documents may educate you about something you didn't know. But if time is short, start with the critical documents noted at the top. Those are the ones that determine whether you end up with the deal you thought you were getting.