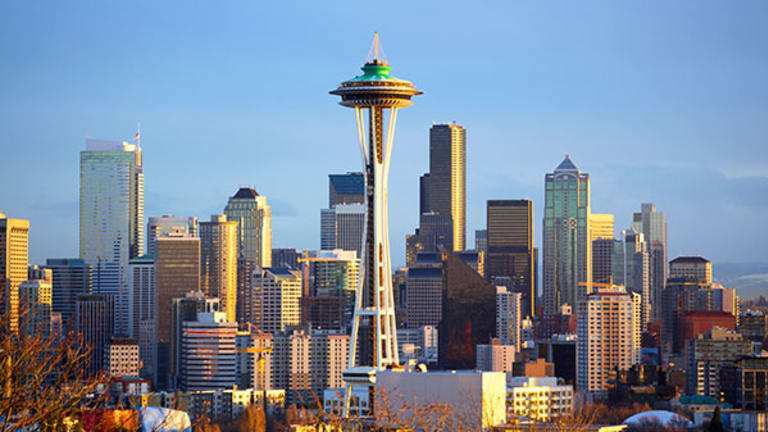 Where Will The NBA Move Next?
With a few notable exceptions, basketball teams don't get too comfortable for too long.
PORTLAND, Ore. (TheStreet) -- With a few notable exceptions, the National Basketball Association doesn't let its teams get too comfortable for too long.
Since 2001, the NBA has had more franchises move (four) than the National Football League, National Hockey League and Major League Baseball combined (two). Sacramento battled the league and paid a huge sum just to keep its Kings from leaving for Seattle, which just lost its own team five years earlier. That fight likely won't stop other teams from considering Seattle and other locations in the near future.
The Charlotte Bobcats have struggled since entering the league in 2004 and their predecessor, the original Charlotte Hornets (the Bobcats may retake the name), moved to New Orleans in 2002. The Atlanta Hawks averaged just 15,000 fans per home game last season, good for fifth worst in the league. The Hawks' former roommates, the NHL's Atlanta Thrashers, left for Winnipeg more than a year ago. The Detroit Pistons would love to average 15,000 fans. Just under 14,800 fans came out to the Palace at Auburn Hills each night last season to see a declining team that only two years ago had to borrow cash just to stay solvent. While Detroit's Red Wings get a new downtown arena, the Pistons just get increasingly sad.
No NBA owner has made noise about moving yet, but the number of franchises with their future in flux indicates it's only a matter of time until the moving boxes come out again. There are already a handful of cities that have expressed interest and would be more than willing to accept a wayward team. With the NBA regular season upon us, here are five towns that might host opening night festivities in years to come:
Seattle
In 2008, two years after
Starbucks
(SBUX)
Chief Executive Howard Schlutz sold his mismanaged, building-seeking Seattle Supersonics to Oklahoma businessman Clay Bennett with the understanding that the team would stay in Seattle, Bennett took the Sonics and franchise player Kevin Durant to Oklahoma City and left a void in Key Arena and Seattle itself. It sucked away a bit of the Emerald City's civic pride and took away years of time and memories invested in the franchise by fans along the Puget Sound.
It was awful, and the renamed Oklahoma City Thunder's good fortunes since have only made the situation worse in Washington.
That nearly changed this year, when a well-funded investment group from Seattle made an offer to buy the struggling Sacramento Kings and do to that town what had been done to them just a half-decade earlier. Seattle businessman Chris Hansen and
Microsoft
(MSFT)
Chief Executive Steve Ballmer had bid $365 million for 65% of the team and made a separate deal with a bankruptcy court to pay $15 million for an additional 7% stake. They were also willing to pay millions more in relocation fees and arena development in Seattle's industrial section to move the Kings to a larger market. But a National Basketball Association ownership committee voted against relocating the Kings to Seattle.
Hansen and Ballmer are still determined to build an arena in Seattle even though their pitch to the NBA's board of governors failed in May. The league doesn't seem to mind having Seattle around as a bargaining chip, though, to extort taxpayer cash out of such cities as Portland, Milwaukee, Minneapolis, Salt Lake City, New Orleans or Phoenix for arena upgrades and other sweet publicly funded amenities. It got $341 million out of taxpayers in Sacramento, so just consider that a starting point.
With Ballmer stepping down at Microsoft and Hansen still determined to bring back the Sonics and an arena to the city's SoDo district, it looks as if the NBA will have Seattle to kick around for at least a few more years. As the 13th largest television market in the country according to Nielsen, and the only member of the Top 13 without an NBA team, it's only a matter of time until the NBA considers Seattle a serious contender for a franchise.
Also see: How MLB's Move Back to October Worked Out>>
Kansas City, Mo.
As Oklahoma City showed, building a fancy arena is a great step toward getting a new team. If only any NBA franchise would see it the same way.
The empty $276 million
Sprint Center
(S)
Kansas City built in 2007 with a hotel room and car rental tax sits as an expensive reminder that building an arena doesn't guarantee a city a team. Built as a replacement to the 1974-vintage Kemper Arena, the Sprint Center lacks two essential items that aging facility once had: a National Hockey League team (the Kansas City Scouts called it home from 1974 to 1976) and a National Basketball League Team (Kemper hosted the Kings from 1974 to 1985 before they moved to Sacramento).
The Sprint Center's seen some Arena League action, a few big concerts, the NCAA Men's Basketball Tournament's regional rounds in 2009 and the Big 12 Conference's Men's Basketball Tournament in 2008, 2009 and last year. But none of those events bring the hundreds of booked dates and millions in gate and parking revenue a home team does. The city and facility wooed the NHL's Pittsburgh Penguins in 2007, but succeeded only in getting that team a new arena in Pittsburgh just in time for a Stanley Cup run. There was a brief flirtation with the NHL's Nashville Predators in 2008, but it turns out Predators investors really like Tennessee. The New York Islanders and Los Angeles Kings played a preseason game there in 2009, but the Islanders' miserable arena situation in Uniondale didn't result only in a move to Brooklyn. The NBA's L.A. Clippers, New Orleans Hornets and even the prodigal Sacramento Kings all tease, but Blake Griffin, stubborn league ownership and the Sacramento taxpayers all left Kansas City with compliments but no franchise to call its own.
The
Anschutz Entertainment Group
partnered with Kansas City on the arena, but has covered only operating losses since the building opened. Kansas City is a larger television market than NBA towns including Salt Lake City, Milwaukee, San Antonio, Oklahoma City, Memphis and New Orleans, but none of its teams have been clamoring to bring the NBA back to town just yet.
Anaheim
Putting a team here would make the Los Angeles area a bit crowded, but that hasn't stopped Anaheim from lobbying for an NBA franchise of its own.
The city's
Honda Center
(HMC)
already hosts the NHL's Anaheim Ducks and doesn't seem opposed to the idea of bringing in an NBA franchise to fill some dates. Back in 2011, the Anaheim City Council unanimously approved a $75 million bond deal that would put $25 million toward improving the arena and the rest toward fees associated with moving a team. The franchise in question was thought to be the Kings, but we all saw how that turned out.
The city's still not exactly at ease with its pro baseball franchise, the Angels, putting "Los Angeles" in front of its name and wouldn't mind another Anaheim-named team within city limits. That the city wouldn't have to cough up the cash for a new building works out pretty well for Anaheim, too.
All Anaheim's bid and subsequent filing for the name "Anaheim Royals" did, however, was prompt the first of several counter-offers from Sacramento. Anaheim is just another pawn for NBA owners to play with, but it's the one most ready to host a team. Maybe if Clippers coach Doc Rivers gets tired of covering up the Lakers' championship banners during games, his squad will consider a none-too-drastic change of scenery.
Also see: Did The NFL's New Blackout Policy Work?>>
Las Vegas
There's a reason the 2007 NBA All-Star Game sticks out in the minds of players and attendees alike. It was all-out debauchery and the teams, fans and folks covering the spectacle all seemed to love it.
It's just a shame that the city's legalized sports betting will likely keep it off limits for the NBA.
Major League Baseball commissioner Bud Selig did say publicly in 2004 that the league was thinking about moving the Montreal Expos there. That team eventually ended up in Washington, D.C., but it sparked interest in the town from the Florida Marlins and Oakland A's, who played a few games there in 1996 while Oakland Coliseum was being refurbished.
The NHL eyed Vegas as a home for the Phoenix Coyotes amid an arena dispute in Glendale, Ariz., and continues to treat it like a southwestern contingency plan. The NBA, meanwhile, still plays summer league games in nearby Paradise and hasn't shied away from the city in the past. It doesn't seem to mind the Thomas & Mack Center in Paradise, using it as a secondary home venue for the Utah Jazz and the Los Angeles Lakers during the '80s and '90s.
Vegas seems to know that the NBA considers it a criminal, duplicitous sibling. It also knows after the recent recession that in hard times you sometimes have to make tough calls. Sin City's keeping its phone on.
St. Louis
We know that there are certain towns such as Pittsburgh, Nashville and Columbus, Ohio, that we're supposed to pretend don't want NBA teams. They have updated buildings and NHL franchises and that's good enough for them, right?
Well, as much as you'd like to think all arena owners want to cut vacancies and pack the place with as many franchises as possible, sometimes it just doesn't work out that way. St. Louis and the NHL's Blues have a great facility in Scottrade Arena, but the city hasn't had an NBA team since 1968, when the Hawks took off for Atlanta.
Roughly 13,500 fans showed up at Scottrade on Oct. 7 for an NBA preseason game between the Chicago Bulls and Memphis Grizzlies, though. Normally, if you can get 10,000 people to show up at a preseason game in an NBA town, that's a pretty good showing. St. Louis may not be jamming the place as Oklahoma City did when Hurricane Katrina forced the New Orleans Hornets to play a few games there, but it's not exactly staying away from the NBA in droves, either.
Missouri is a big, dead zone for the NBA while just about every other major league -- including Major League Soccer -- thrives there (though Rams fans may disagree this season). St. Louis has a facility and proven infrastructure. If it gets a team, would Kansas City be far behind?
-- Written by Jason Notte in Portland, Ore.
>To contact the writer of this article, click here:
Jason Notte
.
>To follow the writer on Twitter, go to
.
>To submit a news tip, send an email to:
.
RELATED STORIES:
>>How Tapping The Jewish Beer Market Begat A Plan
>>Sierra Nevada CEO Makes East Coast Beer Run
>>Craft Brew Founder Widmer Savors Results
Jason Notte is a reporter for TheStreet. His writing has appeared in The New York Times, The Huffington Post, Esquire.com, Time Out New York, the Boston Herald, the Boston Phoenix, the Metro newspaper and the Colorado Springs Independent. He previously served as the political and global affairs editor for Metro U.S., layout editor for Boston Now, assistant news editor for the Herald News of West Paterson, N.J., editor of Go Out! Magazine in Hoboken, N.J., and copy editor and lifestyle editor at the Jersey Journal in Jersey City, N.J.