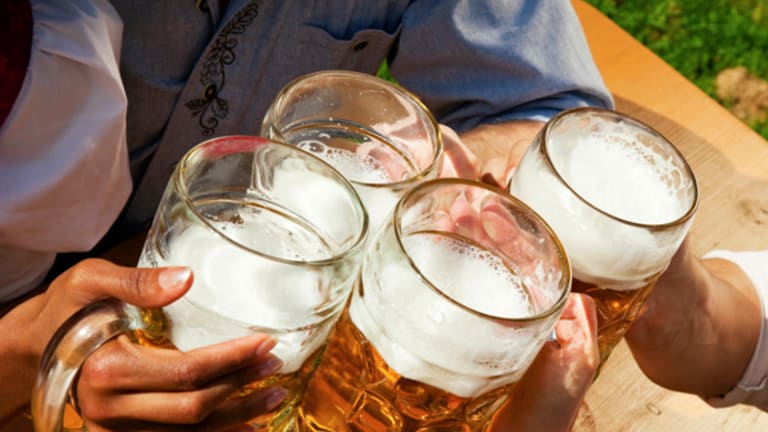 Where Does U.S. Beer Go After 3,700 Breweries?
The nation's beer industry has grown to 3,699 breweries, according to the Beer Institute. That's not a beer bubble, but it is a crowded field that could increase competition among the craft beer community.
PORTLAND, Ore. (TheStreet) -- There's no "peak beer" or "beer bubble," but it's getting crowded in the craft beer world.
Word from the Beer Institute beer industry lobbying group in Washington, D.C., is that the U.S. now has a record-high 3,699 active "permitted breweries" overseen by the Alcohol Tobacco Tax and Trade Bureau. According to Beer Institute analysis, the majority of the 948 permits issued in 2013 went to brewpubs. That's great if you're up for a beer and a burger, but even a modest uptick in production breweries makes a big difference.
Just from a historic perspective, those 3,699 breweries are no small deal. That's well ahead of the 2,722 total presented by the Brewers Association craft beer industry group at the end of last year. That group noted that 1,744 breweries were in the planning stages at the end of December, though. The TTB's total would not only exceed 2,685 breweries that appeared on the Register of United States Breweries in 1876, but surpass the 3,286 that existed in 1870.
That's also a whole lot of new entries into what is, ostensibly, a shrinking market. Consumer research firm Technomic notes that craft beer production for the entire year grew 10%, while overall beer production slid 1.4%. Meanwhile, GuestMetrics reported that 2013 on-premise craft beer sales in bars and restaurants rose just 3.8%, which is well below the growth rate for store-bought beer. The news isn't so great for craft beer on tap handles, either as Restaurant Sciences just reported a 4% drop in craft beer sales in a single quarter.
There's mixed news about the future as well. According to a  report by consumer research firm Mintel, beer sales by volume are expected to rise by just 4% during the next four years after a post-recession stretch of flat sales or losses.
The standard argument is that big brewers including Anheuser-Busch InBev and SABMiller/Molson Coors joint venture MillerCoors and their fading light lagers have plenty of market share for the little guys to absorb, but there's more to it than that. For one, those falling sales since the recession aren't just a change in tastes. The Beer Institute compared unemployment rates with average monthly beer shipments during the same period and found that overall shipments began decreasing steadily in 2009 and continued through June of last year in direct correspondence with job numbers.
An entire class of beer drinker was priced out of his or her favorite brands. The folks who can buy beer aren't buying more of it, just more expensive kinds. Mintel notes that craft brewers introduced more than 1,000 brands last year, many at higher prices. Mintel forecasts that those price increases will boost U.S. beer sales 2.4% from $83 billion last year to $95 billion in 2018.

That's a lot of players vying for a limited and slow-growing pool of cash, and a lot of existing craft brewers trying to hold onto their piece. Boston Beer, the makers of Samuel Adams, have adapted its strategy to produce more Twisted Tea malt beverages, more Angry Orchard cider and more hard lemonade and shandy from their Alchemy & Science subsidiary. Alchemy & Science was also behind the brewer's recent acquisitions of the Coney Island Craft Lager and Angel City beer brands. If there's any doubt about how Boston Beer views the competitive landscape, Dan Fox at The Drinks Business notes that the company just ran an ad on MLB.com targeting some very familiar looking craft beer tap handles.
If anything, nearly 3,700 breweries may only further test the notion of craft beer's united front. Already, longtime brewers including Sierra Nevada, New Belgium, Green Flash, Oskar Blues and Lagunitas have begun building secondary breweries and brewpubs in places including Asheville, N.C.; Virginia Beach; and Chicago. New Belgium expanded its distribution radius to newly beer-friendly states including Mississippi and Alabama, while longstanding Michigan brewer Bell's is now sending its product to New York City.
"The reality is that the beer business has always been tough and competitive," says Chris Thorne, spokesman for the Beer Institute. "Youve got less 'small vs. big' and more 'local vs. regional vs. national distributed craft vs. import vs. major brewer craft vs. major brewer premium/light vs. import.'"
That isn't an inherently bad thing. Under the existing tax structure, small brewers (defined by U.S. tax code as those that make up to 2 million 31-gallon barrels per year, or the equivalent of 110 million six-packs) get a substantial break on federal excise tax, paying only $7 per barrel on the first 60,000 barrels. The regular tax rate is $18 per barrel, which is paid by all brewers of more than 2 million barrels, all beer importers regardless of size and on every barrel made by small brewers beyond 60,000. More than 90% of all brewers fall below that 60,000-barrel threshold.
All of those little breweries opening up means a whole lot more work in the beer industry, as the Beer Institute is happy to point out. A study the group conducted reached the conclusion that beer puts more than 2 million Americans to work. That includes farmers, factory workers, brewers and bartenders. The combined economic impact of brewers, beer distributors, retailers, suppliers and other associated industries came out to $246.5 billion in 2012. The industry paid $49 billion in federal, state and local taxes that year.

That's all great, if you chose to stick it out. Even as the number of brewers grows, craft brewers who have been in the industry for 15 years or more are either making plans for succession or selling while the market is hot. Within the past year, Boulevard Beer in Kansas City, Mo., sold to Belgian brewer Duvel Moortgat and Patchogue, N.Y.-based Blue Point was taken over by Anheuser-Busch InBev. Whether it's Burlington Corners, Vt.-based Long Trail Brewing buying out Vermont neighbor Otter Creek in 2010 or A-B buying out Chicago's Goose Island in 2012, consolidation is a lingering side effect of beer's growth process.
"There was a long period of consolidation in the industry, but during that same period, beer became the most popular drink in America," Thorne says. "Thanks in great part to the small brewer tax credit, today we're seeing more small brewers than ever before. But consumers are also increasingly less loyal to beer, and that is a challenge for every brewer of any size."
No kidding. Beer drinking among 18- to 29-year-olds fell from 71% between 1992 and 1994, to 41% from 2012 to last year, according to a survey then by Gallup. During that same span, sales of liquor among that group rose to 28% from 13% and wine rose to 24% from 14%. In another survey last year by Mintel, 80% of respondents ages 22 to 24 said they drink liquor, while just 69% said they drink domestic beer. Bump that up to ages 25 to 34, and 66% say they drink liquor compared with 58% for beer.
Even among beer drinkers, there's no certainty they'll love a new brewer's beer. Nielsen found that unless you're white and male, there's a strong chance you may favor imports, cider or flavored malt beverages to either light lager or craft beers. That means not only are the overwhelming majority of the nation's 3,700 breweries relying on the growth of an expensive niche of the beer market for their livelihood, they're also hoping that said niche will one day encompass more than one dominant demographic.
Again, there's no ceiling for beer brewers or bubble to be burst here, but there's no evidence the status quo will hold, either.
-- Written by Jason Notte in Portland, Ore.
>To contact the writer of this article, click here: Jason Notte.
>To follow the writer on Twitter, go to http://twitter.com/notteham.
>To submit a news tip, send an email to: tips@thestreet.com.
RELATED STORIES:
>>5 Craft Brewers Who Need A Super Bowl Ad
>>Wait, We Weren't Finished With Dark Holiday Beers Yet!