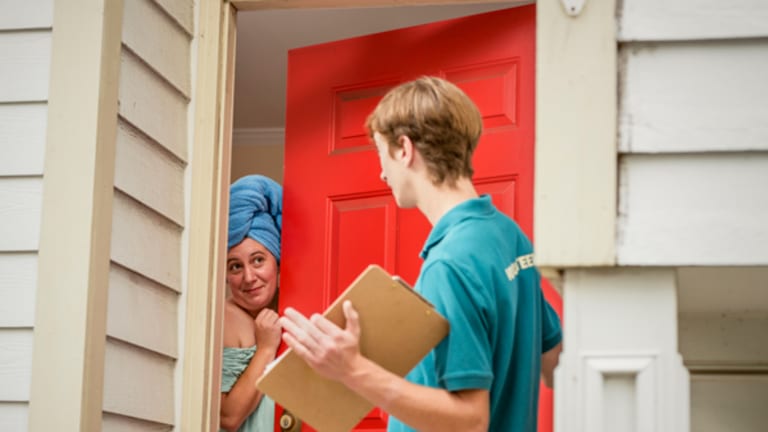 Where 2 Surveys Agree: Mortgages Hikes Don't Scare Buyers
Still, pros and homebuyers expect housing prices to jump between 3.9% and 6.7% in the coming months.
NEW YORK (
) -- How much will home prices rise over 12 months? How about 3.9%? No, it's 6.7%.
Those are the findings of two opinion surveys released last week. Granted, they're not perfect apples-to-apples comparisons, so perhaps the best conclusion is that most everyone expects prices to continue to rise, but not as much as in the past year or so.
The surveys also suggest that consumers are shaking off their concern about the mortgage rate hikes of recent months. Now they seem to be focusing on the fact that rates, while likely to rise, are still low, making this a
.
The 3.9% figure comes from
Fannie Mae
's
, who were asked to predict price increases from this July to next July. The 6.7% prediction comes from economists and other real estate experts polled by
(Z) - Get Zillow Group Inc. Report
, the market-information firm, and it covers January through December 2013. So it includes some of the rapid appreciation this year before July, figures that aren't part of the Fannie Mae survey.
Also see: Buying a Home or Selling, Here's Why You Must Act Now>>
Both surveys, one of experts and the other of ordinary folk, find that respondents expect the pace of home price gains to slow as mortgage rates rise. In Fannie's survey, 62% said interest rates will rise over the next year, a five-point increase from the previous survey.
"Consumers have taken the interest rate rise in stride. Expectations for continued improvement in housing persist, and sentiment toward the current buying and selling environment is back on track from its dip last month," Doug Duncan, senior vice president and chief economist at Fannie Mae, said in a statement. "These results are consistent with our own analysis of previous housing cycles, which finds that interest rates and home prices are not strongly correlated."
Fannie found that 74% of those polled
believe it is a good time to buy a house
, while 40% said it was a good time to sell. That difference indicates consumers recognize that in most of the country home prices are still well below past highs.
Among the consumers Fannie polled, 26% said their household income was significantly higher than 12 months earlier. That's sure to make consumers more optimistic and willing to take the plunge to buy a home.
Also see: How to Refinance With Your Current Mortgage Lender>>
Optimism was also rising in the Zillow survey. The 6.7% home price forecast was up from the 5.4% found in a survey three months earlier. Those polled said home prices could set new highs, but not until 2017.
The respondents said home prices would grow by 4.4% next year, then only around 3.5% per year from 2015 through 2017.
"Short-term expectations for home value appreciation through the end of this year are consistent with a nationwide housing market recovery that is both strengthening and widening, but still coping with high levels of negative equity, high demand and low inventory," Zillow Senior Economist Svenja Gudell said.
The prediction for lower appreciation in coming years means the market will have returned to its historic norms, Gudell said.
The Zillow survey found experts generally unconcerned about the recent rise in mortgage rates -- 30-year fixed-rate loans now average about 4.5% from less than 4% a few months ago. Of those polled, 88% said these increases did not threaten the housing recovery. Respondents said the recovery would not be threatened until rates hit 6%.