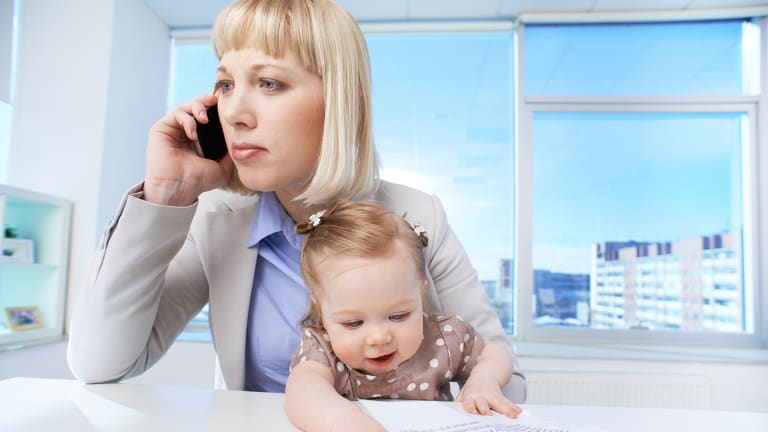 When Your Maternity Leave Ends: How to Strike a Healthy Balance Between Work Life and Motherhood
From letting go of "mommy guilt" to creating a more flexible schedule, here are tips to help you survive and thrive during the first few months back at work.
NEW YORK (MainStreet) — Maternity leave is a special time to bond with your new bundle of joy, but when your leave comes to an end, entrusting your child to someone else's care and returning to the rigors of career life can be daunting, to say the least.
"I hear from so many moms that they just can't find their new stride, or they don't have a sense of peace as either a mom or an employee anymore," says Katie Bugbee, senior managing editor of Care.com.
Though dealing with "mommy guilt," battling sleep deprivation and juggling the many responsibilities of work and motherhood may seem exhausting, there are healthy, effective ways to strike a balance between your career and your family life. Here are eight essential tips to help you survive and thrive during your first few months back on the job.
Let Go of Guilt
Saying goodbye to your little one each morning as you head to work can make you feel like a "bad mommy." While it's perfectly normal to feel separation anxiety and guilt at the start of your maternity leave, try not to beat yourself up about it.
"I think it's quite common to have 'mommy guilt,' and I've discussed this with many of my patients as they return to work," says clinical psychologist Susan Benjamin Feingold, author of Happy Endings, New Beginnings: Navigating Postpartum Disorders (New Horizon Press, 2013). "My take on it is this: We have unrealistic expectations that we can and should do it all and then feel terribly guilty that we can't live up to these ideals of being the perfect mom."
When you're feeling down, try reflecting on how your choice to go back to work is positively impacting your family.
"Mothers for whom work is a source of their life satisfaction, purpose and identity risk resenting their child if they choose to leave [their job], and mothers for whom it's financially necessary can translate the guilt into pride at being able to financially support her family," says Lara Honos-Webb, a clinical psychologist in the San Francisco Bay area and author of Listening to Depression: How Understanding Your Pain Can Heal Your Life (New Harbinger Publications, 2006). "One of the best gifts a mother can give a child is being a role model of mental health, and if working is integral to a woman's well-being, she can tell herself she is giving her child a happy, healthy mother."
Ask for More Flexibility
Let's face it: Motherhood has undoubtedly added a slew of new responsibilities to your already-packed schedule. If you think you would benefit from a more flexible work arrangement, consider expressing these desires to your employer.
"Figure out what is most important to you and your family and have an open and honest conversation with your employer," says Allison O'Kelly, CEO and founder of Mom Corps, a professional staffing solutions and flexible career development firm. "Is it being home at certain hours? Is it the ability to swing by a company day care at lunch time? Is it making it to doctor's appointments? Is it working from home one day a week? You might be surprised at how flexible employers might be if you just ask."
When you speak with your employer about the possibility of adjusting your schedule, it's a good idea to be realistic with your expectations and come up with a solution that works for both you and your employer.
"A new mom needs to make sure they are looking at their needs as well as the needs of the employer," says O'Kelly "If there's always a team meeting on Fridays, don't ask for Fridays off. You might find that at your company Wednesdays are really slow, and it would feel more comfortable to your employer."
You might also want to suggest to your boss that you try out your new schedule for a trial period. This way, your boss is likely to feel more comfortable testing out a new work option and won't feel stuck with his or her decision if the arrangement doesn't work out, says O'Kelly.
Brush Off Insensitive Comments
If a manager or co-worker expresses doubts that you'll be able to successfully juggle work life with motherhood, try to let the negative comments roll right off you.
"Women returning to work should not be naïve about the concerns or resentments co-workers might have toward her," says Honos-Webb. "The best advice is to not take it personally and to respond directly to the underlying concern by reassuring the co-worker of your capability. New mothers should 'toot their own horn' and share with co-workers their accomplishments and current work commitments regularly."
Give It Time
The first few months back from maternity leave can feel mentally and emotionally draining, but it's important to remind yourself that things will eventually improve.
"Don't quit—give it some time and communicate with your boss," says O'Kelly. "It will get easier."
Bugbee says it takes about six to nine months to find your new "semi-balance" as a working mom.
"That really just means that you are handling those bumps in stride now, you have found a purpose in your work again and you can forgive yourself for both liking your job and not being home all day," Bugbee explains.
Find a Support Network
Establishing a positive support network can help give you a much-needed outlet to talk about your challenges as a working mom.
"Find a friend, colleague or a local parenting forum on BigTent.com, or create a working parents lunch group at work—and ask for ideas or just simply vent," says Bugbee.
Check on Your Child (Within Reason)
If you're anxious about your baby's well-being while you're at work, you might be tempted to call your child's nanny or day care center for an update.
The good news? "It's O.K. for mothers to call and check in while on breaks and to always be available for emergencies," says Claire Bissot, HR Consulting Manager at CBIZ, which provides professional business services that help clients better manage their finances and employees.
However, Bissot warns that excessive check-ins can cause a decrease in performance and may even be in violation of employment work rules if you're checking your phone on a manufacturing floor where phones are not allowed or taking breaks every hour to call but remaining on the clock. 
"It's important for new mothers to find their balance and comfort level, but also remember that when at work, it is time to work," Bissot says.
Elizabeth Ochoa, chief of psychology at Mount Sinai Beth Israel in New York City, says it's important to have trust in your caregiver. If you know your child is in good hands, you'll have less of a reason to check in so frequently.
"Realize that anxiety about leaving the baby is normal and that it will subside with time," says Ochoa. "It is often helpful to have a photograph or short video of your baby that you can look at when you feel a pang."
Take Care of Yourself
Between caring for your little one and staying on top of your workload, it can be easy to forget about your own physical and mental health. The truth is, though, that you'll be a much better mom and worker if you make time for yourself and take care of your own personal needs.
"Getting sleep is one of the most important guidelines," says Honos-Webb. "Try to get a full eight hours of sleep every day, even if it is not all at the same time because sleep is disrupted by the baby."
Honos-Webb also suggests spending alone time with your partner to stay connected as a couple and engaging in "healthy pleasures" to prevent depression and retain your sense of self.
"It may mean going on dates with your partner, staying active in a recreational activity and watching your favorite TV show," she says.
If you think you might suffer from postpartum depression, which affects an estimated 9% to 16% of postpartum women, don't hesitate to see a mental health professional.
"Seek psychotherapy or medication consultations if your mood is depressed or you feel very emotional," says Ochoa. "It is important to rule out the possibility of postpartum depression."
Download Apps to Save You Time
There are many smartphone apps available that can help make your life easier as a working mom.
"Download any app that will alleviate weekend errands, because you'll want to spend as much time playing and enjoying your baby—not shopping," says Bugbee.
Bugbee suggests checking out the Diapers.com app, which lets you to buy diapers, formula, wipes and baby gear right from your phone, with a delivery time of one to two days. Also recommended are the Instacart and Peapod apps, which allow you to arrange for grocery food delivery.
—Written by Kristin Colella for MainStreet