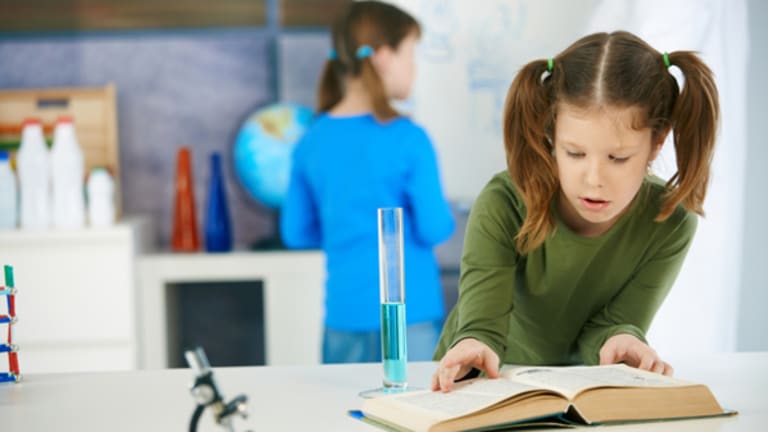 When Grades Suffer, College Students Ditch Science, Math -- Along With Good Jobs
STEM majors have more jobs and are better paid, but America still struggles against a future with too few of them.
NEW YORK (
) -- Want to make sure you get a good job with decent pay after you graduate? You might want to seriously consider majoring in math or science.
That's because though liberal arts subjects such as English and philosophy may be intriguing or enjoyable, getting a bachelor's degree in either one won't help you rake in an impressive paycheck at your first post-graduate job. A degree in engineering probably will.
According to the U.S. Department of Labor
, the average starting annual salary is $62,655 for an
and $59,221 for those with a computer science degree. By comparison, those who graduate with degrees in the humanities and social sciences are earning an average annual salary ranging from $36,988 to $40,668 -- that is, if they are lucky enough to even find a stable job.
Analyzing unemployment among 2007-08 graduates, the Bureau of Labor Statistics found that those with degrees in the humanities and social sciences suffered the highest joblessness -- 13%. Computer and math majors had an unemployment rate less than half that that (6%).
And that's not all: A U.S. Department of Commerce report from 2011
STEM jobs -- that is, in the fields of science, technology, engineering and math -- grew at three times the rate of other jobs in the past decade and were projected to grow by another 17% by 2018, nearly double the rate of other occupations.
Considering this, why don't more students pursue science degrees? The simple answer: The classes are hard.
Also see: Student Loan Debt Bad? It's Much Worse for Women>>
A collaborative study by Ralph and Todd R. Stinebrickner of Berea College in Kentucky and the University of Western Ontario for the National Bureau of Economic Research suggests that though STEM majors are initially popular with incoming students, more than half the students who start out majoring in a STEM subject wind up changing over to a social science or humanities-oriented major.
The overwhelming responses of the more than 650 students surveyed at Berea College indicates that those who changed out of a STEM major did so not because of large amount of work, which they expected, but because they were getting poorer grades than anticipated. Many switched to bolster their grade point average -- even though the value of a good GPA on hiring is uncertain at best, according to
recent
studies
and experts at hiring services such as
.
It has been suggested that improved STEM education at the primary and secondary school level would better prepare and persuade students to pursue a career in a STEM field. In response to this theory, President Barack Obama recently committed $3.1 billion to improve national STEM education efforts, with roughly $450 million directed toward increasing the number of trained STEM educators and developing new STEM programs. Last month, the Obama administration announced it also plans to create a national STEM Master Teacher Corps, to be piloted in 50 locations across the country.
Of course, not everyone is in agreement that pursuing a career in a STEM field is the best way to ensure a more beneficial career path.
A recent report by the Economic Policy Institute claimed that more than half of students who graduate annually with a STEM degree are unable to find employment in their fields. The EPI also found that STEM wages have basically remained stagnant over the past decade (however, so have
across the board). These factors suggest there may be a
as opposed to a surplus of STEM jobs in the U.S.
Also see: It's True: You're Paying Much More for Rent Next Year>>
None of this will be of much help to those who don't excel at math or science or who simply do not wish to pursue a career in a STEM field.
"Not everyone is good at science or well enough prepared when they enter college, and maybe some people who switch should,"
Business Insider
contributor Max Nisen.
Majoring in a subject one doesn't have any aptitude in or passion for will likely neither benefit that person or the particular field they enter.
Fortunately, there are indications a college graduate can still thrive even if he or she pursues a "softer" degree.
The ability to think critically, analyze data and write well offer leverage in climbing the career latter regardless of one's major,
in
The Washington Post Magazine
, writing on how to get a good job after college.
Nisen agrees.
"The humanities are a good bet because the things that are hardest to computerize or outsource are going to be all about skills that emphasize human interaction," Nisen says. "Empathy, sociability, writing, analyzing and reacting to people -- all things more likely to come from the humanities than hard sciences."