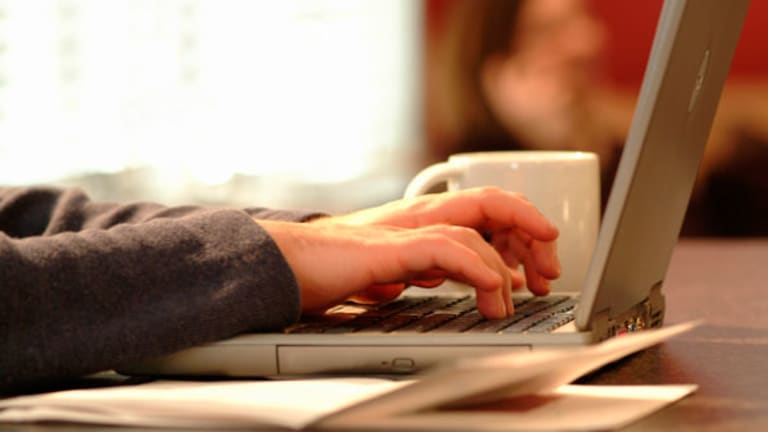 When Cloud Computing Falls Short
Cloud computing has made business possible for this start-up, but it hasn't made it easy.
BOSTON (TheStreet) -- In a time when office workers e-mail colleagues who sit two feet away, it's not unusual that the four employees at Blank Label run their start-up from three different time zones. While being farflung was never part of the founder's plan, the company's bumpy ride illustrates how technology can help a company manage a team of isolated employees -- and the ways it can't.
, a service that enables customers to design dress shirts online, is the brainchild of Australian former investment banker Fan Bi. He started his company after a year of study at Babson College in Wellesley, Mass., which is known for hatching entrepreneurs.
Bi recruited a marketing director and a graphic designer at nearby colleges -- young guys willing to work for equity. But finding a Web developer was harder.
"I was very keen on having a team locally," Bi says. "That didn't quite happen, mainly because we couldn't find any technical people who wanted to work with us in Boston. Technical people aren't usually into men's dress shirts."
Anxious for talent, the company put an ad on
Craigslist
last year and hired a Web developer in California over the phone; they have yet to meet him in person.
Then Bi's visa ran out. A renewal plea failed. Unable to stay in the U.S., he went to Shanghai to be close to the tailors who make the company's shirts. Now he's overseeing two employees in Boston and one in California from halfway around the world through "cloud computing."
Small businesses have been turning to cloud computing, the use of remote networks and servers to store data that can be accessed from anywhere, to cut expenses and expand their geographic reach.
Amazon
(AMZN) - Get Report
,
Google
(GOOG) - Get Report
and
CA
(CA) - Get Report
have expanded their cloud computing services, which cost customers less to use and require less maintenance than in-house computer systems.
"Everything we use is completely online," Bi says. The team stores and shares data through Google Docs and
DropBox
, and uses project management tools from
Acunote
. A video chat system from
Oovoo.com
helps the team meet each week.
"With all those different tools, everyone knows what's going on," Bi says. But not always.
"There are a few complications with Fan being in China right now," says marketing director Danny Wong, who's in Boston. "We have an online database that allows us to access our orders, and there have been some hazy times with the Chinese Internet, when he hasn't been able to access the database."
The lack of human interaction makes for strange dynamics at Blank Label, even though working remotely has become more common at U.S. companies. The number of employees, contractors and business owners who telecommute or work from the road has climbed 17% from 28.7 million in 2006 to 33.7 million in 2008, according to the human resources firm
WorldatWork
.
Wong says the company was declined funding from
TechStars
, a program that provides seed capital to start-ups. "Nobody wants to invest in a team that isn't geographically close to them, let alone a team that isn't geographically close to each other," Wong says. Fortunately, many of the Internet tools they use are free.
"There are concerns of not being in the same place and not getting the physical synergies of being together," Bi says. "We expect that each person is self dedicated and self motivated enough to get their tasks done. Do we come up with as good ideas as not being in person? I'm sure we're losing some value add, but the reality is a reality."
-- Reported by Carmen Nobel in Boston.