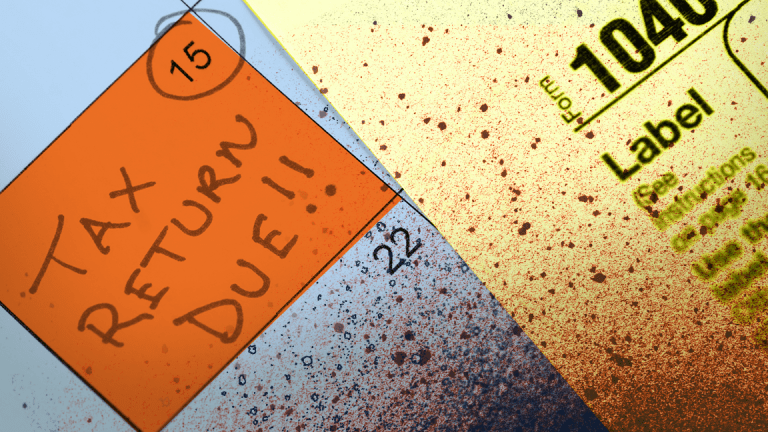 When Are Taxes Due in 2020?
We're about to start tax season. Here are the dates you need to know.
You may think it's early, but Tax Day will be here sooner than you think.
Here, we'll discuss when taxes are due for 2020 as well as exceptions for residents of certain states and for certain types of filers. In addition, we'll discuss the added demands for some self-employed filers and business owners.
Because the IRS accepts filings and payments by the U.S. Postal Service and electronically all dates discussed apply to either the date of the electronic filing or the postmark on the envelope. In the case of electronically filed forms, all dates extend to midnight of the day in a local time zone, for example, by midnight PT for residents of California or by midnight ET for residents in New York.
When Are Taxes Due For Individual 1040 Filers?
For most Americans, taxes are due on April 15 of every year. If you owe money to the IRS your payment must accompany your filing, otherwise it is considered late unless you file early. Taxpayers who file their 1040 before the deadline can update and correct their taxes, with a corrected payment, by or before April 15 with no penalty.
In 2020, this means that all taxes are due (you guessed it) on Monday, April 15. No exceptions ... unless....
Related.The Ultimate Guide to Navigating Tax Reform: Watch Our Free Webinar
Occasional Exceptions: Maine and Massachusetts, Expatriates and Service Members on Deployment
In 2019 residents of Maine and Massachusetts had until April 17 to file their taxes. This is because those two states celebrated Patriots' Day on April 15. Since IRS offices were closed on April 16 due to Washington's Emancipation Day holiday, the federal filing deadline was pushed back another day for Maine and Massachusetts filers.
American citizens who reside abroad on April 15, including members of the armed services on foreign deployment, receive an automatic two-month extension to file their return and to pay all taxes. The IRS grants this extension without filing, meaning that the effective date for citizens abroad to file and pay their taxes is normally June 15. That will be the case in 2020, as June 15 falls on a Monday. But if June 15 is a weekend, the day may change. In 2019, for example, Overseas Tax Day was June 17, 2019, as June 15 fell on a weekend.
The IRS will give no penalty for filing and paying taxes by the June deadline if you reside abroad, but it will charge two months' worth of interest on any tax bill ultimately owed and paid by that date. For many taxpayers this is not relevant, as they will receive a refund or it will come to a negligible amount. Nevertheless if you owe taxes and file from abroad make sure to include the interest in any final calculation.
When Are Taxes Due For Self-Employed Filers and Business Owners?
Some people who are self-employed or own businesses must pay estimated taxes four times each year.
These workers must file their annual tax return on April 15 like everyone else. Being self-employed does not get you out of this obligation. In addition, however, some people who generate their own income will have to pay quarterly estimated taxes four times per year. This is the taxpayer's estimate of how much they will ultimately owe on that quarter's income when they file at the end of the year.
Sole proprietors, partners, and "S corporation" shareholders who plan to owe more than $1,000 in taxes over the year typically make estimated tax payments. Corporations typically also have to make these payments if $500 or more is owed, too.
You may have to pay estimated tax for the current year if your tax was more than zero in the prior year. See the worksheet in Form 1040-ES, Estimated Tax for Individuals (PDF), or Form 1120-W, Estimated Tax for Corporations (PDF), for more details on who must pay estimated tax.
Estimated taxes make up for the fact that self-employed workers and business owners do not have income tax withheld from their earnings paycheck-to-paycheck. Estimated tax deadlines are fixed to the 15th of April, June, September and January.
For 2020 estimated taxes are due on the following dates:
• April 15, 2020 - First quarter estimated taxes due for most filers.
• June 15, 2020 - Second quarter estimated taxes due for all filers.
• September 16, 2020 - Third quarter estimated taxes due for all filers.
• January 15, 2021 - Fourth quarter estimated taxes due for all filers.
Weekend and Holiday Delays
Tax day is often delayed because of holidays or weekends.
While both annual tax returns and estimated taxes are due on the 15th of their respective months, any holiday or event that closes the IRS or the Post Office will delay the collection of taxes until those agencies reopen. This most notably includes:
Weekends
If the due date for any tax paperwork falls on a weekend, that deadline will be extended to the next qualifying business day. (This includes Saturdays even though the Post Office is open.)
National Holidays
If the due date for any tax paperwork falls on a national holiday, that deadline will be extended to the next qualifying business day.
State Holidays
If the due date for any tax paperwork falls on a recognized state holiday (such as Patriots' Day), that deadline will be extended to the next qualifying business day for residents of that state.
Government shutdowns, however, do not qualify as a reason to fail to submit timely tax filings.
While this has not come up in the context of the deadline for annual returns, the IRS has enforced its quarterly deadlines for estimated filings during previous shutdowns. This is in part due to the fact that the Post Office remains operational during shutdowns, and due to the fact that the IRS itself typically has some staff who are not furloughed.
Paperwork Delays
There is no reason why a taxpayer can't file taxes earlier than April 15. Typically, any time after Jan. 1 will do. 
However most filers do have to wait at least a little while. Salaried and hourly employees cannot file their taxes until they receive their W-2 from their employers. Self-employed workers need their full collection of 1099s. In both cases, employers have until Jan. 31 every year to send those out.
Waiting for this paperwork can delay the hyper-punctual person who would otherwise celebrate Martin Luther King, Jr. Day with their accountant.
Extensions
All individual filers can apply for an automatic extension to file their taxes. This application is due on April 15 and allows you six additional months to file your return.
This does not, however, extend the deadline for paying your taxes. The taxpayer still must make an estimated payment on April 15 along with the application for an extension. If the payment is less than 90 percent of the final amount owed the IRS will charge fees and penalties.
An extension is generally useful for taxpayers with highly complicated filings, or who are waiting on additional information from third parties. If you need to file an extension it is wiser to overestimate your tax burden and file for a refund afterward.
What Happens If You Miss The Deadline To File Your Taxes?
If you miss the deadline you should file as soon as possible afterward.
All adults who earned income greater than the standard deduction are required to file a tax return. (This threshold is slightly higher for anyone above 65.) If you fail to file a return or request an extension by April 15, you are officially late.
For all filers who owe taxes, the penalty for late filing is 5% of the taxes owed for each month the filing is late up to a maximum of 25%, rounded up. So, if you file on April 16, it's still going to be 5%. In addition the IRS charges interest and may charge a 0.5% per month lateness penalty.
Then there are taxpayers who are owed a refund. While they are required to file their taxes every year, and intentionally refusing to file is technically a crime, late filings aren't actually a problem for many of the 75% of Americans who will receive a refund. When the penalty for a late filing is 5% of your taxes owed, and you owe nothing in taxes, well… you still owe nothing.
But if you're in that category of taxpayer, what are you waiting for? Go get your money back.
Related.The Ultimate Guide to Navigating Tax Reform: Watch Our Free Webinar
Sponsored Links From our Partners at Turbo Tax:
Tax Tips: Videos to help you prepare for tax season