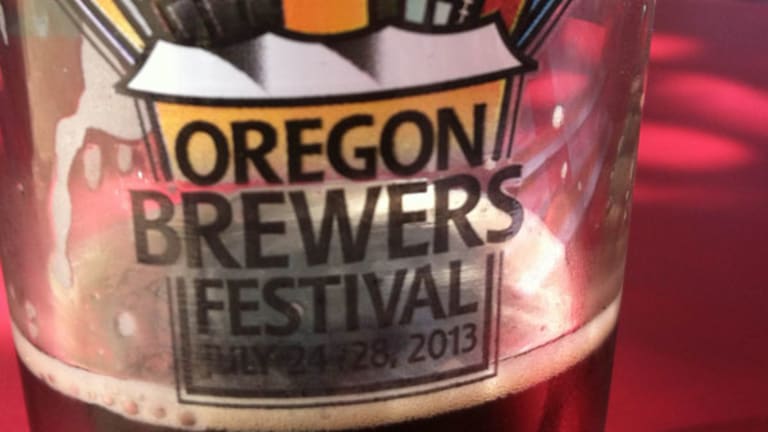 What's Hopping at the Oregon Brewers Festival
The Czechs and Germans are welcomed back this weekend, and we find out what's up with all the citrus.
The Czechs and Germans are welcomed back this weekend, and we find out what's up with all the citrus.
PORTLAND, Ore. (TheStreet) -- The Oregon Brewers Festival, like craft beer itself, isn't without its annoyances.
Twenty-five years into its lifespan, the brewers' buffet along the Willamette River in Portland's Tom McCall Park has grown into a sprawling, five-day affair featuring roughly 85 different beers, roundtable talks with brewers, homebrewing demonstrations and thousands off folks finding their favorite new beer four ounces at a time. It brings in throngs of beer lovers and appreciators, but it also brings in dozens of hard-pretzel necklaces, foam hop-shaped hats and exultations of "Woo!" that wash over the crowd either like a vocalized version of The Wave or a spilled beer in a crowded pub, depending on your mood at the time.
It's either one of the greatest beer gatherings the Pacific Northwest has to offer or a really good reason to head to the coast or Columbia River Gorge while beer tourists occupy your local barstool. Then again, the beers on tap tend to have a similarly split personality and can either send a sampler looking for a six-pack of it or leave them wondering if craft brewers live in the same drinking world as everyone else.
In the words of the writer's father-in-law, who accompanied him for this year's trip to OBF, "Why does every IPA have to taste like citrus or grapefruit these days?"
It's grating and perplexing, but there is some reasoning to it. First off, it's summer. On the same days as the brewers festival, more than 2,000 costumed folks and their innertubes are going to hit the Willamette for The Big Float and Jacque Tati's
Tour De Fete
will be screening on the roof of a hotel parking lot. A little outward exuberance isn't out of the question, especially considering all those pretzel necklaces and "woo" will be replaced with a grey pall and indoor voices by the end of September.
Also see: 5 More Hidden Craft Beer Vacation Destinations>>
It's the same reason few of the Imperial Pale Ales at OBF taste overly malty or flowery and why you'll be hard-pressed to find a porter or a stout at all. Drinkers, especially the largely populist OBF drinkers, want something refreshing, and brewers trying to reach them are more than willing to slake that thirst.
Alameda Brewing
, a brewery in Northeast Portland known for its Black Bear XX Stout, brought a light ale made with huckleberries.
Cascade Brewing
, a Southeast Portland mainstay known for extremely sour, barrel-aged Belgian-style beers, came with a simple raspberry wheat. Delaware's
Dogfish Head
, so known for owner Sam Calagione's experimental bent that it was featured in the TLC show
Brew Masters
, came 3,000 miles just to serve its relatively simple Namaste witbier.
They're gateway beers that will draw in a whole lot of folks who'd be sipping Coronas otherwise, but they're also what the hard-core craft kids are looking for around this time of year. From the Citra-hop-heavy Transgression IPA offered by Vancouver, Wash.-based
Heathen Brewing
to even more typically Cascade-hop-infused Bogart IPA from Carlton, Ore.-based
Fire Mountain Brewery
and Frankenlou's IPA from
Seven Brides Brewing
in Silverton, Ore., all had a much more refreshing and citrusy flavor than their hop-heavy contemporaries.
Gigantic Brewing
in Portland's Sellwood did away with pretense altogether by emptying bucketloads of Simcoe and Cascade hops into its "& Juice" IPA during the brewing process and saturating the whole mix with grapefruit, tangerine and pineapple juices post-fermentation.
Don't get us wrong, there were still huge lines for dump-truck-full-of-hops brews such as the breathtakingly bitter Delicious IPA from Escondido, Calif.'s
Stone
and the pungent, powerful Bone Crusher Imperial Red from
Silver Moon Brewing
in Bend, Ore. It's just that this is the season that allows brewers to show off their summer concoctions and, at this year's OBF, revisit some great traditional summer styles.
Perhaps the most compelling narrative running through this year's festival wasn't the rise of citrusy IPA or the full boat of fruit beers, but the festival's bear hug of German and Czech brewing styles. While it must seem pretty obvious to folks such as Ken and Rob Widmer -- who turned their Altbier, Weizebier and American-style Hefeweizen into one of Oregon's first craft breweries in
Widmer Brothers
(BREW) - Get Report
back in 1986 -- it's a huge step for a craft beer industry that's hewed more to English- and Belgian-style ales than to the German and Czech brews that helped launch the American beer industry.
The common misconception is that because American macro brewers can trace their long, winding roots back to those countries and styles, they must be somehow inferior or simple. After all, aren't light lager and pilsner brewed to the lowest common denominator?
Also see: A Summer Six-Pack for Beer Haters>>
A brief but fruitful discussion with a homebrewing store owner from Kansas City in Portland for the festival suggested otherwise. Noting how her hometown
Boulevard Brewing
's 80 Acre Hoppy Wheat draws its lineage to German wheat beers and how small East Coast breweries -- especially those in Pennsylvania and Ohio -- tend to drift toward similar styles, it was agreed that the German and Czech beer offerings were far more complex and varied than the American drinking public has experienced in the past 60 years or so.
Portland's
Burnside Brewing
, just across the Burnside Bridge from the festival site, illustrated this point by pouring a deceptively tart Marionberry Berliner Weiss that added the Pacific Northwest blackberry directly to the brew rather than spooning it in as a traditional syrup. Both Portland's
Upright Brewing
and Redmond, Ore.-based
Cascade Lakes
poured a light, refreshing Kolsch style that Germans have enjoyed during the warm season for generations, but that small American brewers are just starting to embrace. While the festival teemed with kolsches, pilsners, hefeweizens and even a smoked helles collaboration between Widmer Brothers and a group of Oregon homebrewers, it was the appearance of a far more rare style that suggested renewed German brewing influence well West of the Rhine.
Two Portland breweries -- the brewing arm of its
Old Town
pizza chain and the year-old
Occidental Brewing
in North Portland -- broke out Dortmunder-style lagers for the occasion. A pale, mild lager dating back to the mid-19th century, the Dortmunder was a low-alcohol workers' beer modeled after Pilsner and first brewed in Germany's coal- and steel-producing Ruhr District. The beer is still made by both Dortmunder Unions Brauerei (and the Dortmunder Actien-Brauerei and exported here, but has only found favor in small corners of the craft brewing community. In Occidental's case, it fits in perfectly with a beer list that faithfully replicates original German styles and restores them to the bold, complex brews that immigrant brewers first brought to the U.S. and saw gradually homogenized as big brewers grew and competition decreased.
The Dortmunder is exactly the light, refreshing, multi-layered brew that a riverfront festival of small brewers baking in the July heat desperately needs. It's also a brew that doesn't seem like it would have received a fair shake a decade ago, when hops were king and experimenting meant throwing as many of them into a beer as you could or forsaking them for Belgian bacteria. For the place that dubs itself Beervana to not only embrace these styles but care enough to see them done well says a whole lot about how craft beer has matured. Some of craft beer's original proponents, including the Widmers and Jim Koch -- the original brewer of Samuel Adams Boston Lager and founder of
Boston Beer
(SAM) - Get Report
-- had great respect for the old German and Czech brewing traditions and just wanted to make beers that tasted like they respected them as well.
Now craft has come full circle and Dortmunder takes its place at festivals alongside bitter, high-alcohol IPAs that are in every way their opposite. Where once one was seen as American beer's strong future and the other its weak past, now they are peers that require nearly equal amounts of skill to brew well.
Meanwhile, it's summer 2013 and fans of good beer can enjoy a pale lager without being shamed or annoyed by snobs. Woo, indeed.
-- Written by Jason Notte in Portland, Ore.
>To contact the writer of this article, click here:
Jason Notte
.
>To follow the writer on Twitter, go to
.
>To submit a news tip, send an email to:
.
RELATED STORIES:
>>A Summer Six Pack For Beer Haters
>>5 Major League Soccer Teams That Outdraw Baseball
>>Why Craft Beer At The Ballgame Is A Big Deal
Jason Notte is a reporter for TheStreet. His writing has appeared in The New York Times, The Huffington Post, Esquire.com, Time Out New York, the Boston Herald, the Boston Phoenix, the Metro newspaper and the Colorado Springs Independent. He previously served as the political and global affairs editor for Metro U.S., layout editor for Boston Now, assistant news editor for the Herald News of West Paterson, N.J., editor of Go Out! Magazine in Hoboken, N.J., and copy editor and lifestyle editor at the Jersey Journal in Jersey City, N.J.