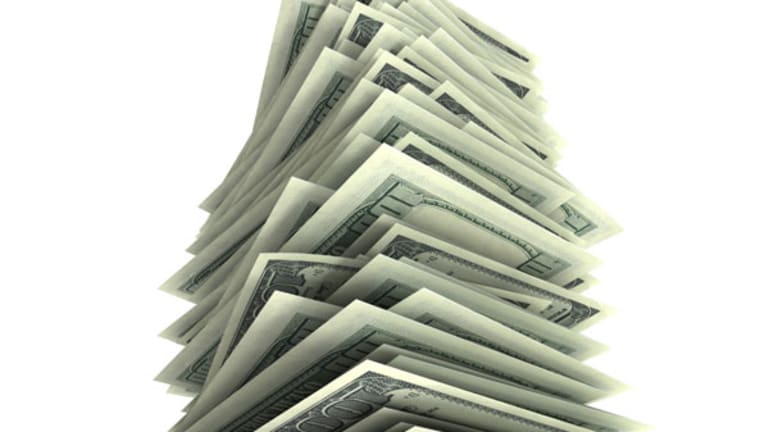 What's Delaying the Digital Wallet?
A full migration to mobile payment offerings is still a few years away. Here's why.
NEW YORK (
) -- Banks and credit card issuers are certainly taking steps to enhance their mobile payment offerings, but widespread adoption of the technology may still be a long way off.
Just this week,
Chase
(JPM) - Get JPMorgan Chase & Co. Report
and
Capital One
(COF) - Get Capital One Financial Corporation Report
announced that their credit, debit and prepaid cards will be available on Isis, the mobile-commerce venture created by
AT&T
,
T-Mobile USA
and
Verizon Wireless
(VZ) - Get Verizon Communications Inc. Report
, by this summer. The move builds on partnerships Isis had already established with
Visa
(V) - Get Visa Inc. Class A Report
,
MasterCard
(MA) - Get Mastercard Incorporated Class A Report
,
Discover
(DFS) - Get Discover Financial Services Report
and
American Express
(AXP) - Get American Express Company Report
last July.
A full migration to mobile payment offerings seems to be still a few years away.
Amex also has
planned for its own digital-commerce platform
that it launched in March 2011 called Serve, planned for later this year.
But many industry experts believe the mass use of these digital payment platforms isn't as close as it seems. Visa President John Partridge even said in a conference in New York earlier this month that it would be some time before consumers fully embraced the idea of a digital wallet. Here's why:
The benefits of mobile banking are still unclear to consumers.
Mobile banking may sound awesome in theory, but research from
Javelin Strategy & Research
found that a very small percentage of consumers (12%) actually use their phones to make contactless payments.
"They don't see the benefit," says Mary Monahan, research director of mobile for Javelin. She explains that some banks are starting to do a better job of illustrating what mobile banking affords consumers, citing Chase's commercial that features newlyweds cashing checks while on their honeymoon as one example. But more financial institutions will need to make a similar advertising push to get reluctant consumers on the mobile payment bandwagon.
"You're trying to change 30 years of behavior," says Calvin Grimes, product manager of mobile solutions for electronic commerce system provider Fiserv. "In order to do that, you have to give
consumers incentives."
Grimes says that these incentives can be related to saving time and money or to providing security enhancements.
Security concerns persist.
Unfortunately, research also shows that a majority of consumers aren't sold on the security of digital commerce platforms. According to Javelin's research, 44% of consumers say they stay away from mobile banking because of safety concerns.
As such, "the offerings being shown to consumers need to be as secure or even more secure" than traditional payment methods, Monahan says, to change the public's perception. (
Google
(GOOG) - Get Alphabet Inc. Class C Report
Wallet's hack earlier this month probably did little to quell those fears.)
Additionally, Grimes cites research that consumers want to get mobile banking services directly from their financial institutions, instead of having to sign up for a service they aren't already a part of -- a desire that bucks the current trend.
"They want to stay with known brands and known networks," he says.
The technology may exist, but a majority of consumers don't have it yet.
A majority of consumers don't own a smartphone or other mobile device with an NFC chip, the mobile equivalent of a credit or debit card's magnetic strip that's actually more secure since the codes associated with them change periodically.
Grimes says this could change easily, if, for instance,
Apple
(AAPL) - Get Apple Inc. Report
decided to add such chips to the next iPhone model, but until then there's a gap that will stand in the way of widespread adoption.
He says to expect a surge in person-to-person payment options that will precede mass migration to a full-on digital wallet.
"That time is going to come," he said. "Financial institutions need to think about it more strategically."
>To submit a news tip, email:
.
Follow
TheStreet
on
and become a fan on