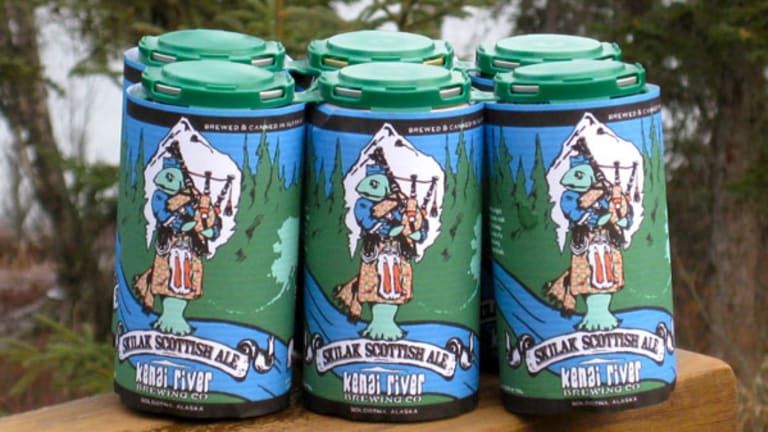 What You're Really Paying for That Beer
The venerable six-pack is still the standard and benchmark for beer pricing. You may be surprised what it reveals.
PORTLAND, Ore. (TheStreet) -- It's an exciting time for beer in the United States, unless you're one of the many beer drinkers in this country who've been priced out by the recent economic downturn.
There were roughly 80 brewers in the U.S. in the early 1980s and about 1,600 breweries in America back in 2009. According to the Brewers Association craft beer industry group, there are more than 2,500 breweries in the United States today, with more on the way. The Brewers Association gives those small brewers credit for increasing sales of "craft" beer 15% by volume and 15% in dollars in 2012. That gave those small brewers 6.5% of all beer sales volume and 10.2% of its income last year.
It should be noted, though, that those brewers rake in the cash because they tend to cost more. According to market research firm
Symphony IRI
, craft beer fetches an average $33 a case. That trumps the $29 brought in by imports and the $20 a case for premium domestic beers such as
Anheuser-Busch InBev's
(BUD) - Get Anheuser-Busch InBev SA/NV Report
Budweiser and
MolsonCoors'
(TAP) - Get Molson Coors Beverage Company Class B Report
Coors Light. Lower tier brands including Pabst Blue Ribbon, Busch and SABMiller's Miller High Life go as low as $15 a case.
The Beer Institute, a beer industry organization based in Washington, points out that craft's gains came at the cost of overall industry losses. As Beer Institute spokesman Chris Thorne put it, "Beer isn't recession proof." The Beer Institute compared unemployment rates to average monthly beer shipments during the same period and found that overall shipments began decreasing steadily in 2009 and continued through June of last year in direct correspondence with job numbers.
Meanwhile, overall U.S. beer sales had been in free fall since the recession. U.S. beer sales just recorded a 1.2% uptick in 2012 to stop the bleeding, but A-B sales increased only 0.7% while SABMiller/MolsonCoors joint venture MillerCoors watched sales slip 1.1%.
"What you had was guys who build roads, hang drywall and deliver appliances out of work. These are guys who drink premium and premium light brands, because it's affordable and that's what middle-class Americans drink," Thorne says. "Meanwhile, Wall Street bankers, lobbyists and other well-paid professionals survived the Great Recession just fine and continued to plunk down big bucks for high-end beer, thereby growing their share of market."
So how have the big brewers reacted? Well, A-B opted to steer folks toward its import brands such as Stella Artois and craft-sector offerings such as Wild Blue, Shock Top and Goose Island. MillerCoors, meanwhile, has leaned heavily on its Tenth & Blake craft and import division with its popular Blue Moon and Leinenkugel craft-style brands.
All of that has served only to increase the average price of beer as big brewers' bread-and-butter working-class drinkers cut back. With that in mind, we've taken a look at the average price of beer through various sources and came up with the prices you should be paying for your favorite suds in today's beer market:
Also see: Glass Half Empty? The Great Craft Beer Selloff>>
Six-pack
The venerable sixer is still the standard and serves as the benchmark for beer pricing. The Beer Institute has used it as its measure of choice dating back to 1955, when the estimated average price of a six-pack of beer was a whopping 89 cents.
Today the average six-pack goes for $5.05, with domestics fetching a little less at $4.95 and imports charging far more at $6.88. Those prices will vary depending on the taxes in your area of the U.S. and the pricing of local outlets and distributors, but that average is still about a dollar -- or 20% -- more than it was a decade ago. That's a steep hike, but still below the 27% rate of inflation since 2003.
Even without referencing those baseline prices, though, the six-pack can be the key to determining the value of your favorite beer. There are any number of six-pack-equivalent calculators available. The
blog offers a free one, but mobile versions exist for both
and
Apple iOS
devices. They're either great measures of value or masochistic reminders of how much you're overpaying for beer.
22-ounce bottles ("Bombers")
We've already gone on record as saying bombers are just about
the worst beer value on the market
, but we realize they serve a purpose.
They're a means of getting drinkers to try something new without having them commit to all 72 ounces of a six-pack. They also help small breweries who don't want to commit to bottling a small batch of beer in six-packs get their beer out to the public in a manageable size. If the beer inside is any good, the brewery is rewarded with demand that outstrips supply and considerable profit.
Let's say you were to find a bomber of Anchor Steam -- a fine beer out of San Francisco -- kicking around for $3.50. That may not look like a bad deal compared with the $4, 16-ounce pint at the bar across the street, but that would be an $11.45 six-pack. Even at craft prices, that's not exactly cheap.
Now let's assume you're going for a high-alcohol imperial or hard-to-find limited edition.
Total Wine
in Bellevue, Wash., sells bombers of La Foile Flanders Red from New Belgium brewing's Lips of Faith series for $14 a pop. That would be a more than $45 six-pack and just completely unreasonable for someone just looking to try something new. The bomber provides a less painful point of entry, even if it's not altogether pleasant for your wallet.
Also see: Is It Still A Craft Beer After the Brewery Sells?>>
64-ounce jugs (Growlers)
Don't like dealing with all the recycling of a six-pack and just want enough of a beer from the local taproom or brewpub for you and some of your friends? If you're lucky enough to live in a state that allows it, you can bring your resealable glass jug/aluminum container/earthenware vessel up to the tap, fill it and head home.
Like bombers, they're great for small breweries that don't have a lot of space on hand for packaging and don't have a lot of resources to dedicate to bottling or canning. They're also great for beer lovers who like a small brewery's beer well enough to bring some home but can't find any on premises.
That said, bombers have their own set of issues. The standard-issue glass-and-screwtop bomber has a very finite limit for how long it can keep your beer fresh. Carbonate it and keep it closed and you'll be good for a week or so. Once it's open, however, you've got about two days before it's completely flat. You're basically opening an entire six-pack at once, so unless you know you and your friends aren't going to drink it immediately, don't bank on it for storage.
Airtight, light-blocking aluminum growlers prevent this problem to a degree, but are about six times as costly as the glass growlers that go for $3 to $5 a pop. Carbonated taps for their caps are in development, but not widely available. In any case, a drinker also has to clean and sterilize it regularly, otherwise every beer poured into it afterward will taste just a bit off.
Finally, there's the small matter of price. Filling a growler at out local homebrew shop costs between $11 and $13, depending on the beer. That's a $12.38 to $14.63 six-pack, which is pricey but not always terrible based on the brand and style. When you find a brewery, shop or pub that plays along and has a special -- a nearby pub has a weekly $7 growler fill (a $7.88 six-pack) -- a growler becomes a considerably better investment.
The 16-ounce bar pint
Here in the U.S., we just call it a pint. It's that ubiquitous, slanted, straight-sided tumbler that's great all-purpose barware, easy for bartenders and other staff to stack and clean and the bane of a beer snob's existence.
We won't go into the merits of the bulbous, 20-ounce imperial/Nonic pint or any other discussion of glassware, but we will let you in on the worst-kept secret in the beer world: That 16-ounce glass doesn't hold a pint. You're looking at 15 ounces of liquid at best, and that's largely dependent on the bartender's pour and your ability to avoid spillage.
It is an awful deal and the price we pay for drinking socially out in that big, bad world beyond our front door. And there is almost no deal associated with it.
If you find a place that serves $1 pints of the cheap stuff at happy hour, it comes in at less than $5 for a six-pack. That assumes, though, you'd pay $5 for a six-pack of a budget beer we already told you costs $15 per case. Get into the $4, $5 and $6 territory of premium, import and craft pints and you're suddenly looking at a $19 to $29 six-pack.
The 15-ounce "pint" is the absolute least cost-effective means of buying beer. Economically, we're all fools for buying one. Yet most of us will strike this bargain every time.
Kegs (15.5 gallons)
This is the idea that keeps
Costco
(COST) - Get Costco Wholesale Corporation Report
afloat: The inherent value in buying in bulk.
You look at the unit price of beer in a keg and it only compounds what a simp you are for paying so much for pints drawn from one. A keg of Bud Light at our local bottle shop is selling for $79, not including deposit. That is a $2.87 six-pack and a clear win for anyone who loves themselves a clear, inoffensive light lager.
Even as you ascend into craft beers, the math works out in a drinker's favor. A $186 keg of Green Flash IPA? That's a $6.75 six-pack that flat out doesn't exist. A $204 keg of North Coast's Old Rasputin Imperial Stout? That is $7.40 a six=pack for a beer that could easily fetch more than double that if it came in such packaging.
Again, however, the problem is logistics. If you're just throwing a Bronco hand-pump tap on it like the one you used to use for house parties, prepare to ruin some perfectly good beer. A keg needs refrigeration, carbonation (or nitrogenation, in some cases) and some regular demand. The technical aspects are investments in themselves, while that demand requires a lot of commitment to any one beer over a long period.
If you have the means, the setup and the stable of favorite beers, this is easily the way to go. If you just turned green at the thought of putting down more than 15 gallons of anything, maybe you should take it a six-pack at a time.
-- Written by Jason Notte in Portland, Ore.
>To contact the writer of this article, click here:
Jason Notte
.
>To follow the writer on Twitter, go to
.
>To submit a news tip, send an email to:
.
RELATED STORIES:
>>Why Tampa Bay Bucked NFL Blackouts
>>Hip-Hop's Golden Age Is A Moving Target
>>The United Playlist Of America
Jason Notte is a reporter for TheStreet. His writing has appeared in The New York Times, The Huffington Post, Esquire.com, Time Out New York, the Boston Herald, the Boston Phoenix, the Metro newspaper and the Colorado Springs Independent. He previously served as the political and global affairs editor for Metro U.S., layout editor for Boston Now, assistant news editor for the Herald News of West Paterson, N.J., editor of Go Out! Magazine in Hoboken, N.J., and copy editor and lifestyle editor at the Jersey Journal in Jersey City, N.J.