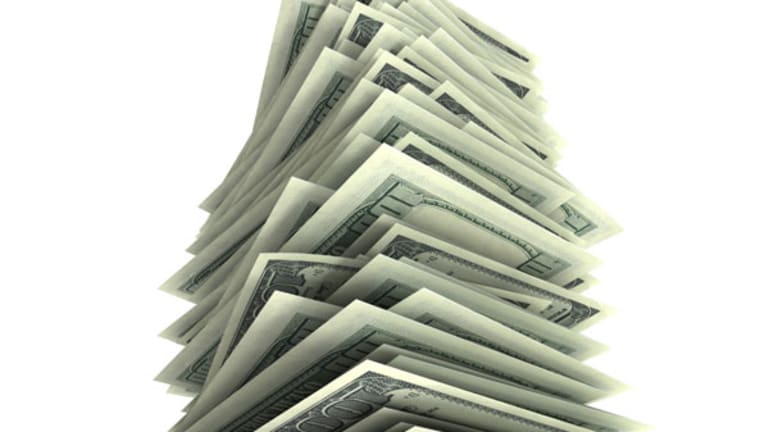 What Unemployment Does to Your Taxes
Unemployed? You'll want to bone up on the tax consequences to ensure you aren't overypaying Uncle Sam.
NEW YORK (
) -- The unemployment situation in the U.S. remains bleak at best and utterly hopeless at worst for the
millions who have yet to find work
.
As the Bureau of Labor Statistics recently reported, "Nonfarm payroll employment was essentially unchanged in June (+18,000), and the unemployment rate was little changed at 9.2% ... Employment in most major private-sector industries changed little over the month. Government employment continued to trend down."
Unemployed? You'll want to bone up on the tax consequences to ensure you aren't overypaying Uncle Sam.
The bureau also reported that "the number of unemployed persons (14.1 million) and the unemployment rate (9.2%) were essentially unchanged during the month. Since March, the number of unemployed people has increased by 545,000, and the unemployment rate has risen by 0.4 percentage points. The labor force, at 153.4 million, changed little over the month."
With news like that, it pays to know what unemployment might mean for your taxes if you're in a similar predicament. If you count yourself among America's unemployed, make sure you know the basics of these income tax consequences that might affect your finances:
Unemployment benefits
The unemployment benefits you get are fully taxable on your federal income tax return. The first $2,400 of benefits was excluded from federal income tax for 2009 only, as this was a one-time exclusion that wasn't extended for last year or this year. Benefits may also be taxed on your state income tax return, so be sure to check your state; for example, New Jersey does not tax unemployment benefits and New York does.
You can elect to have federal income tax, and perhaps state income tax, withheld from your unemployment benefits. In most cases the federal withholding is limited to 10%. When you apply for unemployment, whether online or in person, you should be asked if you want income tax withheld. This may be a good idea if you're married and your spouse is employed full time.
Tax credits
The lower income resulting from being out of work may make you eligible for the federal, and possibly state, Earned Income Credit, which is based on your Adjusted Gross Income. To qualify for the EIC you must have some W-2 income or net earnings from self-employment this year.
You do not need to have a dependent child or be married to claim the credit, but a net loss from a self-employment activity can wipe out W-2 income and make you ineligible. And excessive unemployment can also wipe out this benefit.
As with just about all of the tax breaks related to or resulting from unemployment, this will be of no service to you. You'll have to wait until you
file your 2011 tax return
next year to get the benefits.
If you have dependent children under age 17, your lower income may allow you to claim a refundable Child Tax Credit.
Job-seeking expenses
If you itemize your deductions on your tax return,
you can deduct job-seeking expenses
as a "Miscellaneous Expense" on Schedule A. You can claim fees paid to employment agencies, executive recruiters and other consulting forms (i.e. headhunters) for securing a job, preparing a resume or career counseling, the cost of typing, printing and mailing resumes, telephone calls to set up interviews, newspapers and periodicals bought for employment ads, ads placed in the "positions wanted" section of the classifieds and round-trip travel or transportation to job interviews, including lodging and 50% of meals if you're away from home overnight. If you drive to interviews you can deduct 51 cents per mile from January through June, and 55.5 cents per mile from July through December.
Expenses to
look for work in a new trade, profession or field
are not deductible, however. For example, as an accountant I cannot deduct expenses incurred while looking for a job as a day laborer. You do not have to actually get a job to be able to deduct the expenses, though.
You will only be able to deduct job-seeking costs on Schedule A to the extent the total Miscellaneous Expenses exceed 2% of your AGI.
Breaking the piggy bank
Do not be tempted to
take a distribution from a tax-deferred retirement savings account
, such as an IRA or a 401(k), to "tide you over." The distribution may be fully taxable and, if you are under age 59.5, you may also be subject to a 10% penalty. Between federal and state taxes and the premature withdrawal penalty, you may end up paying more than 40% of the distribution to the government.
I remember back in the 1980s when several clients, members of the ironworkers union, took premature distributions from their union retirement plan when there was little or no work available. The federal tax withheld, usually 20%, did not cover the total tax and penalty costs, and the clients ended up taking more money from the plan to pay the additional taxes, resulting in more tax and penalty on the next year's returns.
Taking a taxable distribution from a retirement plan can also cause you to reduce or wipe out any Earned Income Credit and reduce the amount of deductible job-seeking expenses.
You may be able to borrow from your 401(k) plan if the plan allows, but you must pay the money back according to the terms of the plan or be subject to tax and penalty. You cannot borrow from your IRA, but you can take a distribution and avoid tax and penalty if you roll it over to another IRA within 60 days. If you miss the 60-day deadline, however, you will be subject to tax and penalty.
You may avoid the 10% premature withdrawal penalty on a distribution from an IRA if the money is used to pay for health insurance coverage if unemployed, medical expenses in excess of 7.5% of your AGI, or higher education expenses.
>To submit a news tip, email:
.
Follow TheStreet.com on
and become a fan on