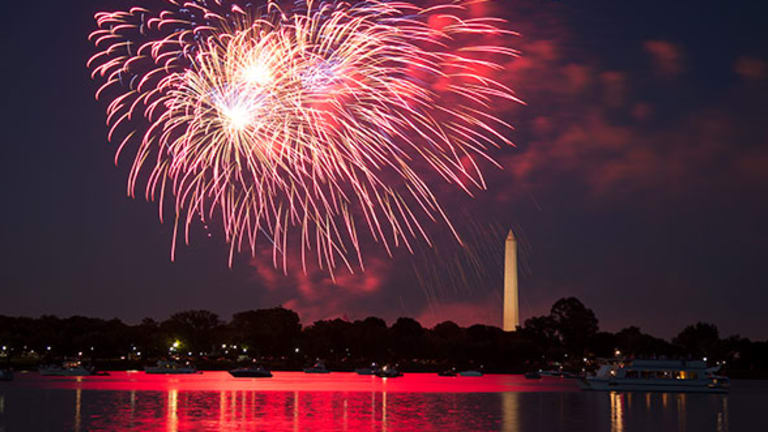 What to Buy on July 4th
July isn't exactly full of sales, but the holiday weekend offers plenty of deals on clothing, furniture and more.
July isn't exactly full of sales, but the holiday weekend offers plenty of deals on clothing, furniture and more.
Shopping on July 4th weekend isn't your patriotic duty, but it isn't a bad idea.
July is generally a mediocre retail month with some deals dispersed throughout. According to the Census Bureau, when you remove vehicle and auto parts sales from the mix, July's retail sales aren't all that different from the other summer months. The Independence Day does little to make its sales numbers look all that different from those of June and August.
Sure, there are road trips, fireworks and a day off in there, but July's at a tough spot on the retail calendar. In the last 20 years, July has only been the best summer sales month four times: 2002, 2007, 2008 and 2013. It isn't April's spring awakening, and it doesn't have August or September's back-to-school spending. Yet it isn't the frigid wasteland of February, either. July just requires a little work on the part of summer shoppers.
With peak back-to-school shopping season still about a month away, the key deals aren't obvious. There's a whole lot of foot traffic out there, but everyone's too preoccupied with the vacations at hand to plan ahead properly. With help from the folks at DealNews and LifeHacker.com to bask in some climate-controlled retail spaces and reap the rewards. While July 4th sales can start in mid-June and run through mid-July. But beware, some retailers hack price after the holiday to clear stock. Last year, Macy's presented discounts of up to 70% on July 8, while Columbia's discounts hit 60% by mid-July.
Summer clothing
After the last big summer holiday before the kids go back to school, demand for summer apparel sinks faster than the evening sun.
Last year, retailer 6PM offered discounts of up to 88% off on July 4th weekend, while a 80% discounts cropped up at JCPenney and Kohl's. We'll admit that all deals aren't that deep, but 50%-off sales -- like those at PacSun, Bloomingdale's, Macy's, Gap, Calvin Klein, Ralph Lauren and Eddie Bauer last year -- offer one last chance to spruce up the summer wardrobe.
Just be careful with shoe deals. Famous Footwear (up to 15% off) and Foot Locker (up to 50% off) both held July 4th sales last year, but back-to-school sales cut prices at Foot Locker 75% in August and 80% in September. Shop around, but don't force yourself into a shoe that isn't quite the right fit -- you'll have better opportunities.
Furniture
According to the American Home Furnishings Alliance, August is when all of the new furniture starts showing up in stores. That means furniture retailers spend much of July trying to clear the decks with sales in an effort to move last year's stock.
Granted, this doesn't apply to everything. Couches, loveseats, tables, dressers, bed frames and chairs get the deepest discounts. Mattress clearance season is in May, while the best deals on office furniture tend to wait until August.
Backyard BBQ equipment
Most deals won't come in time for your July 4th BBQ, but there are still a whole lot of days between you and Labor Day.
Last year, eBay offered up to 68% off outdoor items including patio furniture and stand umbrellas. Sears and Home Depot offered 65% and up to 60% off patio items, respectively, with Target, Amazon, and Walmart offering variations on that theme.
Just don't pick this weekend to go get a grill. Those prices drop closer to the end of summer, though Sears Outlet knocked 10% of the sale price of a few grills.
Outdoor activities
Again, with the first students headed back to school in August, retailers know this is their last opportunity to push outdoor apparel and gear.
Last year, Jenson USA offered up to 90% off bikes, biking gear, and apparel. Cabela's offered up to 60% off items including camping and fishing equipment, while Backcountry took up to 55% off store-wide -- and an extra 20% off on climbing gear. Look for price cuts of up to 50% from Columbia, Dick's Sporting Goods and Gander Mountain as well.
Travel
Yes, you can still book a summer vacation in mid-summer.
As the folks at Hopper know, booking now for a late-August trip works out well. Domestic airfares that hover around $375 for July and August weekend dates drop closer to $300 during the last two weeks of August, with the best fares available on Tuesdays and Wednesdays. With international flights, you can save as much as 17% as airfare drops from an average of $1,100 in July to $850 in late August.