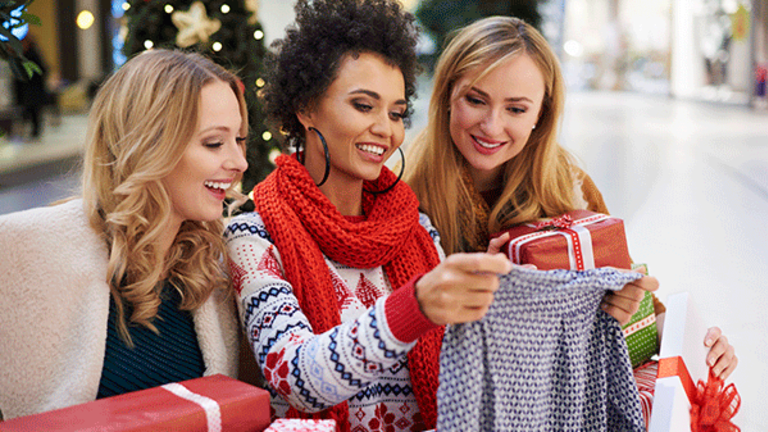 Publish date:
What to Buy in November Before Thanksgiving and Black Friday
November presents some great deals during early Black Friday weekend and beyond, so don't feel the need to brave the crowds.
November presents some great deals during early Black Friday weekend and beyond, so don't feel the need to brave the crowds.
Don't be fooled: Thanksgiving, Black Friday and Cyber Monday aren't the only days worth shopping in November.
Market research firm ShopperTrak notes that Black Friday sales at brick-and-mortar stores dropped 12% last year from 2014. Yeah, everyone figured out that getting shoved to the ground over a television isn't the best way to spend a post-holiday morning. In fact, consumers are learning to either shop from home on Thanksgiving weekend or don't shop at all.
Last year, ComScore notes that little more than $5 billion of the $56.4 billion spent online during the holiday season last year was spent on Thanksgiving, Black Friday and Cyber Monday. Throw in the weekend days in between and that total jumps to $7.2 billion, up a combined 10% from the same period in 2014.
Of the 151 million people that the National Retail Federation (NRF) says went shopping during Thanksgiving weekend last year, more people said they did that weekend's shopping online (103 million) instead of in stores (102 million). While 72.8% of that weekend's store shoppers went out on Black Friday itself and 34% went out on Thanksgiving day. Of those who went shopping at all that weekend, 50.4% said they did so because the deals were too good to pass up, while 25.5% said it was simply a way to fill the hours during the holiday weekend.
That said, ComScore notes that the $1.1 billion in online spending on Thanksgiving Day in 2015 didn't even rank among holiday season's Top 10. As for Black Friday, the $1.65 billion online total came in third to both Cyber Monday ($2.3 billion) and the Tuesday immediately afterward ($1.95 billion). As we've mentioned before, there's little reason to miss Thanksgiving dinner or lose sleep on Black Friday anymore.
In fact, a survey conducted by the NRF and Prosper Insights in October found that 40.6% of holiday shoppers get started before November. Another 18% wait until December. When asked why they'd avoid a mad-rush for underpriced, understocked items laden with planned obsolescence, 63% said they are trying to spread out their budgets while 49% want to avoid the crowds and stress.
As we've discovered annually, there are only a handful of items that are worth braving the crowds for -- or, at least, picking up online during your day off. Previous NRF surveys suggest that upwards of 40% of consumer shop early because the deals are too good to pass up. The folks at DealNews agree and have suggested a handful of items worth stepping out for before the worst of ThanksBlackCybergeddon gets under way:
Large appliances
Honestly, you probably should have at least scouted around for these at the end of September and early October. However, November puts Dyson vacuums and washer and dryer units within reach. The key is to shop Black Friday week before Thanksgiving, when 35% of sales on laundry units, vacuums, dishwashers and refrigerators will hit best-of-the-year prices. DealNews suggests keeping an eye on Home Depot (closed on Thanksgiving),Target and Sears -- which tend to offer both additional coupon savings and free shipping.
Apple Devices
You have to buy one generation behind, and never from the Apple Store, but the deals will be there. Retailers like Best Buy and Micro Center will be parting with the iPhone 6s for $349 ($200 off) — or for free with a 2-year contract. The iPad Air 2 will drop to $350, and even though they are the same price, the iPad mini 4 will drop to $300. The original Apple Watch will drop as low as $150, but make sure you know it's the original model, as the Series 1 and Series 2 are updates and won't be available for a steal.
Google Android and Microsoft Windows tablets
If price matters above all, this is the way to shop for a tablet in November. DealNews expects to see an 8-inch 16-gigabyte quad-core Android tablet for $40, a 10inch 32GB quad-core Android tablet for $60, and a 10-inch 32GB quad-core Windows 2-in-1 tablet for $75. Refurbished units will go for as little as $15 and $30, respectively. Meanwhile the entry-level 7-inch Amazon Fire tablet went from $50 to $35 on Thanksgiving last year, while the new 8-inch HD version that goes for $90 could be available for $60 around Black Friday. DealNews suggests checking out A4C and Newegg for other sub-$100 tablets.
Clothes
Apparel doesn't have time for your arbitrary sale dates. The seasons pass regardless of when a store deems items seasonally appropriate, so November is always a fine time to snap up leftover fall items at a discount. DealNews notes that the average apparel deal shaves 54% off retail prices, whereas the best sales will take up to 80% off. Just keep your eye out for coupons, which will take as much as 60% off. Stackable coupons will take between 20% to 30% off. Also keep in mind that online retailers start their Black Friday clothing deals early in the week, so jump on them on Monday if you can.
4K and older TVs
Yes, after months of telling folks to stay away from TVs, DealNews acknowledges that 4K doorbusters could go for for as low as $230, with midsize UHD sets for less than $500 readily available. But unless you're a hardcore gamer who has had a PlayStation Pro on preorder for months, you're going to get a better deal out of 1080p sets -- which are nowhere close to obsolete. Those around 42 inches could go for as low as $120.
Windows laptops
That MacBook Pro announcement means that you won't be seeing low prices on their most up-to date offerings anytime soon. However a 15-inch Windows laptop with an i5 Skylake chip should drop to $300. If you want a faster i7, expect to pay $450. If you aren't picky, bargain-bin 15-inch laptops with weaker processors will go in the $110 range. If you're just looking for internet access and word processing -- because you can basically forget about HD streaming or even having multiple applications open at this price -- 11-inch models with Celeron and Atom processors and just two gigabytes of memory will cost as little as $99. Amazon, Newegg, and Best Buy have Black Friday locked up, but watch for deals on at Dell Home, Adorama and the Microsoft Store.
Kitchen appliances
KitchenAid mixers and Pyrex container are basically Black Friday catnip. About 50% of the best deals you'll see on small appliances will come during Black Friday week, so keep an eye on Kohl's, Kmart and Bon-Ton before the doorbusters.
Outdated MacBooks and iMacs
No, they aren't current technology, but they're not over $1,000, either. The smaller 11-inch MacBook Air and 21-inch iMac are your likely targets for discounts, with new models set to push them out the door. Those baby airs will go for roughly $700, while base model 21-inch iMacs could fetch $900.
The original-recipe Xbox One and PlayStation 4
The PlayStation Pro is here and the new Microsoft Project Scorpio is coming. There are slim versions of the One and PS4 out there, but don't pay next-generation prices for current-gen offerings. If you can snag a decent game-and-controller bundle for less than you'd pay for a slim version, you're in good shape.