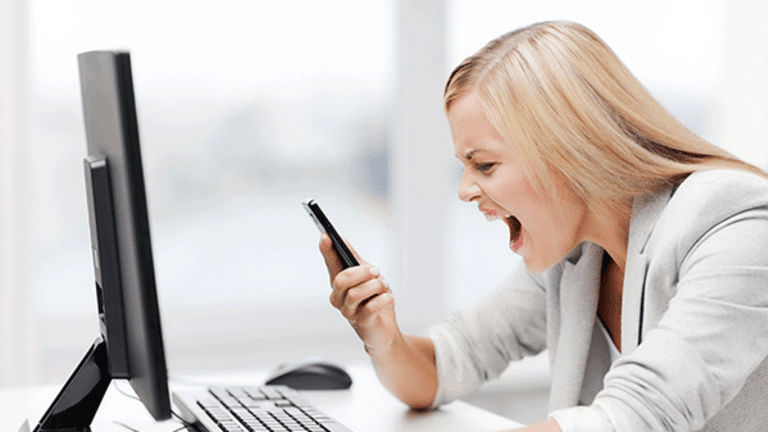 What Ticks Off U.S. Consumers the Most
The list of service providers that earn the wrath of the Great American Consumer is a long one - and here is who leads the list.
Editors' pick: Originally published August 24.
The Consumer Federation of America and the North American Consumer Protection Investigators is out with its most recent annual list of "top consumer complaints."
As usual, some perennial suspects stand atop the list (we're looking at you, used car dealers, home contractors and credit and debt repair firms.)
Number one on the "fastest-growing" consumer complaints is "phony IRS agents" (and other "imposter" scammers) - but that doesn't mean you have to sit there and take it.
"If someone calls or emails you unexpectedly claiming to be from the IRS, your utility company, a tech support company, or even your employer, don't assume that it's true," says Susan Grant, director of consumer protection and privacy at CFA. "Be especially wary if you're asked to send money immediately or provide personal information that the person should already have - these are danger signs of fraud."
Here's the CFA's list of the top five U.S. consumer complaints (see the report here for the entire list).
1. Auto Sales. According to the CFA, "misrepresentations in advertising or sales of new and used cars, lemons, faulty repairs, leasing and towing disputes" especially anger consumers.
2. Home Improvement/Construction. The CFA cites "shoddy work, failure to start or complete the job."
3. Utilities. Consumers are particularly vexed by "service problems or billing disputes with phone, cable, satellite, Internet, electric and gas service."
4. Credit/Debt. This category includes billing and fee disputes, mortgage modifications and mortgage-related fraud, credit repair, debt relief services, predatory lending, illegal or abusive debt collection tactics.
5. Retail Sales. Consumers are ticked off at "false advertising and other deceptive practices, defective merchandise, problems with rebates, coupons, gift cards and gift certificates, failure to deliver."
The CFA is hardly alone in tracking bad behavior among U.S. industries toward customers.
One new area of concern is the so-called sharing economy, largely defined by the Ubers and Airbnbs of the world.
"This year we've seen strong growth in issues relating to the sharing economy with complaints rising over 100% from last year," says Michael Lai, a spokesperson at SiteJabber, which produces research on consumer complaints based on the hundreds of thousands of reviews the firm receives annually. The company's research shows that complaints on travel websites increasing by 157% from the previous year, due in part to a proliferation of smaller niche travel sites with aggressive business models.
"Newly popular categories of complaints that nearly made our list but fell just short include drones, hover boards and online legal services," Lai adds.
Mike Catania, co-founder of the retail budget site, Promotioncode.org cites "retail sales" as the worst consumer offender in 2016. "The amount of deception and hyperbole between merchants and their middlemen is absolutely staggering," he says.
Catania says that social sharing and increased competition are to blame. "People only read headlines, see 60% off and click," he adds. "The discount only applies to one item but the consumer only learns this once they have filled up their online cart, and that's no accident. Stores increasingly cut larger berths for promoters to misrepresent their offers but even when they don't, there are so many third parties promoting items, consumers don't stand a chance to separate out fact from fiction."
Credit reporting agencies are another business sector working the U.S. consumer's last nerve.
"I'd have to give a vote for the three credit reporting agencies - they're highly prone to making mistakes," says Sean Coffey, a spokesperson for the California Reinvestment Coalition. "According to the Federal Trade Commission, one in five consumers found mistakes in their credit reports, and those mistakes have impact on the cost of credit."
The problem is that the three big credit reporting agencies - Experian, Equifax and Transunion - have a captive audience, Coffey states. "In my experience, it's been very difficult to speak with an actual human being - unless you resort to social media - at any of the big three agencies," he says.
So far, 2016 is showing a balance of the old (like retailers and I.D. scammers) and the new (shared economy companies) on the list of top consumer complaints.
Certainly, it takes a lot to make the Great American Consumer happy. But this year, U.S. industry is adding, and not subtracting, more business sectors to the consumer complaint lists - and it's getting customers even more hot and bothered in the process.