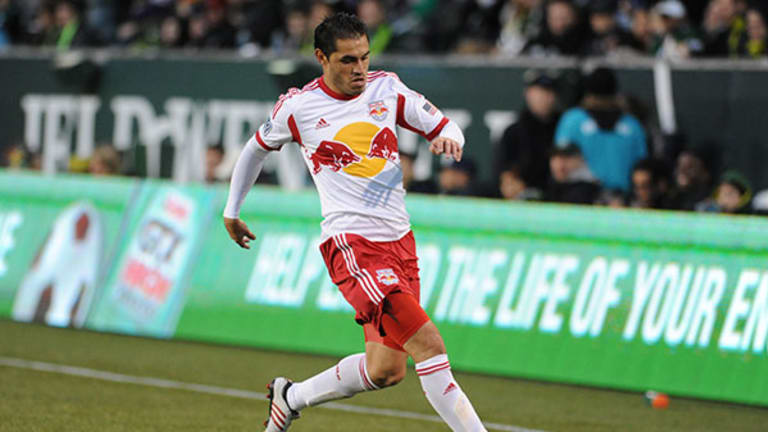 What the MLS Playoff Slate Says About U.S. Soccer
The times and MLS' culture are changing quickly.
PORTLAND, Ore. (TheStreet) -- The teams that make a professional sport's playoffs can say a lot about the league they're playing in.
This year's
Major League Baseball playoffs
, for example, showed that small-market, small-payroll teams with a smart front office (The Oakland A's, Pittsburgh Pirates, Tampa Bay Rays and Cleveland Indians) can still get a place at the table with big-spending, big-market squads studded with stars (the Los Angeles Dodgers and Detroit Tigers). Ultimately, however, it showed that excelling in this league means having the right combination of administrative acumen and deep-pocketed ownership. It's a big reason why the St. Louis Cardinals and Boston Red Sox have combined to win five of the past 10 World Series.
It's a bit tougher to speak in such general terms about Major League Soccer's playoff teams. The MLS has a small fraction of Major League Baseball's history and just as small a slice of its fan base. Last season, Major League Baseball's 30 teams drew 74.9 million fans to their ballparks and pulled in more than 30,000 per game. Major League Soccer's 19 clubs had 6 million fans come through the turnstiles and 18,800 show up on average for each match. Baseball has its own network that it built with
DirecTV
(DTV)
and still has
Fox
(NWS)
,
TBS
(TWX)
and
ESPN
(DIS)
paying for game rights, while MLS makes do with its deals with ESPN, NBC and
Univision
.
When it comes to average attendance, however, pro baseball and soccer rank No. 2 and 3, respectively, behind the National Football League. In some cases, MLS teams even draw more fans per game than Major League Baseball team. -- including teams that happen to share the same city. In fact, all five of the MLS teams we recognized outdrawing baseball teams on average
have made the playoffs.
How those teams did it, however, represents a fundamental difference between the strategies MLS used 17 years ago and those it implements today. In its earliest days and as recently as 2007, when the Los Angeles Galaxy brought David Beckham over from Real Madrid, the MLS was a league that planted tentpole stars from world soccer and the U.S. men's national team in key markets and hoped that their familiar faces would bring in the fans.
In big, high-profile markets, this remains the case. The New York Red Bulls, the first team to make this year's MLS playoffs, are benefiting heavily from the presence of French star Thierry Henry and Australia's Tim Cahill. Each leads the team in either goals, assists or shots and, if not for the presence of gifted Argentinian striker Fabian Espindola, would dominate shots on goal as well. In Los Angeles, meanwhile, the Galaxy continue to load up on star talent and count USMNT star Landon Donovan and Irish national team striker Robbie Keane as the core of their offense.
Also see: Where Will The NBA Move Next?>>
While one could make the argument that this is what the MLS wants -- to have its biggest international draws in its biggest cities and to have each of those cities succeed, as the Galaxy has with multiple MLS Cup titles -- the reality of the league insists that a different model may be more representative of the today's MLS. The Galaxy ranks second in league attendance and regularly fills StubHub Center, but there are six other teams ahead of the Red Bulls on the attendance sheet.
Three of them -- the Portland Timbers, Seattle Sounders and Real Salt Lake -- didn't enter the league until a decade or more after New York and Los Angeles. The Sounders averaged 44,000 fans per game this season and have outdrawn Major League Baseball's neighboring Seattle Mariners regularly since entering the league in 2009.
With roots stretching back to the North American Soccer League of the 1970s and fan groups including the Emerald City Supporters and Gorilla FC backing the Sounders in lower-tier leagues before their MLS debut, the Sounders represented an alternate path. They play in a city where only two of the other four major sports leagues have a presence. While quarterback Russell Wilson and the resurgent Seahawks have only elevated the city's already unwavering support of its NFL franchise, the Mariners' lack of playoff appearances, winning seasons and will to keep top players not named Felix Hernandez has dropped average attendance to roughly 21,700 a game at Safeco Field -- or about half of what the Sounders draw at CenturyLink Field right down the street.
While the Sounders have paid for star players including Sweden's Freddie Ljungberg and Colombia's Fredy Montero in the past, this year the Sounders started spending big money to match their big attendance figures. Using the league's designated-player rule that allows teams to sign big-ticket players that would otherwise shatter the league's salary cap, the Sounders spent roughly $7 million bringing in Nigerian forward Obafemi Martins and U.S. men's national team captain Clint Dempsey. The latter signing prompted an existential debate among the league's fans about MLS' future.
Some of the loudest criticism came from fans of the Sounders' Cascadia Cup rival Portland Timbers. Yet the most vocal Timbers backers weren't as angry that their team's turn to sign a U.S. national team player was skipped (it was), but that resorting to gimmick signings of high-profile players and having the league dictate where they landed was a return to the MLS' bad old days -- before it contracted two teams in Florida, moved a team in San Jose to Houston and placed aging stars in cities where it believed they'd be more visible. That the league's designated player policy is derisively called "the Beckham rule" -- for bringing Beckham and an ensuing string of stars and titles to Los Angeles -- is indicative of just how much the rule is loathed in certain, strengthening corners of the league.
In Portland, Timbers owner Merritt Paulson has paid nearly $700,000 to stack his team's midfield with designated players including Colombian Diego Chara and Argentine Diego Valeri. But blending a bunch of young, lower-priced pieces including goalkeeper and Jamaican national team captain Donovan Ricketts, Canadian midfielder Will Johnson and Ghanian midfielder Khalif Alhassan with a fervent fan base led by the song-singing, giant-banner-unfurling Timbers Army helped the team to the top of the Western Conference this year after missing the playoffs during its first two years in the league.
Also see: How MLB's Move Back to October Worked Out>>
It was, until recently, the same blueprint that Seattle was following under similar circumstances. Portland's professional soccer teams, including the Portland Thorns women's team that just took their league's championship, only compete with the NBA's TrailBlazers for fans' attention and don't spend much of their season doing so. It's a model that has worked remarkably well in Salt Lake City, where the more than 19,000 fans Real Salt Lake drew to Rio Tinto Stadium each game this season surpassed the 18,700 averaged by the NBA's Jazz in 2012-13. It's by no means a fair comparison, with Real playing fewer games in a larger building, but the lack of competition and the level of play that has sent the team to the playoffs each year since 2008, earned it an MLS Cup title in 2009 and helped it to the CONCACAF Champions League finals in 2010 has helped Major League Soccer thrive in Utah. Real has no fewer than eight supporters groups, a television deal that puts every game on local networks and an agreement with international powerhouse Real Madrid that funds a youth soccer academy in Utah and bring Real Madrid in for a game every other year.
That success is being replicated in Vancouver, Toronto and Montreal, which have all earned MLS franchises within the past six years -- with Montreal earning its first playoff appearance this season with help from $2 million Italian striker Marco Di Vaio -- and has inspired fans in St. Louis and Orlando, Fla., to lobby for their own teams. In the Canadian markets where the NHL takes over in the winter and finishes by summer, the NFL is a non-entity and Major League Baseball and the NBA are confined to Toronto, each team draws more than 18,000 fans per match. Montreal's average attendance is nearly 21,000, which outdraws all but three U.S. MLS franchises.
If fans in St. Louis envision a similar result in their town, they need only look to Kansas City to see how that will work out. While Kansas City is one of the league's founding franchises and was started by Kansas City Chiefs owner and avid soccer fan Lamar Hunt in 1995 as the Kansas City Wiz, today's Sporting Kansas City is perhaps the best example of how MLS' startup past has bridged into its thriving present. The former Wizards have a 2000 MLS Cup to their credit, but also drew fewer than 10,000 fans per game for five seasons and fewer than 11,000 in the three years before moving to soccer-specific Sporting Park in 2011.
Sporting has since drawn more than 19,000 fans a year in each of the last two seasons -- outdrawing baseball's Royals in 2012 and missing their mark by fewer than 2,000 this year. It's never paid more than $500,000 for a designated player and the one currently on its roster -- Argentine forward Claudi Bieler -- is making a relatively scant $200,000. Sporting Park's "Cauldron" fan section teems with supporters groups, while the folks on the field have made the MLS playoff in each of the past three seasons and won the U.S. Open Cup tournament of U.S. soccer teams from various levels of play last year.
With each of the Los Angeles Galaxy's two MLS titles in the past two seasons, the money has won and the league's nearly 20-year-old formula for spending its way to popularity has remained intact. A look at the 2013 playoff picture, however, suggests the times and MLS' culture are changing quickly.
With another New York franchise on the way and expansion plans seeking other major-league deprived cities, this year's playoffs are showcasing the league's increasingly split personality.
-- Written by Jason Notte in Portland, Ore.
>To contact the writer of this article, click here:
Jason Notte
.
>To follow the writer on Twitter, go to
.
>To submit a news tip, send an email to:
.
RELATED STORIES:
>>Why Tampa Bay Bucked NFL Blackouts
>>Hip-Hop's Golden Age Is A Moving Target
>>The United Playlist Of America
Jason Notte is a reporter for TheStreet. His writing has appeared in The New York Times, The Huffington Post, Esquire.com, Time Out New York, the Boston Herald, the Boston Phoenix, the Metro newspaper and the Colorado Springs Independent. He previously served as the political and global affairs editor for Metro U.S., layout editor for Boston Now, assistant news editor for the Herald News of West Paterson, N.J., editor of Go Out! Magazine in Hoboken, N.J., and copy editor and lifestyle editor at the Jersey Journal in Jersey City, N.J.