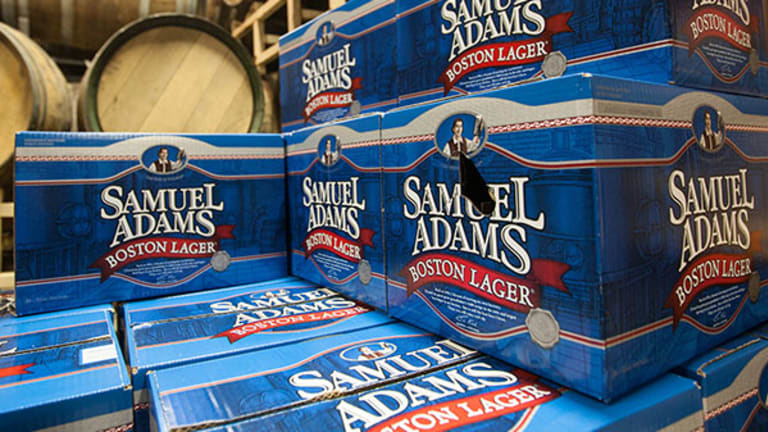 What the Craft Beer Industry Really Looks Like
You can slice up the term several ways, but do it wrong and you kill the craft beers making the argument worthwhile.
PORTLAND, Ore. (TheStreet) -- The most common narrative surrounding craft beer is that it's a thriving, growing niche of small brewers looking to take on the big beer establishment.
But by whose definition?
The Brewers Association craft beer industry group reserves the right to define "craft" as its sees fit and boils
its definition
down to three key qualifications: A craft brewer must be small, which in this case means its produces 6 million barrels a year or less; it must be independent, which means less than 25% of it is owned by a company that is not considered a craft brewer; and it must be traditional, which requires using an all-malt beer as its flagship or using malt -- instead of adjuncts such as corn and rice -- or makes at least 50% of its beers without using those adjuncts for anything other than enhancing flavor.
By those qualifications, the craft beer industry produced 13.2 million barrels last year, up from 11.5 million in 2011. It grew 15% by volume and 17% in dollar amount last year to take a 6.5% share of the beer industry's production and 10.2% of its revenue.
That's all assuming, however, that the association's perception of craft lines up with everyone else's. The folks at beer industry publication
Beer Marketer's Insights
, for examples, tend to quibble with the Brewers Association on a few minor points. Within the past five years, the publication has broken out beer into seven price-based categories: imports (Guinness, Duvel), craft (Sierra Nevada, New Belgium, super premium (Blue Moon, Bud Light Lime), premium (Budweiser, Coors, Miller), sub premium (Pabst Blue Ribbon, Keystone), malternatives (Mike's Hard Lemonade, Smirnoff Ice), malt liquor (Colt 45, Steel Reserve) and no alcohol.
Beer Marketer's Insights
agrees that Chicago-based Goose Island, which was bought by
Anheuser-Busch InBev
(BUD) - Get Anheuser-Busch InBev SA/NV Report
two years ago and has some of its beers brewed at A-B facilities, isn't craft. It has also reversed its stance on
MillerCoors'
(TAP) - Get Molson Coors Beverage Company Class B Report
Leinenkugel by rescinding its craft status and does not consider Blue Moon craft. But the publication splits with the Brewers Association in its belief that the Portland, Ore.-based
Craft Brew Alliance
(BREW) - Get Craft Brew Alliance Report
-- and its Widmer Brothers, Redhook, Kona and Omission brands -- are craft beer. Anheuser-Busch InBev owns 32.2% of CBA and gives the company access to its distribution network, but Eric Shepard, executive editor at
Beer Marketer's Insights
, says his publication sees no evidence that A-B exerts any influence over the CBA brands.
Also see: 10 Biggest Small Beer Brewers in the U.S.>>
"CBA, to me, is pretty easy," Shepard says. "The notion that Rob and Kurt Widmer aren't craft brewers is an absurdity to me. At 24%
A-B ownership share they're pure and at 26% they're dirty? There's a certain sense of it being ludicrous."
Putting CBA back into the mix would add 675,000 barrels last year alone. Shepard also takes the view that Burlington, Vt.-based Magic Hat and Seattle-based Pyramid Brewers have maintained enough autonomy under the ownership of
KPS Capital Partners
' North American Breweries and, after a sale last year, Costa Rica-based Florida Farm & Ice, that they, too, should be considered craft. That combination would add 337,000 barrels to the equation.
"NAB may be a slightly harder pick," Shepard says. "They may still be made in craft breweries that exist and stand alone, so I'm fine with it. I can't say I lose any sleep over it at night, and it's a small number in the grand scheme of 208 million barrels."
So why does
Beer Marketer's Insight
's count of 13.9 million barrels of craft beer production still fall short of the more than 14.3 million that would result if CBS, Magic Hat and Pyramid were added to the Brewers Association craft beer number?
"I think BA is a little high on its total," Shepard says. "When I look at the overall industry and take out everybody that I think I know and make a master table, I can't justify a million barrels higher than their number. In the grand scheme of things, 300,000 to 400,000 barrels on 208 million is meaningful to only three or four people in the world, and I'm one of them."
In fairness, keeping any one beer category straight isn't easy. Shepard had to shift Fosters and Beck's from the import category to superpremium after MillerCoors and A-B began producing the domestic supply of each in the U.S. Bud Light Lime could just as easily fall into the flavored malt beverage category, but it's still unclear whether MillerCoors' Redd's Apple Ale will join Leinenkugel's shandy as superpremium or get sorted with Smirnoff Ice under flavored malt beverages.
In the craft category, however, the lines are a bit more clearly drawn because they need to be. While Shepard and
Beer Marketer's Insights
differ with the Brewers Association on certain points, it acknowledges that BA's definition of craft exists with the purpose of preserving the premium price that those who fall under the definition can charge. British brewer
, for example, noted that the presence of Blue Moon alone makes a definition of "craft" a necessity if only to give consumers a point of reference.
Even big brewers acknowledge the power and meaning of the term, with MillerCoors' Tenth and Blake division of beers including Blue Moon referring to its brands as "craft" on conference calls and Tenth and Blake head Tom Cardella asserting his belief of the need for BA to have a definition but repeated his perspective that craft "isn't about size, it's really not about the ownership," but rather "the art and science of beer coming together."
Also see: Is It Still A Craft Beer After the Brewery Sells?>>
Cardella just happened to be sitting on a panel with
Boston Beer
(SAM) - Get Boston Beer Company, Inc. Class A Report
founder and Samuel Adams Boston Lager creator Jim Koch, who had far different thoughts on the topic. With much of Boston Beer's share price tied to his brand's ability to draw premium prices as a craft offering, he also sees much higher stakes in what appears, from the outside, to be an esoteric, nitpicking debate.
"This goes to the continued existence of craft brewing. We craft brewers have created a category that is able to command a price premium based on our points of difference from the mass domestic brewers. And that has created a lot of profitability in the category and a lot of growth. But at the end of the day, let's be real. Tom, you guys make great beer, you have great brewers, you have access to ingredients, raw materials etc. that is better than anybody else and you do it at significantly lower cost. And the big brewers have distributor clout and retailer clout that craft brewers will never have. So if we don't have a point of difference that's meaningful to consumers, we probably in the long run can't survive."
Without that definition creating that level of separation, Koch says the term "craft" just becomes a commodified marketing term. When that becomes the case, not only will small brewers lose the premium prices that sustain their growth, but big brewers won't be able to command such prices to support more costly ingredients for brands including Goose Island, Leinenkugel's and Blue Moon. While that's a strong argument from the Brewers Association,
Beer Marketer's Insights
and everyone else to keep the big brewers out of the craft club, it also makes the arguments that gray-area outliers including Pyramid, Magic Hat and the Craft Brew Alliance beers should be allowed in, if only to avoid further confusion.
"The typical drinker doesn't care about the numbers, they care about the beer," Shepard says. "They vote with their wallets, ultimately, and while some purist may not like what gets included, the consumer is going to do what he or she wants to do."

-- Written by Jason Notte in Portland, Ore.
>To contact the writer of this article, click here:
Jason Notte
.
>To follow the writer on Twitter, go to
.
>To submit a news tip, send an email to:
.
RELATED STORIES:
>>10 Best 40-MPG-Or-Better Cars of 2013
>>5 Vehicles You Want To Drive In A Rainstorm
>>Top 10 Cities For Car Sharing
Jason Notte is a reporter for TheStreet. His writing has appeared in The New York Times, The Huffington Post, Esquire.com, Time Out New York, the Boston Herald, the Boston Phoenix, the Metro newspaper and the Colorado Springs Independent. He previously served as the political and global affairs editor for Metro U.S., layout editor for Boston Now, assistant news editor for the Herald News of West Paterson, N.J., editor of Go Out! Magazine in Hoboken, N.J., and copy editor and lifestyle editor at the Jersey Journal in Jersey City, N.J.