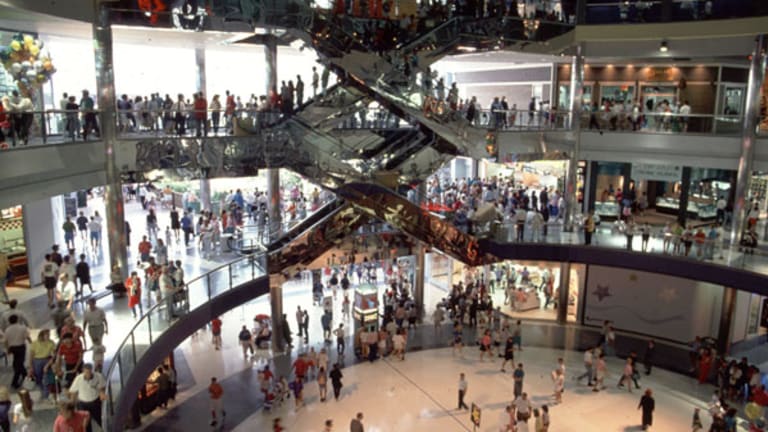 What It Means When the Mall Goes Away
Teens are killing malls by spending less time and money there, but as a result malls are hiring fewer teens.
Teens are killing malls by spending less time and money there, but as a result malls are hiring fewer teens.
PORTLAND, Ore. (TheStreet) -- Rewatch Fast Times At Ridgemont High, Clueless and Mallrats all you'd like, but Damone, Cher and Jay and Silent Bob aren't hanging out at the mall this summer.
Once a summer staple packed with clothes, food courts, arcades and expendable income, the giant indoor mall is dying a slow, unpopular death.
ShopperTrak
, whose entire purpose is to gauge retail foot traffic, says the number of folks who passed through indoor malls last year dropped 1% from the year before and has been falling steadily.
As
The Wall Street Journal
noted last summer, analysis firm
Green Street Advisor
thinks 10 % of the roughly 1,000 large malls in the U.S. will fail within the next 10 years. A report from
found that there are more than 200 malls with more than 250,000 square feet that have vacancy rates of 35% or higher, a "clear marker for shopping center distress."
Tim Worstall at
Forbes
, meanwhile, says that online sales that amount to roughly 8% of the retail market should diminish physical store space by roughly the same percentage as they grow. Daniel Hurwitz, president and chief of mall operator
DDR
(DDR)
, addressed the issue about as bluntly as he could: "I don't think we're overbuilt, I think we're under-demolished."
Also see: Outlet Malls A Big Hit For Back-to-school Shoppers>>
Then again, his company's share value has plummeted by nearly two-thirds since 2006. Ask the folks at mall owner
Simon
(SPG) - Get Report
how they're doing and they'll say vacancies are down, rent is up and their stores are making more per square foot. Australia-based mall magnate
Westfield
can make similar, more marginal claims, but each has a little secret.
In Simon's case, the company's been shifting its focus to outlet malls. According to
Capri Capital Partners
, sales per square foot at outlet malls rose 9% from 2010 to last year, while traditional malls got a slighter 4% bump. Westfield, meanwhile, has been redeveloping its indoor mall stock to make them more tech friendly and to update the selection a bit. While the U.S. vacancy rate for Simon and Westfield hovers around 5%,
Reis
notes that vacancies for U.S. malls as a whole skew closer to 9%. Rent per square foot for traditional malls has dropped steadily since 2007.
So why should this affect teens, especially since a
Piper Jaffray
Taking Stock with Teens
market research study revealed that 82% of teen spending is still done in bricks-and-mortar stores? It's a lot tougher for teens to max out credit cards shopping online after the Credit Card Accountability Responsibility and Disclosure Act of 2009 required anyone under 21 to either have a cosigner or verifiable income. Also, it's a lot easier to spend at the mall when you work there or are otherwise employed.
The Bureau of Labor Statistics notes that 1.015 million teens aged 16 to 19 found jobs in May and June, down 2.1% from last year. Though the number of unemployed teens of that age shrank from 1.86 million in June 2012 to 1.4 million this June, the number holding down a job also shrank from 5.2 million to 4.5 million during that span. That's a lot of teens who just jumped out of the workforce entirely, reducing the participation rate from 41% of all workers aged 16 through 19 last June to just 35% this year.
Also see: The World's Best Outlet Malls>>
"One of the biggest obstacles teenagers face in today's job market is the fact that there is more competition from older job-seekers, such as recent college graduates as well as retirees," says John Challenger, chief executive of outplacement firm
Challenger, Gray & Christmas
. "Another trend ... is the decline of the American mall, which has long been a traditional employer of teenaged summer job-seekers. As more and more Americans flock to the Internet for their shopping needs, traditional brick and mortar stores are seeing traffic decline along with the need for extra summer employees."
Less expendable income and fewer friends working at the mall means overall less motivation to hang out in a place that just wants teens' money. According to a 2009 survey by market research firm
Scarborough
, 61% of teens say they have less money to spend at the mall, and 37% say they're going to the mall less often. While 40% of teens spend between two and three hours at the mall in any given 30-day period, 32% are spending far less time than that in the halls of commerce. When they're at the mall, less than half of all teens say they're there to socialize or be entertained. When asked what they do there most often, 71% gave the obvious but fairly straightforward answer of "shop."
While 93% still eat at the mall and 93% still do so at the food court, they're not there for any longer than they have to be. They're using coupons, and the average shopper tops out at $75. They're discovering what their parents in the outlet malls already learned: Post-recession summer shopping is less of a recreational activity and more of a chore. All the frivolous music and video games have gone online, and all the fun and any movie theaters at the malls are just squeezing shoppers dry. No amount of Jamba Juice or Auntie Anne's pretzels can make up for the fact that the kids at the food court are the same ones you see every day on
Twitter
and Instagram anyway.
The epicenter of teen culture has moved from hulking commercial hallways in the suburbs to whatever mobile device their sought-after shoppers slip into their pockets. All that remains are
dead or dying malls
, the mixed-use
retail projects built on their remains and older folks' fading celluloid memories of misspent youth and money.
-- Written by Jason Notte in Portland, Ore.
>To contact the writer of this article, click here:
Jason Notte
.
>To follow the writer on Twitter, go to
.
>To submit a news tip, send an email to:
.
RELATED STORIES:
>>5 Major League Soccer Teams That Outdraw Baseball
>>5 Great Stadiums Making Up For Bad Baseball Teams
>>5 Ways The All-Star Game Is Baseball's Super Bowl
Jason Notte is a reporter for TheStreet. His writing has appeared in The New York Times, The Huffington Post, Esquire.com, Time Out New York, the Boston Herald, the Boston Phoenix, the Metro newspaper and the Colorado Springs Independent. He previously served as the political and global affairs editor for Metro U.S., layout editor for Boston Now, assistant news editor for the Herald News of West Paterson, N.J., editor of Go Out! Magazine in Hoboken, N.J., and copy editor and lifestyle editor at the Jersey Journal in Jersey City, N.J.