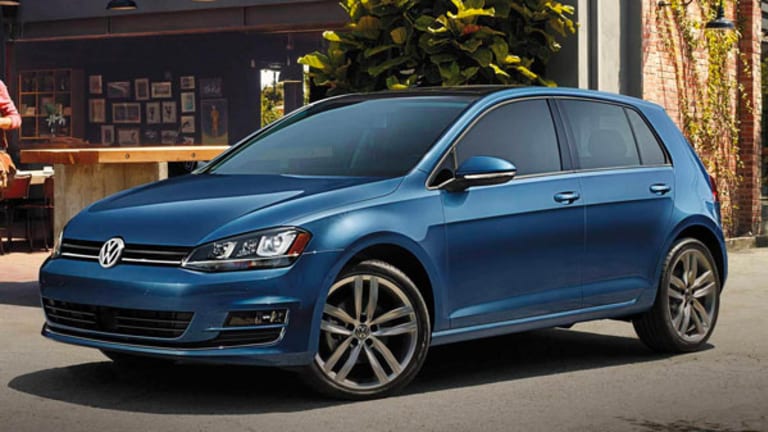 Volkswagen is still figuring out a way to pay back the 500,000 diesel drivers it defrauded by selling them vehicles that should have flunked emissions testings.
Back in April, a judge announced a tentative settlement that would allow that automaker either to pay to fix wonky diesel emissions or buy its cars back from customers.
After that announcement, Volkswagen said it would set aside $18.2 billion to address the fallout from revelations that it manipulated emissions tests to bring diesel vehicles to market. The settlement won't address 80,000 VW, Audi and Porsche vehicles with more powerful engines that undisclosed software allowed to emit pollution up to nine times the legal standard. It also won't determine how much VW will pay in fines for admitting to violating the Clean Air Act. The company remains under criminal investigation by the Justice Department for charges that already forced its CEO out, tanked it stock and basically killed diesel fuel as a viable alternative fuel. At the end of June, the automaker ultimately announced a $15 billion settlement with U.S. regulators, and if engine repairs are not approved, the automaker will be forced to buyback owners' cars starting in September. 
"There will be no 'simple fix,' because the vehicles involved cover a broad spectrum of models and production years," says Karl Brauer, senior analyst for vehicle pricing site Kelley Blue Book. "This is only the first step in a long road to final resolution. Volkswagen's total costs remain clouded, but beyond customer restitutions we know the company will have to fund various environmental efforts to offset emissions violations."
Volkswagen likely won't get to spend its lowball estimate of $1 billion to fix software on those cars, but that doesn't mean it won't get to cut some corners. The folks at used car pricing site CarGurus looked into the pricing of some of the turbodiesel models that would be eligible for buybacks, and the initial reports aren't promising.
The 2014 Passat TDI, for example, would ordinarily fetch an average of $20,942 in the secondary market if an owner managed to put less than 24,000 miles on it. Since the faulty emissions revelation, however, its value has dropped 7.4% to $19,391. A Jetta Sportwagen TDI from the same year saw its value drop 5.93%, from $21,045 to $19,796.
"When this news first broke, owners didn't know what the long-term value implications of the scandal would be," says Steve Wollkind, data architect for CarGurus. "Based on our analysis, it seems that on the whole, the impacted cars would have probably been worth a lot more today had the scandal not happened. Hopefully, a reasonable compromise can be reached so that these car owners are happy with both their vehicle and its manufacturer."
While a 2009 Jetta Sportwagen TDI with 84,000 miles on it only saw a 1.3% (or $142 drop in value), vehicles from the 2010 through 2012 model years weren't so fortunate. The Jetta Sportwagen TDI takes a beating in 2011 (losing $2,233, or 14%, of its $15,929 value), 2012 (losing $2,712, or nearly 15%, of its potential $18,155 in buyback value) and 2013 (down nearly 12%, or $2,315, from the $19,640 it could have fetched with a good emissions system and just 36,000 miles on it). Meanwhile, Golf, Jetta and Passat diesels from 2010 through 2014 lose between 7.7% and 11% of their projected value.
"This reminds me of people that unknowingly bought houses on landfills," says Rebecca Lindland, senior analyst at Kelley Blue Book. "They bought the house, because they loved it, only to find out that it was toxic. Those houses were purchased by the government or sometimes by the offending party, but the owners heart was still broken."
By Kelley Blue Book's estimates, that hurt should prove incredibly costly. The company estimated the private-party values of all Volkwagen diesel vehicles sold between 2009 and 2015 at $7.3 billion just after the emissions fraud was made public in September. The cost to the diesel vehicle industry in the U.S. could be far more.
Prior to last September, IHS Automotive noted that diesel vehicle registrations in the U.S. increased 30% since 2010, compared a 3.6% increase in all vehicle sales during that same period. Allen Schaeffer, the executive director of the diesel-backing auto industry group Diesel Technology Forum, had argued prior to Volkswagen's scandal that diesel vehicles were 30% more fuel-efficient than gas-powered cars, on average.
However, Volkswagen hasn't been the only automaker hit by a diesel scandal. Mitsubishi -- whose Mirage subcompact is considered the most fuel-efficient gas-powered car in the country at a combined 40.5 miles per gallon -- has admitted to improperly testing the fuel economy of some of its cars in Japan since 1991. Though the company sold only 43,911 vehicles in the U.S. through May -- or little more than half the number of Jeep Cherokees that Fiat Chrysler sold during the same period -- that fact combined with Mitsubishi's closure of its only U.S. plant last year put it in a tough position in this market.
"Mitsubishi's admission that it cheated on Japanese fuel-economy tests does not include vehicles sold in the United States so far, but clearly U.S. investigators will be scrutinizing the company," says Michelle Krebs, senior analyst for Autotrader. "Mitsubishi has been trying to mount a comeback in America, an effort that just became even more challenging with its admission of cheating."
If there are Volkswagen loyalists out there who haven't given up on the brand, but don't want to take their chances with diesel again, VW appears to have a backup plan. It is hoping that enough of its die-hards take them up on a buyback offer to pour some money into the electric vehicles that are driving the automaker to its new direction. Maybe that isn't the wisest gamble to make with gas prices lower than $2.50 nationwide, but with TDI off the table and new U.S. fuel efficiency standards demanding a 54.5 miles-per-gallon average by 2025, Volkswagen and its somewhat-compensated stalwarts may have to take what they can get.
"Every automaker will need to shift toward more electrification to meet more stringent fuel economy and emission standards by 2025," Autotrader's Krebs says. "The problem is consumers are not buying them in great numbers, and some industry forecasts suggest those numbers will grow but still remain low. Volkswagen's challenge is exacerbated by the ugly diesel situation that has yet to be fully resolved and the distrust that has generated... Volkswagen has its work cut out in executing its new strategy."
This article is commentary by an independent contributor. At the time of publication, the author held no positions in the stocks mentioned.