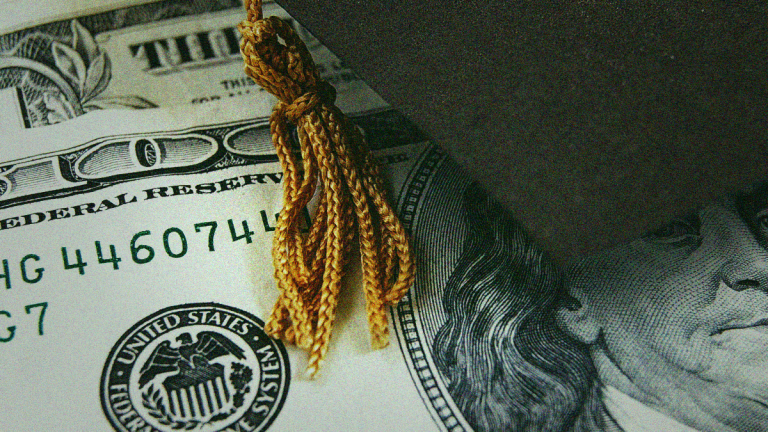 What Is Work-Study in College?
It can be the single best way to earn money in college if you qualify. Here's what work-study is, and how to apply for it.
When the baby boomers attended college in the 1960s and 70s, the average public, four-year university charged the current equivalent of $1,031 annually. A private college charged $4,639. Schools maintained these low tuition rates in large part through public funding, which allowed a generation to grow up with the idea of "working your way through college."
Once, this idea made sense. In 1979, a student working at minimum wage could save up enough money for one year's college tuition in just one summer. That student never saw the taxpayer subsidies that paid the rest of their education, but public funding largely filled in the gaps.
It no longer does. In 2019 an out-of-state student at the University of Michigan, earning the state's minimum wage of $9.45 an hour would need to work for 4,805 hours to afford one year's tuition. That's 15 years of working eight hours a day, 40 hours a week, before taxes. Factoring in light taxes, they could afford a degree after about 70 years.
The difference between what the baby boomers received and what they passed down to their children is tallied in student debt (and melted ice caps).
Yet many students in school do still need to work. While campus jobs haven't paid the tuition in decades, today students still rely on them for rent, food and book money (arguably not always in that order). For qualifying students, there is work-study.
Here's what you need to know.
What Is Work-Study?
Work-study is a government-funded employment program for undergraduate and graduate students. It is mainly funded by the federal government through the Department of Education, but some states contribute to campus work-study as well.
Through work-study the government subsidizes either all or part of your earnings at a qualifying job. This is part of the government's student aid program, meaning that the money you earn is not a loan and does not increase your debt after graduating college. Instead, the goal of the program is to help students find employment by ultimately making it easier for public or private employers to hire them.
It is available only to current full- or part-time students.
How Does Work-Study Work?
Students qualify for work-study through the student aid process. When you fill out your FAFSA (Free Application for Federal Student Aid), the government can include work-study funds as part of your award. The amount of those funds depends on your need and federal aid status.
From there you have to apply for and find your own jobs. The work-study program does not directly hire students. Instead, it provides grant money through their school, which employers can then use to pay the student's earnings. In many, if not most, cases a school will hire work-study students directly. However, in some cases schools allow private employers access to the work-study program, allowing those employers to hire students and pay them through work-study funds.
Work-Study Jobs
According to the Department of Education's website, work-study "emphasizes employment in civic education and work related to your course of study whenever possible." For most students, in reality, this means campus jobs such as sorting mail, shelving books, computer repair or dining hall duties.
However, that doesn't mean that more relevant work doesn't exist, you simply have to find it. Work-study can fund research positions, working alongside a professor or tutoring for students who are interested. It's simply a matter of finding a job with a qualifying employer, and on a campus that accepts work-study funds. Almost any school employer will qualify.
Off-campus work-study positions tend to be more restricted. Usually these are either nonprofits or public agencies doing public interest work. In some cases your school can create a work-study relationship with for-profit employers, but this is only supposed to happen in cases where the job relates to the student's course of study; for example, the campus bar isn't supposed to serve drinks on the federal government's dime.
Work-Study Pay
There is no maximum or minimum amount that a student can receive through work-study. Instead, an award is made based on the student's need, the work they will do and the amount of funding that the program has overall. The average work-study award in 2019 was $1,808 according to Sallie Mae.
Students cannot be paid less than the minimum wage, however, work-study will typically fund a maximum amount of hours per week. While undergraduate students receive their pay by the hour, graduate students can be salaried depending on the work that they do. Most jobs will cap your earnings or hours at the work-study maximum.
It is important to note that work study income does qualify for state and federal income taxes. However, if you are a full-time student working 20 hours or less per week you are typically exempt from payroll taxes.
Students should prepare for the possibility that their work-study awards may decline significantly in the coming years, as the Trump administration has requested that Congress cut the program's funds in half.
Eligibility and Applying for Work-Study
Students apply for work-study while filling out their FAFSA. On this form there's an option to indicate if you're interested in federal work-study. Selecting this option allows the program to consider you for an award, but it doesn't guarantee one.
Your work-study award, if any, is included in your financial aid letter. This letter indicates how much work-study money you qualify for. After that, you need to find a job that can accept that money. Your employer will use this grant to pay all or part of your earnings over the course of the year.
Eligibility is determined based on your individual need, the funds remaining in the program and, in some cases, on a first-come, first-served basis. As a result, the Department of Education encourages students to apply as early as possible.
You do not have to accept a work-study award if you receive it. While it can make finding a job significantly easier, if you find a job you'd rather take through a non-qualifying employer you are allowed to do so at your discretion.
Work study does not affect your eligibility for other forms of financial aid.