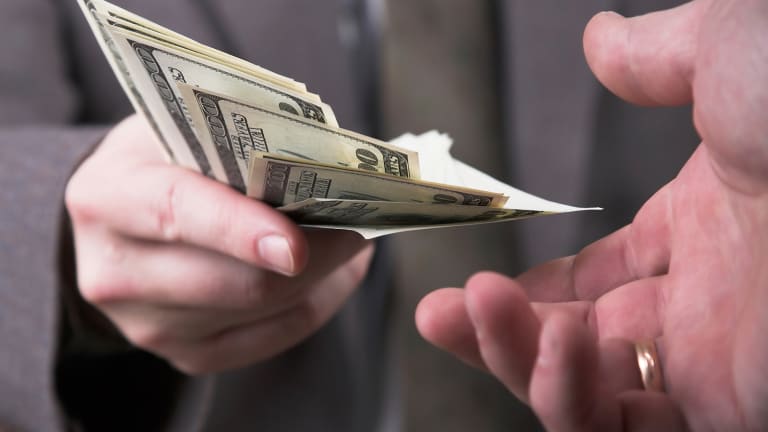 Wire Transfer: Definition, How To Wire Money and Is It Safe?
A wire transfer is often used when sending money from one person to another quickly, especially when distance or a different country separates the giver and receiver.
When you want to transfer money to another person quickly, and a distance or different country separates you, a common method to use is a wire transfer. The term comes from the days when transferring money occurred over telegraph wires.
What is a Wire Transfer?
A wire transfer is a fast way to move money electronically. A bank wire transfer usually has instructions about who is to have access to the money, including the bank account number and the amount intended to be transferred. 
There are essentially three types of wire transfers available for individuals: a bank wire, electronic funds transfer, and an automated clearing house -- or ACH -- transfer.
Wire transfers send money directly between a sending and receiving account. An ACH and other wire transfers are both bank-to-bank means of sending money electronically, and both can be used for business-to-business payments as well. The main difference, however, is that an ACH relies on a network of financial institutions and is run by the National Automated Clearing House Association.
If you have a "direct deposit" from your employer, your employer is likely using an ACH to transfer the funds to your account directly. An ACH is also typically used when you enroll in an automatic bill-payment service, such as for your electric bill or credit card or insurance payments. ACH transfers tend to be done in and by groups or batches. But, because of that, they can take anywhere from a few hours to several days to be completed.
ACH transfers tend to be less expensive than wire transfers but land in the account later. That delay also affects an ability to verify that the payment was received. And while a wire transfer is the standard method to transfer funds between accounts overseas, an ACH is a US-only network.
A wire transfer, on the contrary, often only requires an account and routing number; it doesn't have the cross-border payment limitation of an ACH, and the funds land once the wire goes through -- making the funds available to the recipient sooner.
An EFT -- electronic funds transfer -- includes ACH among its various types of financial transactions. But an EFT is not always an ACH. EFT transactions also include eChecks and ATM transactions.
Your local bank branch can send a wire transfer, as can non-bank services such as MoneyGram (MGI) - Get MoneyGram International, Inc. Report  or Western Union (WU) - Get Western Union Company Report , the original "wire."
To make a transfer, you may need the following:
The recipient's full name and address. This is intended to help make sure the person picking up the transfer or payment is the one intended.
The recipient's account number. This is also intended to protect both the recipient, and the sender.
The branch number and full address of the account of the recipient. This helps the receiving bank to screen the recipient and know the funds are being transferred to a specific person or entity.
The account institution number of the recipient's bank. This is similar to the previously required information - it helps the receiving bank route the money to the right place.
The Society for Worldwide Interbank Financial Telecommunication (SWIFT) code for the receiving bank. This is often needed if the money is transferred overseas. It's a way to identify the banks internationally.  
The recipient's bank routing number. This is required if the funds are being transferred between banks or other financial institutions, but not by a money transfer service such as Western Union or MoneyGram.
The reason for the transfer: If it's a payment, refund, deposit, or intended for a specific use.
Who is paying for the transfer: In most cases, the person sending the money is charged for the wire transfer. But some institutions charge for receipt of a wire transfer. And, if it is an international transfer, each institution along the way is entitled to a fee, including for currency exchange.
Wire transfers, as the name implies, have been used to transfer money since the days of the telegraph. The purpose has always been the quick transfer of funds or payment, eliminating the delays of mailing a check, as well as holding or clearing a check to make certain it has sufficient funds.
If someone you know needs money because of an emergency -- or if your payment is late, you want to protect your credit, avoid a fee, or send money overseas -- a wire transfer is often the quickest way. With a non-bank service, in fact, sometimes the recipient can walk away from the service's office with the money in hand.
How Long Does a Wire Transfer Take?
Since you're not actually transferring cash from one place to another, the transaction can be completed relatively quickly once the sending institution has the necessary information. After the transfer is completed, the funds are usually made available as soon as the recipient has been identified.
A wire transfer between banks usually takes three to five business days to be processed and received, depending on the currency being transferred and how many intermediary banks are used for the transfer, according to TD Bank.
However, if you're using a non-bank transfer service, it could just take minutes. Most domestic transfers of funds -- between banks within the same country -- can be completed in as little as 24 hours, especially if the funds are transferred between accounts at the same institution.
You should check with your financial institution to see how long a wire transfer might take, as different banks have different rules for holding funds while ascertaining the accuracy of the recipient's information.
And, sometimes, there are delays. It is possible for a bank sending funds to make a mistake, which is why it's important you determine beforehand the accuracy of the information you provide to identify the recipient. If a mistake is made, a wire transfer can take longer than expected. Also, when sending money internationally, it is a good idea to determine if local holidays might disrupt or delay the transfer of funds. And some countries tend to pay transfers more slowly than others.
Are Wire Transfers Safe?
In a wire transfer, money is wired electronically between the sender and recipient, or in the case of a bank transfer, the recipient's account. To transfer money domestically in a bank transfer, both the sender and recipient need bank accounts. That limits the ability of thieves to receive a bank wire transfer intended for a specific individual. However, all a thief needs is control of a bank account for enough time to receive or send money. The risk is that sent funds are either hijacked or possibly sent elsewhere. The funds could also be taken by someone in control of an account where money is set legitimately, and the theft might not be discovered until it is too late to recover the money.
In other words, if someone wants you to wire funds, be careful about where or to whom you are sending them. For instance, if you send money to a transfer service, such as Western Union, it is harder for that office to verify the identity of the recipient.
Hackers also target specifically down payments and other wired funds to a title company for a home loan. Hackers can instruct you to send the money to them. Always verify wire instructions with the recipient by phone, or in person, rather than by email.
How Much do Wire Transfers Cost on Average?
Different banks and services charge different rates for wire transfers. Some banks charge different fees for international transfers depending on whether the funds are converted from U.S. currency into a foreign currency before being wired. Here are the fees charged by seven major banks:
Bank                     Outgoing (U.S)    Receiving (U.S.)    Outgoing (International)    Receiving (International)
                                                                                      Converted-US$
Citibank (C) - Get Citigroup Inc. Report :                 $17.50-$35             $15                        $25-$35                              $15
Chase (JPM) - Get JPMorgan Chase & Co. Report :                   $25                     $15                           $40                                  $15
TD (TD) - Get Toronto-Dominion Bank Report :                            $25                     $25                           $40                                  $15
Bank of America (BAC) - Get Bank of America Corp Report :    $30                     $15                        $35-$45                              $16
Wells Fargo (WFC) - Get Wells Fargo & Company Report :           $30                     $15                           $45                                  $16
Capital One (COF) - Get Capital One Financial Corporation Report :            $30                     $0                        Not Available                         $0
PNC (PNC) - Get PNC Financial Services Group, Inc. Report :                      $0-$30                 $15                          $45                                   $15
Besides the EFT and ACH, there are also other ways to transfer funds from your bank account indirectly now, such as peer-to-peer (P2P) payment tools and apps like Zelle, Venmo, PayPal (PYPL) - Get PayPal Holdings, Inc. Report , Square Cash, and others. But these services aren't considered actual "wire transfers," because they essentially service the transaction rather than actually being a bank account.